53 new Skoda trolleybuses for the city of Pilsen
The relationship between the Bohemian city of Pilsen and Skoda is being strengthened. Fifty-three trolleybuses from the Czech Republic-based manufacturer will be running on Pilsen's streets in the coming years. The Pilsen Urban Transport Company (PMDP) has signed a framework contract with the Škoda Group for the delivery of 33 26Tr trolleybuses and 20 27Tr […]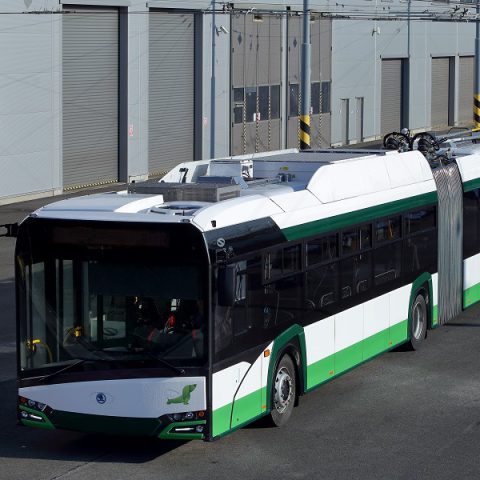 The relationship between the Bohemian city of Pilsen and Skoda is being strengthened. Fifty-three trolleybuses from the Czech Republic-based manufacturer will be running on Pilsen's streets in the coming years. The Pilsen Urban Transport Company (PMDP) has signed a framework contract with the Škoda Group for the delivery of 33 26Tr trolleybuses and 20 27Tr trolleybuses. Delivery of the vehicles will begin next year and the framework contract will close in 2030. The total value of the contract is 37.4 million euros.
The Škoda 26Tr trolleybus is 12 meters long and the Škoda 27Tr type is articulated with a length of 18 meters. The vehicles are equipped with a traction battery that allows them to operate on catenary-free routes, thus ensuring service even in the most remote areas of the city. Passengers will be provided with a modern information and check-in system with screens, and powerful air conditioning will also contribute to travel comfort. To enhance safety, the trolleybus will be equipped with a camera system. The vehicles have a distinctive feature, namely the presence of a second door with a sliding system. This facilitates the boarding of people in wheelchairs and parents with baby carriages. On board, the larger space allows for faster passenger changes.
«The history of Škoda Group began many years ago right here in Pilsen, in a city that is still the heart of our vehicle production and therefore we are very familiar with it. We complement our local knowledge with the experience of PMDP, with whom we have been working for a long time. Thanks to strong customer relations, mutual respect, and active listening, we can work together to find solutions that suit passengers, drivers and the operator. Trolleybuses are inseparable from Pilsen, and I believe that the trolleybuses will continue to appear in its streets in the future. Supporting public transport and its significant modernisation is the key to better urban life and better-quality transport. We believe that other cities will be inspired by Pilsen and improve the level of transport», says Petr Novotný, President Components & Bus Mobility at Škoda Group.