Delivered the first Tramlink to Milan
The first Tramlink lands in Milan. In fact, the first new generation tram, destined for both urban and extra-urban service, managed by ATM, arrived from the Stadler plant in Valencia. The vehicle, numbered 7201, has been stored in the main workshop in Milan, awaiting line tests to be held in the coming months. Milan's important […]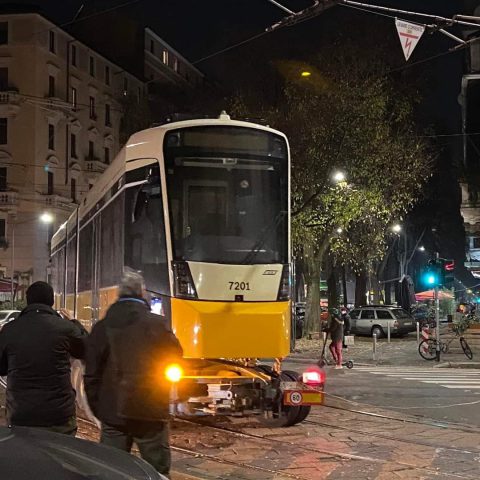 The first Tramlink lands in Milan. In fact, the first new generation tram, destined for both urban and extra-urban service, managed by ATM, arrived from the Stadler plant in Valencia. The vehicle, numbered 7201, has been stored in the main workshop in Milan, awaiting line tests to be held in the coming months.

Milan's important tram network, which currently consists of 17 urban lines for an extension of about 180 km, thus mortgages the future, also considering the future reconstruction of the two interurban lines Milan-Limbiate and Milan-Desio-Seregno, on which the Tramlinks will travel. The new cars come to Milan after an interval of 13 years, when deliveries of the last AnsaldoBreda Sirio trains ended in 2009.
In July 2019, Stadler and ATM – Azienda Trasporti Milanesi, signed the six-year framework agreement for the production and delivery of up to 80 trams, for a total amount of € 172.6 million. The maquette was then presented in Milan as part of Expoferroviaria 2021.

The vehicle, numbered in the 7200 series, is 25 metres long, bidirectional with three duplex stainless steel bodies, highly resistant to corrosion and at the same time reducing its weight while maintaining the robustness of the structure. The bi-directionality will allow both use on intercity lines, which do not have a terminus loop, and also on the urban network, where the terminus can be a simple trunk.
The floor is low, and there are three entrance doors. The corridor, which is very wide, also allows excellent circulation for people with disabilities. There are 66 seats. Inside, four variable message screens will ensure communication to passengers.  
The bogies are of a new type. They are of the pivoting wheel type, which practically follow the geometry of the track, and are particularly suitable for the narrow-radius curves on the Milan network, which will allow both less wear on the tracks and a reduction in noise pollution. The colour of the bodywork is the classic white and yellow that now characterises almost the entire tram fleet in Milan.
Particular attention has been paid to the safety of passengers, drivers and pedestrians.
The vehicle is equipped with an anti-collision device that detects a potential collision situation with pedestrians, cars or other obstacles. The driver's cab is high-visibility and the installed cameras help to detect blind spots. Video surveillance will be provided by 10 cameras connected to ATM's operations room.