Here are the new Lajkonik streetcars for Krakow
Krakow is preparing to receive new trams. Poland's beautiful and ancient city of 780,000 inhabitants has an impressive tram network, which has been in operation since 1882, and today is extended for 85 km with 22 daytime lines and 3 night-time lines, with over 350 stops. The service operates from about 4 a.m. to 11 […]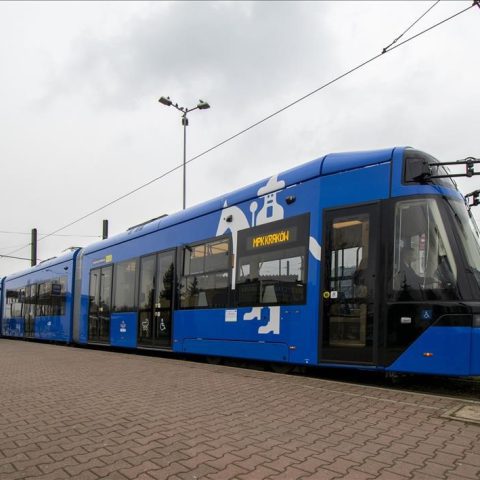 Krakow is preparing to receive new trams. Poland's beautiful and ancient city of 780,000 inhabitants has an impressive tram network, which has been in operation since 1882, and today is extended for 85 km with 22 daytime lines and 3 night-time lines, with over 350 stops. The service operates from about 4 a.m. to 11 p.m.; frequencies vary depending on the lines, on average from 7 to 15 minutes on weekdays ; night lines from 11 p.m. to about 4 a.m., with a frequency of 30 minutes.
The network is operated by MPK in Krakow and covers practically all city routes. The fleet consists of 374 vehicles; until 2019 the newest vehicles were the 36 PESA 2014 N, delivered in 2015.
MPK has decided on a progressive renewal of its rolling stock and has moved by purchasing both used and new vehicles. Used but quality vehicles, as in the case of the GT8S model, a bi-directional, two-car, 200-passenger capacity articulated vehicle from the Dusseldorf network, produced by Duwag between 1973 and 1975. In the past few days, five trams of this type have arrived in Krakow, three of which will undergo revamping, with the adoption of a lowered floor in the central element, air conditioning, and a new user communication system, with a new type of indicators; the other two vehicles will serve as spare parts warehouse. Already 28 GT8S cars have been running in Krakow since 2009, after more than 35 years in Dusseldorf, and since 2014 underwent revamping, which was completed in December 2021.
At the same time, the delivery of new vehicles continues. We are talking in this case about the 'Lajkonik' project, derived from the Tango model, and produced by Solaris Bus & Coach and Stadler Polska, which has scheduled the delivery of 110 new trams in two tranches. Between 2020 and 2021, MPK received 50 units. The name 'Lajkonik' is one of the unofficial symbols of the city of Krakow.
On 24 November 2022, the first example of the second series of 60 entered service, of which six are already in storage in Krakow. Deliveries are expected to be completed by 2023. The investment was made possible thanks to financing from the European Investment Bank.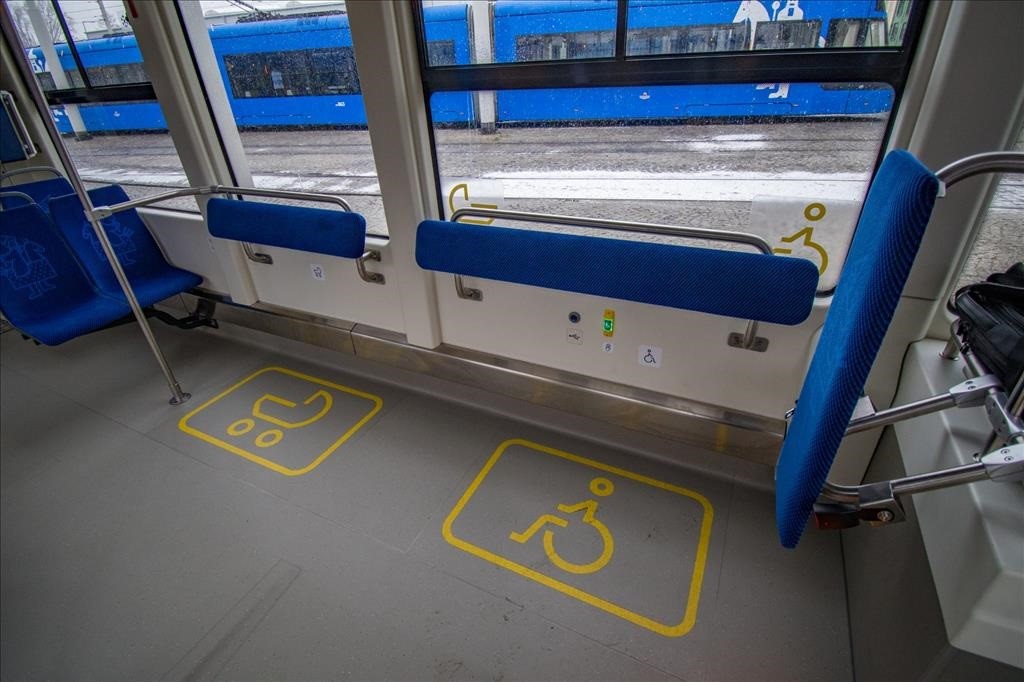 This is certainly an innovative project with many technical features. The vehicle is lowered with 3 bodies, unidirectional, the entrance height is 300 mm, with 4 bogies, 33,400 m long and 2.4 m wide, powered by 600 V, it can reach a speed of 70 km/h.
The tram is equipped with large windows to ensure the best natural lighting, supplemented with LED lighting. Two single-leaf doors and 5 doors with a width of 1400 mm are available, which is larger than the standard, to allow for easier loading of disabled persons, as well as wheelchairs and bicycles. Backrests for standing persons are also provided. The capacity is excellent, as the vehicle can transport up to 238 people, 75 of whom are seated. Innovation and comfort, benefiting both users and drivers.

The front of the tram is equipped with a crash system (energy absorbers) that reduces the effects of collisions; the special design of the front also reduces the possibility of a pedestrian being dragged under the vehicle in the event of an accident. There is also an advanced air conditioning system, video surveillance, ticketing machines, USB ports for charging smartphones, and an optical-acoustic passenger information system.
Two trams in the series will be fitted with equipment for autonomous running, without a contact line, while the other 58 will be prepared to fit such equipment at a later date.
With a view to modernising the entire fleet, which is indispensable for the needs of tomorrow, MPK is already thinking ahead, with plans for the purchase of a further 60 trams, to be delivered by 2026, and with varying lengths; some of the vehicles will be 40 metres long.