Luxembourg, tramway network extension planned
On September 13, the Minister of Mobility, Francois Bautch, the Burgomasters of the six municipalities involved, Sanem, Esch-sur-Alzette, Mondercange, Schifflange, Leudelange, the city of Luxembourg  (124,500 inhabitants) and Luxtram's general manager, André Von Marck, presented the project of the new tramway line that will unite the city of Luxembourg with the suburb of Esch – […]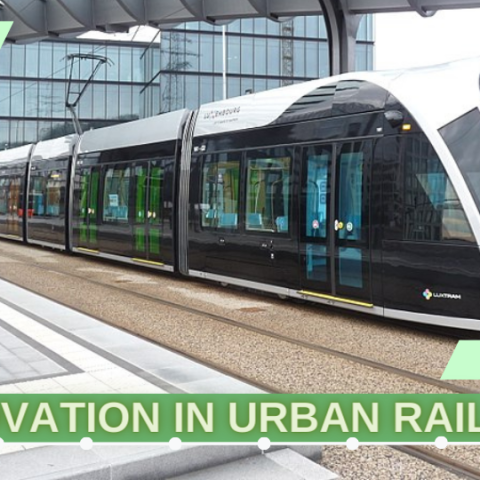 On September 13, the Minister of Mobility, Francois Bautch, the Burgomasters of the six municipalities involved, Sanem, Esch-sur-Alzette, Mondercange, Schifflange, Leudelange, the city of Luxembourg  (124,500 inhabitants) and Luxtram's general manager, André Von Marck, presented the project of the new tramway line that will unite the city of Luxembourg with the suburb of Esch – sur – Alzette ( 31.000inhabitans).
The new section will svluppose 17.5 km, run parallel to the new A4 highway, and will be flanked by a bicycle path. The section will include 13 new stops, and will be inaugurated in four stages, between 2028 and 2035. from 2028 the streetcar will run between the Cloche d'Or and Leudelange, in 2030 it will reach Foetz, in 2032 Metzeschmelz and Esch-sur-Alzette, and in 2035 Belval. The new project is valued at 3 mld €.
The new line is a natural extension of the tramway line opened in 2017, with subsequent extensions in 2018 and 2020 currently 10 km long and in operation from Lunxepo to Lyceè Bouneweg. The line in service today includes 17 stations of 6 interchanges: Lunexpo ( with buses and a Park & Ride), Pfaffenthal-Kirchberg, (interchange with buses and a new station), Stäreplaz / Étoile , (interchange with buses), Hamilius,( interchange with buses), Central Station ( interchange with buses and the CFL rail network) and Lycée Bouneweg (interchange with buses).
Luxembourg new tramline
Today's operating schedule calls for passing every 3.5 minutes during peak hours, 4-5 minutes between 5.30 and 6.49, by 4 minutes from 8.30 to 7.30 p.m., then in the evening passes are every 10 minutes until 11 p.m., then every 15 minutes-Departure is from Lunxepo at 4.22 a.m., last is from Lycee Bouneweg at 0.39 a.m.  The estimated travel time is about 27 minutes. A competitive service, which will surely be improved with the new route.
Very interesting, the project  of the new line provides a very high commercial speed of about 50 km/h, thanks to sections authorized to the maximum speed of 70 km.h for more than 10 km of line. The commercial speed of the line currently in operation is about 20 km./h, the new line to Findel Airport, scheduled to open in 2024, will have a commercial speed of 30 km/h.
In addition to the 13 new stations, the project includes the construction of 5 new interchanges, and at least 20 projects designed to improve road axes, the A4 highway, and new bike lanes.
For the new service, it is planned to purchase 24 motorcars, 56 meters long, with nine bodies, 11 meters longer than the streetcars in the current fleet, which consists of 33 CAF Urbos 3. This will result in the lengthening of stops by about 5 meters. There will be 150 seats in the new vehicles, instead of the current 76, with dedicated areas for bicycles and luggage. With the new tram network, users are projected to increase by 42 percent between now and 2035, and reduce mobility by private cars by up to 75 percent.