Metromare in Rimini, trolleybuses have arrived. Testing is underway on the vehicles
by Stefano Alfano After a year and a half from the launch of the Metromare (23 November 2019), as the TRC (Trasporto Rapido Costiero) is identified, what is the situation of the trolleybus service in Rimini today? Last winter, the trolleybus infrastructure of the TRC was tested and USTIF issued the relevant operating authorisation. Now […]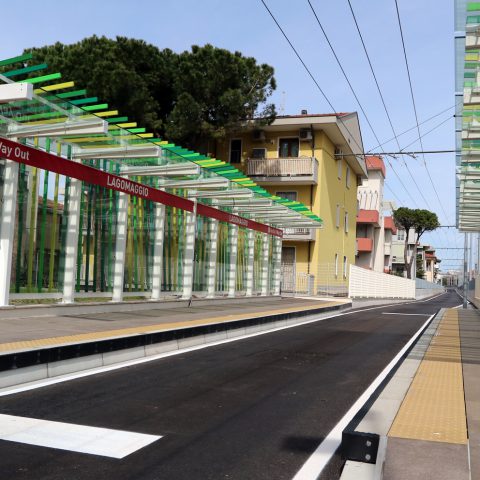 by Stefano Alfano
After a year and a half from the launch of the Metromare (23 November 2019), as the TRC (Trasporto Rapido Costiero) is identified, what is the situation of the trolleybus service in Rimini today?
Last winter, the trolleybus infrastructure of the TRC was tested and USTIF issued the relevant operating authorisation. Now it's the turn of the trolleybuses.
The new Van Hool Exquicity 18T trolleybuses ordered for the new high-speed trolleybus line Rimini – Riccione have been delivered and have received serial numbers 36511 – 36519 (the first one arrived in June 2020).
Testing of the vehicles began on 16 July. The tests are carried out at START in Rimini and along the infrastructure. Some interruptions of the Metromare service have been planned to allow the new trolleybuses to be tested on the line.
The vehicles should soon replace the buses currently in service on the Metromare, the articulated Neoplan 4522s (START numbers 36041 – 36050) built in 2007 and coming from the Lausanne (CH) network. The current operating schedule foresees a frequency of 20 minutes, for about 20 hours a day, with 3 vehicles on the line.
Line 11 is also in operation, with 6 AG 300 T articulated trolleybuses built between 2009 and 2011, supplemented if necessary by some articulated buses, running every 15/20 minutes. The trolleybuses run autonomously to the San Girolamo terminus and return to the station in independent operation, reconnecting to the overhead network just before the roundabout between piazza C. Battisti and via Graziani. The two-lane line at Piazzale Kennedy has been restored.