New Hitachi trams in service in Turin
The countdown has begun. Only a few days remain until the new 8000 series trams produced by Hitachi Rail in 70 units for GTT go into service in Turin. On Monday 11 September, in fact, the first three units, cars 8002, 8003 and 8004 will enter service on line 9 (Piazza Stampalia – Corso Massimo D'Azeglio […]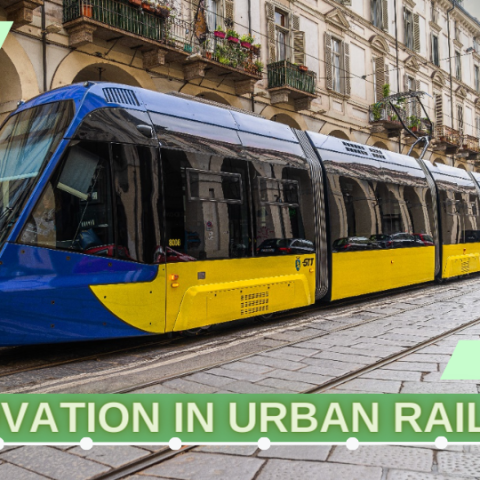 The countdown has begun. Only a few days remain until the new 8000 series trams produced by Hitachi Rail in 70 units for GTT go into service in Turin. On Monday 11 September, in fact, the first three units, cars 8002, 8003 and 8004 will enter service on line 9 (Piazza Stampalia – Corso Massimo D'Azeglio – Torino Esposizioni).  Subsequently, the new trams will find a place on lines 3, 10 and also on line 4, the long north-south high load diametral. Their introduction into service will allow a gradual replacement of  2800 series trams, while maintaining a reserve of 10 vehicles, in addition to two units to be added to the historic fleet, and will support the more modern 5000 and 6000 series trams.  For Turin, this is the first tram purchase in almost 20 years.
Hitachi tram for sustainable mobility in Turin
The new Hitachi trams will be important in achieving the goal of a new urban mobility model that both GTT and the City of Turin are aiming for. The renewal of the rolling stock has already begun, and among others, electric buses produced by Byd have arrived.
The 8000 series can be defined as an evolution of Ansaldobreda's model. The model, with a refined design signed by Giugiaro Architettura, is of the one-way type, is almost 28 metres long, and has an excellent capacity, accommodating up to 182 standing passengers and 36 seated.
 Its five bodies rest on three bogies. A one-way vehicle with excellent accessibility, it is equipped with four double-leaf, electrically operated, ejection doors, located in the second and fourth modules, for boarding and alighting passengers. There are also two priority spaces for wheelchairs, and a seat near the first door is designed to have more space to accommodate guide dogs for the visually impaired. And in fact, the equipment dedicated to persons with disabilities or reduced mobility, already presented to the sector associations operating in the area and shared with them, are indicative of the attention paid to the design of the new vehicles.

A double wheelchair station, a push-button panel (for booking stops and assistance) that is out of shape to facilitate passengers with reduced mobility in their upper limbs, yellow seats for people with reduced mobility (elderly people, people with children, pregnant women), a seat and space (marked with a sticker) for a guide dog near the first entrance, an announcement system for the next stop and an internal and external line.
The floor is low, and there is air conditioning and video surveillance. The glass windows, which allow great internal brightness, are fitted with film that blocks UV rays, so as to prevent a greenhouse effect. There are four motors, located on the two end carriages, which can propel the vehicle up to 60 km/h.  The pantograph, manufactured by Secheron, has an emergency device for automatic lowering in the event of collisions with any suspended elements. 
Around 10 Hitachi models have so far arrived in Turin, and it is assumed that two to three cars per month will be homologated. By 2026, with 70 trams and 437 new city buses, many of them electric, GTT will have realised a significant renewal of the fleet, guaranteeing 81% of journeys with electric power and a significant reduction in emissions (-59% of Co2 and -97% of particulate matter) for more sustainable and accessible journeys.