Pardubice and Ostrava get new trolleybuses made by Škoda
The Škoda Group will supply modern trolleybuses to two Czech cities: the bustling urban center of Pardubice and the historic industrial hub of Ostrava. The Transport Company of the city of Pardubice has ordered the delivery of ten Škoda 32 Tr trolleybuses in the amount of CZK 145 million. The Ostrava Public Transport Company will […]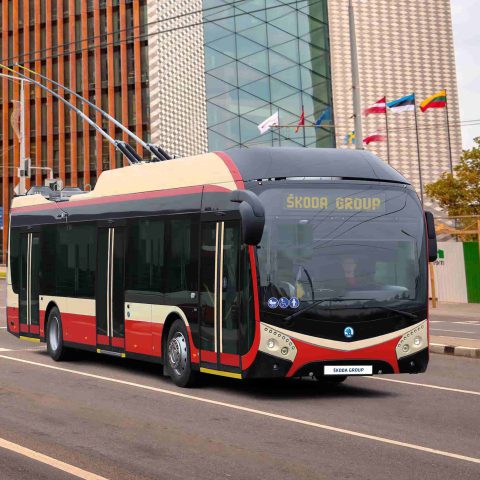 The Škoda Group will supply modern trolleybuses to two Czech cities: the bustling urban center of Pardubice and the historic industrial hub of Ostrava. The Transport Company of the city of Pardubice has ordered the delivery of ten Škoda 32 Tr trolleybuses in the amount of CZK 145 million. The Ostrava Public Transport Company will receive up to six modern Škoda 27 Tr trolleybuses worth nearly CZK 98 million.
Enhancement of public transport in Pardubice.
Under the contract with the Pardubice City Transport Company, the Škoda Group will deliver ten Škoda 32 Tr based on a 12-meter SOR body. The vehicle is known for its excellent performance, passenger comfort, and environmental friendliness. The trolleybus is equipped with the latest technologies, including a traction battery with a range of at least 12 km, which ensures smooth operation in areas without catenary. As is typical for battery-powered trolleybuses, this one is equipped with semiautomatic manifolds.
 "The Transport Company of the City of Pardubice is one of our most valued partners. After all, our trolleybuses have long been the backbone of Pardubice's fleet. We are honoured that the public transportation company has once again chosen our vehicles. This repeated choice reflects our clients' confidence in our products and strengthens our commitment to continue to provide cutting-edge transport solutions. Our goal is to deliver innovative and reliable vehicles that ensure the best possible driving experience for passengers while contributing to sustainable urban mobility," says Petr Novotný, President Components & Bus Mobility at Škoda Group.
Green mobility solution for Ostrava
Ostrava, renowned for its rich industrial heritage, is now embracing a future-oriented vision of sustainability. The contract for Ostrava's public transport company calls for the delivery of four Škoda 27 Tr trolley buses, with an option for two more units. These vehicles are built on the Solaris body and measure 18 meters in length. Škoda trolley buses generate zero emissions, making them an ideal choice for Ostrava's mission to improve air quality and create a sustainable future.
"Our commitment to providing environmentally friendly urban mobility solutions is perfectly aligned with Ostrava's vision for a sustainable future. That's why we are proud to have been selected as a supplier of modern trolleybuses to this city with a rich industrial tradition. Ostrava is one of our long-term partners, and both our trolleybuses and trams carry passengers in the city. By supplying more trolleybuses, we are working together to shape a cleaner, greener and more sustainable future for the city. These modern, fully air-conditioned vehicles with emission-free operation are an example of our efforts to produce innovative urban mobility solutions that place a high priority on the satisfaction of residents and the protection of the environment," continues Novotný.
Comfort and safety
In both trolleybuses, passengers and drivers will appreciate the comfort of travel thanks to fully air-conditioned interiors. A state-of-the-art information system provides easy orientation, while a camera system helps enhance safety. Škoda's meticulous attention to detail in its products ensures a smooth and pleasant travel experience.