With the 8 new Trollino presented today, Parma (Italy) has completely renewed its trolleybus fleet
Eight new trolleybuses (Solaris Trollino 12 with Kiepe Electric equipment) presented today, another 25 buses set to arrive by the end of the year and a batch of e-buses (the first for the city) to be delivered in 2024 (again Solaris, from central body Consip). These are the stages followerd by TEP Parma's fleet renewal. […]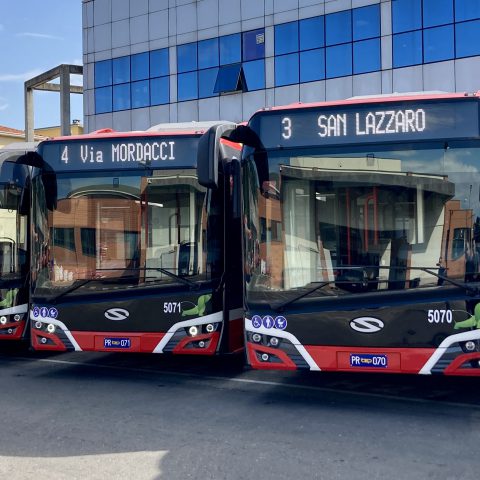 Eight new trolleybuses (Solaris Trollino 12 with Kiepe Electric equipment) presented today, another 25 buses set to arrive by the end of the year and a batch of e-buses (the first for the city) to be delivered in 2024 (again Solaris, from central body Consip). These are the stages followerd by TEP Parma's fleet renewal.
The purchase of the new trolleybuses required an investment of EUR 5.2 million, entirely financed by the Ministry of the Environment's National Strategic Plan for Sustainable Mobility.
Today Parma is the 5th largest Italian city in terms of trolleybus fleet, behind the large cities of Milan, Naples, Bologna and Rome. The network, inaugurated on 25 October 1953, will be 70 years old in 2023 and continues to play a fundamental role in the city mobility.
TEP has completed renewal of trolleybus fleet
The presentation of the new trolleybuses was held today, 21 September. From tomorrow they will be in service on lines 3 and 4, on the city's east-west axis. The municipal operator TEP thus completes the renewal of the trolleybus fleet begun in 2014.
The new trolleybuses presented in Parma are manufactured by Solaris, model Trollino, equipped by Kiepe Electric, 12 metres long and with full-electric power supply. The electricity supplied by the trolleybus network, in fact, also powers the on-board battery (based on LTO formula), which gives the trolleybus enough zero-emission range to run along the parts of routes not covered by overhead lines (about 45 per cent of the journey).
The capacity of the new trolleybuses is 85 passengers, 21 of whom are seated. There is a seat for mobility-impaired passengers and a separate seat for children in prams. The floor is entirely lowered, with no internal steps.
After the new trolleybuses, the first pure electric buses will arrive in Parma in 2024, initially for line 8 and then lines 2 and 9. Within a few years, therefore, the lines with routes entirely within the urban area will be equipped with electric vehicles or trolleybuses, with the exception of line 15, which already uses an ultra-low emission 'eco-smart' bus.