QEX, the new trolleybus line in Cagliari
CTM could not better celebrate 70 years of trolleybus service in Cagliari, in operation since 22 December 1952, by once again confirming the basis of its policy: attention to the environment, sustainable mobility, decongestion. The objective: convincing  even more citizens to use the public service rather than the private car, which always entails traffic and […]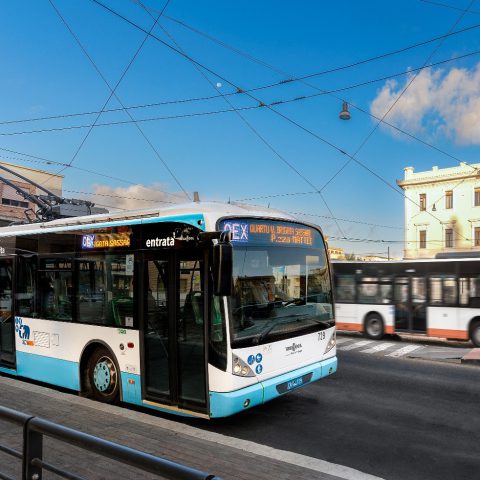 CTM could not better celebrate 70 years of trolleybus service in Cagliari, in operation since 22 December 1952, by once again confirming the basis of its policy: attention to the environment, sustainable mobility, decongestion. The objective: convincing  even more citizens to use the public service rather than the private car, which always entails traffic and parking problems. A competitive service must be fast and reliable, with safe waiting times and journey times, which must necessarily be very low, and it must be carried out with latest-generation zero-emission vehicles.  The new QEX – Quartu EXpress line, opened on 14 September 2022, fully respects these characteristics.
The new line connects the centre of Cagliari, Piazza Matteotti, with Quartu Sant'Elena, via Brigata Sassari, and has 20 intermediate stops. It is a fast service, which will use the prefential lanes of Via Marconi and Viale Dante and will be operated exclusively by trolleybus. CTM also owns one of the youngest trolleybus fleets in Europe, consisting of 18 Solaris Trollino and 14 Van Hool A 300 T, two-axle vehicles built between 2012 and 2016. Of these, six are equipped, the first in Italy, with lithium battery packs, instead of the motogenerator, and In Motion Charging technology, which allows the batteries to be progressively recharged under the network and the possibility of running autonomously for at least 20 km. It has thus been possible to return to Poetto in electric mode and the trolleybus service has been restored on Sundays and public holidays.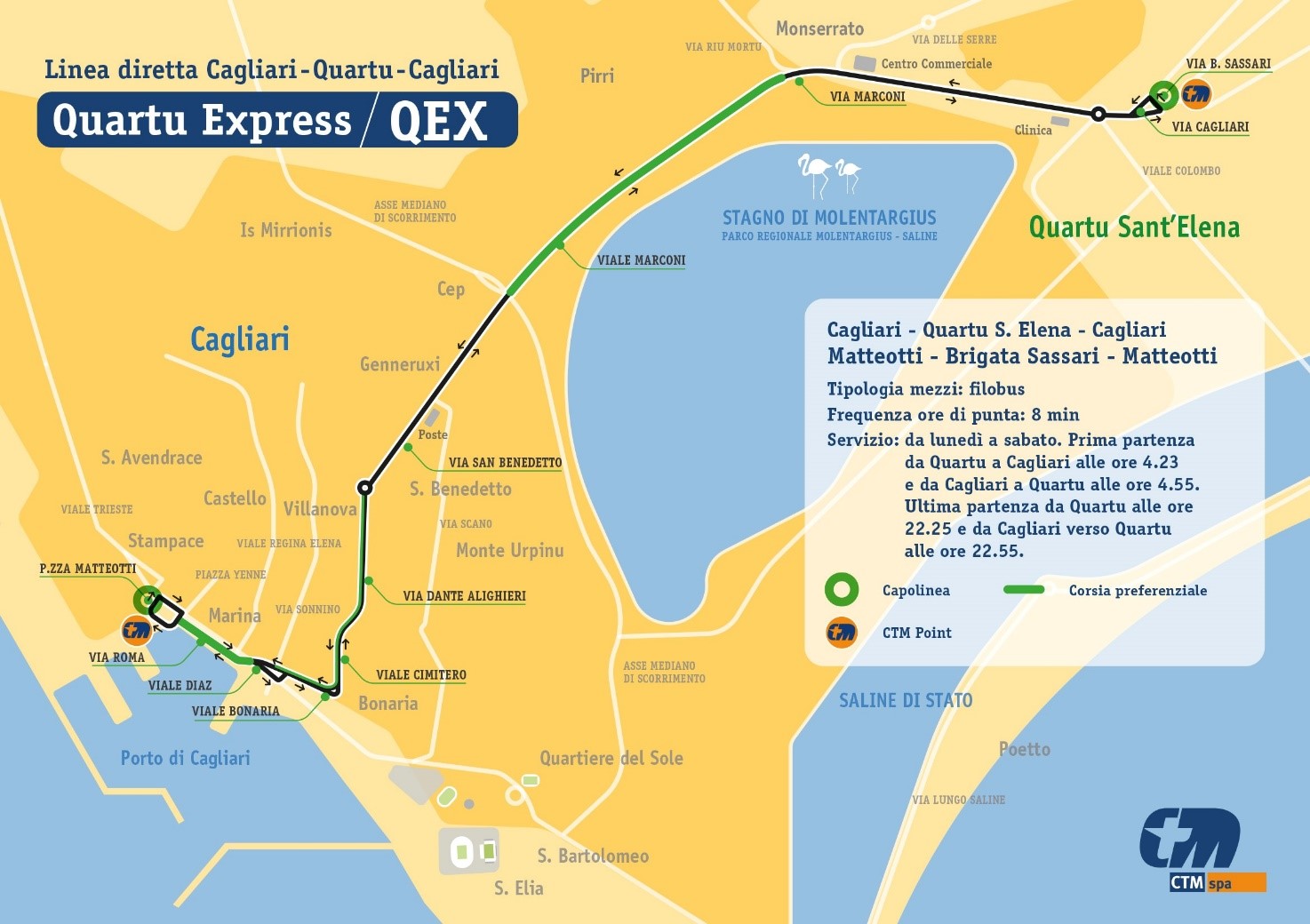 On the QEX, the trolleybuses already equipped with batteries will be used (with the support of two more units to cover the shifts), and for the occasion will be equipped with a new and attractive white and blue livery, already adopted on the latest generation of electric minibuses, which have been in service for a few months.
The line can absolutely be considered as BRT (Bus Rapid Transit), a fast service, which uses reserved lanes in Viale Marconi and Viale Dante, and cuts travel time.
The operating schedule is important, with the first runs departing at 3.55 a.m. from Piazza Matteotti, at 4.23 a.m. from Quartu, and the last runs departing from Cagliari at 10.55 p.m. and 11.12 p.m. from Quartu, from Monday to Saturday; the frequency will be only 8 minutes from 7 a.m. to 9 p.m. The route will be covered in 25 minutes and 8 trolleybuses will be used; the use of new 18-metre trolleybuses is already planned, with an even lower frequency. The old Line 31 is discontinued, Line 31R remains in operation on Saturdays and holidays. Line 30, on the other hand, will reshape its service only on the return route from Quartu to Cagliari, now passing through Quartucciu and Selargius.
The new line did not require any additional work and construction sites, and the reduced journey times are certainly competitive with private transport.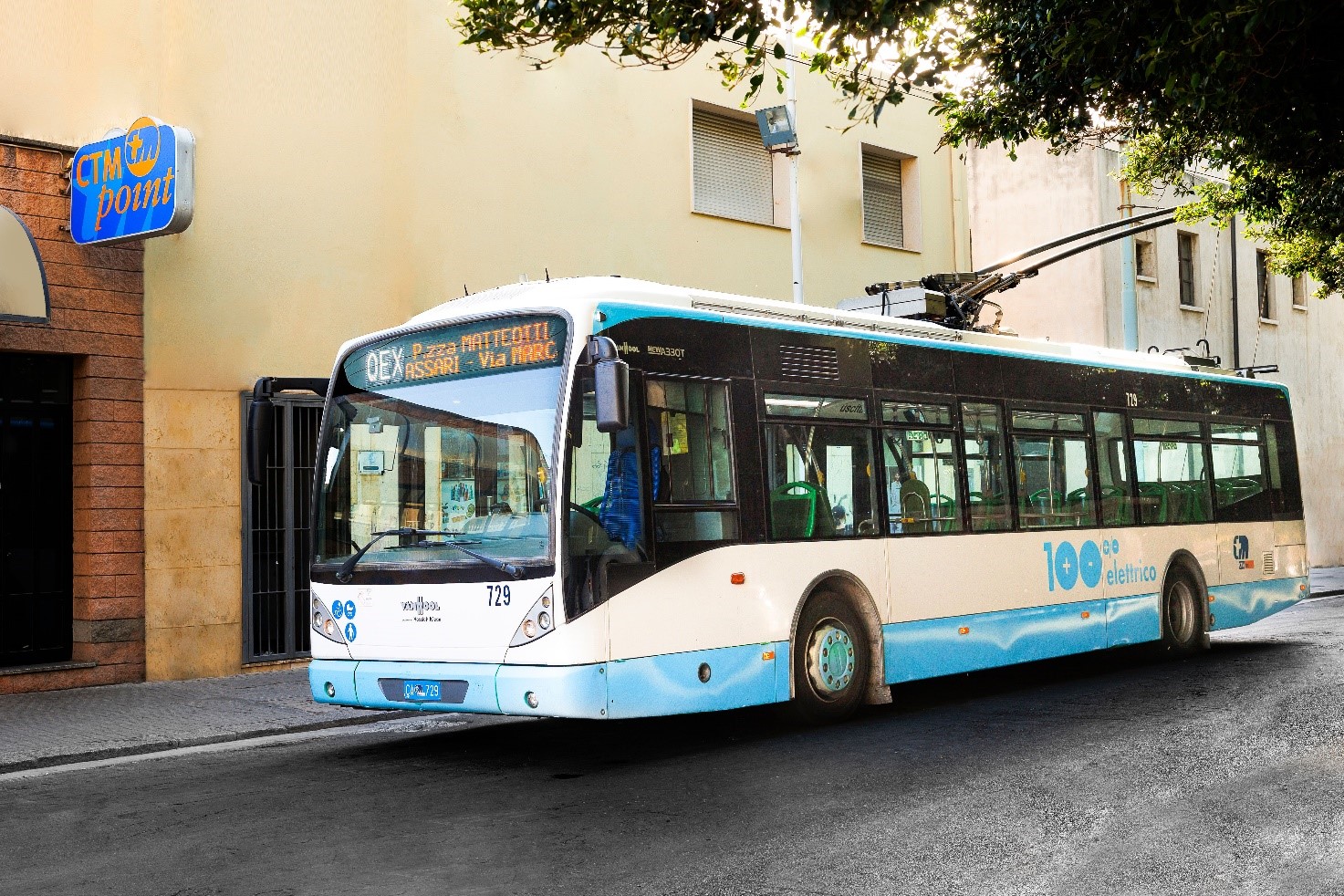 The mayor of Cagliari and the metropolitan city, Paolo Truzzu, is satisfied: «The objective for the metropolitan city is to provide a fast and reliable public service: this line with an eight-minute frequency meets this need, as well as – I would add – allowing many citizens to abandon their private cars and save on fuel costs, as well as avoiding traffic and pollution, which is leading to obvious climatic results. I hope that all the planning work we are doing as a metropolitan and municipal administration and through our company CTM will lead to an awareness of a future for our cities that is increasingly connected with smart mobility, also through shared mobility».
Quartu Sant'Elena's Councillor for Mobility Barbara Manca emphasises the greater ease of choice for citizens, who can now use a fast service that is present for at least 20 hours a day: «More rapidity in route coverage and an increase in the service in terms of hours. Two excellent novelties for the citizens of Quartu, with a view to improving the functionality of the public transport service. With the new line, the city is growing in terms of mobility and also in terms of environmental sustainability. In fact, we believe that the reduced waiting times for the trolleybus, as well as the speed with which it will be possible to reach Cagliari, are an excellent incentive for the use of public transport, which means using less private transport and thus also relieving traffic congestion. Full coverage of the day is another important incentive to change a certain type of culture that is today too tied to the private car. The citizen now has an easier choice, also taking into account the fact that using the trolleybus means not having to worry about finding and paying for parking».
(by Stefano Alfano)