28 TINA trams headed to RSAG Rostock's fleet. By Stadler
Stadler's new TINA trams are also coming to Rostock (Germany). On 24 June 2022, RSAG, the public transport operator in Rostock, placed an order with Stadler for 28 new trams, model TINA (German acronym for Vehicle with a Completely Lowered Floor), with an option for a further 13 units; the new vehicles will gradually replace […]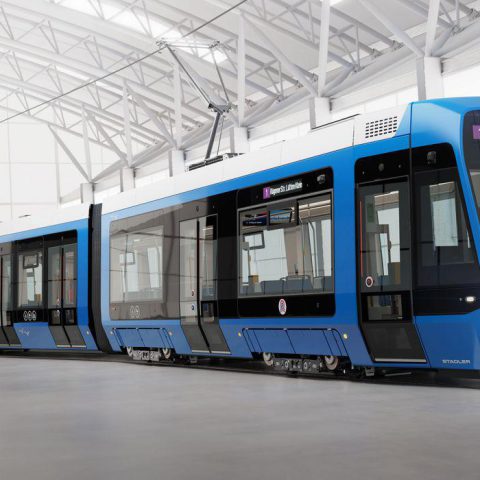 Stadler's new TINA trams are also coming to Rostock (Germany). On 24 June 2022, RSAG, the public transport operator in Rostock, placed an order with Stadler for 28 new trams, model TINA (German acronym for Vehicle with a Completely Lowered Floor), with an option for a further 13 units; the new vehicles will gradually replace models from the 1990s, which will most likely be sold to other networks. The first unit will be delivered to RSAG at the end of 2024, the next ones at the beginning of 2025.
Rostock, a German city of 209,000 inhabitants, located in the Mecklenburg region in northern Germany, has an important tram network in operation since 1881. After twenty years of horse-drawn traction, electric traction was introduced in 1904.
Rostock, a history of tram lines
Today, the network consists of 6 lines with a total length of 35.6 km. Three lines (4,5,6) run close to the railway station, lines 1 and 5 reach the hamlet of Lutten Klein and the district of Lichtenhagen to the north, to the south they reach the city centre, and then branch off to Hafenallee (line 1, to the east) and Sudblick, (line 5, to the south, the north-south diametral of the network).
The tram network has 140 stops, 24 of which are shared with the bus network. The commercial speed reached is 18.8 km/h. The average distance between stops is 537 metres.
The rolling stock includes 53 low-floor trams, representing 42 % of the RSAG fleet. The most modern are the 13 Tramlinks built in 2013 by Vossloh, while the 40 Duewag SWA 6NGs date back to 1994-96.
The bus fleet consists of 73 buses, 54 of which are 18-metre articulated buses and 19 are 12-metre articulated buses.
The frequencies and operating times are interesting. On weekdays, service on part of the lines (1,5,6) starts on average at 4 a.m. and ends at 1 p.m., the other lines start service at 5 a.m. and end between 8 and 11 p.m. The frequencies are 10 minutes at peak hours on lines 1 and 5, about 20 minutes on the other lines.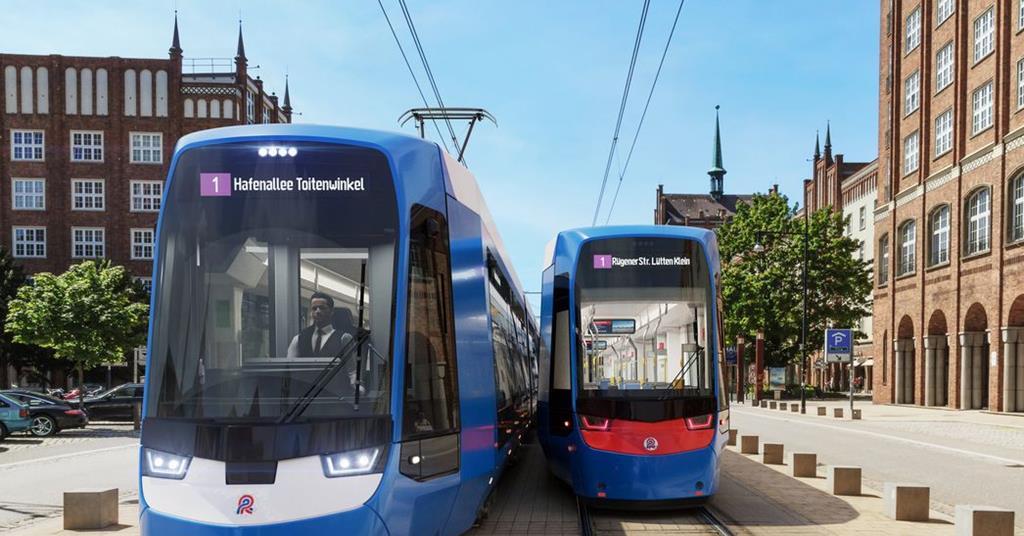 RSAG Rostock new 32-meter trams
Not only busy operations, but customer focus, which has always been a priority in the company's policies, has prompted RSAG to renew more than half the fleet.
The new model combines economy and comfort. 32 metres in length, articulated on three bodies, the TINA tram can accommodate 221 passengers, 75 of whom are seated. The four bogies, arranged on the two end carriages, are newly designed, and allow a maximum speed of 80 km/h, with a lower consumption between wheel and track and a high level of running silence. Equipment includes integral air conditioning, video surveillance, an integrated collision warning system, and a revolutionary fully digital driver's console.
Spaciousness is one of the TINA's strong points. There are no architectural barriers or steps either at the entrance or across the interior of the car; the special arrangement of electrical and electronic parts has maximised both footprint and height, and panoramic windows, which contribute to the important feeling of open space and an unobstructed view, even at the front, as the driver's cabin is closed but has a transparent glass window. The seats are large and widely spaced, and with easy access, as they are all on the same level and without access via steps. Wide doors ensure that passengers can get in and out quickly.
The availability of space makes it possible to reserve seats for the disabled, wheelchairs and bicycles, thus contributing to a modal integration of tram and bicycle. USB sockets will also be provided on the vehicles, as well as a customer communication system with video panels located in each till. Lighting and all services will be energy-efficient.
RSAG Rostock: what public transport can offer
Very positive comments from RSAG board members Yvette Hartmann and Jan Bleis: "We are delighted to be able to offer the population of Rostock, starting in 2025, even more services and safety levels, with environmentally friendly trams equipped with on-board air conditioning and wifi. These vehicles will boast innovative driver assistance systems, including collision prevention, which will be the distinguishing features of our new trams."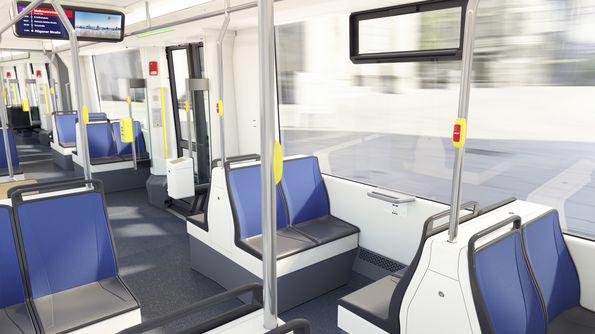 "The contract is a strong signal for climate-friendly mobility in Rostock and an investment in the future. With this expansion, RSAG and ourselves can once again show the population of Rostock what modern and environmentally friendly public transport services can offer our Hanseatic and university city," commented Rostock Mayor ClauI university," commented Rostock Mayor Claus Ruhe Madsen.
Satisfaction and pride for Stadler with this order, says Jure Mikolčić, CEO of Stadler Germany: "We are proud of the order from Rostocker Straßenbahn AG and are delighted to be supplying these passenger-friendly TINA trams for the third time since the product was brought to market not so long ago. We are pleased that, after the TRAMLINK TINA, the TRAMLINK will also enter passenger service in Rostock.
After Darmstad and the Basel suburban network (Swiss Baselland Transport – BLT), Rostock too will see innovative trams in service by Stadler.
By Stefano Alfano