Sevilla will receive up to five new trams starting in 2023
The city of Seville will receive two new trams. On 21 July 2022, the City Council of Seville signed a contract with the CAF group to supply two new vehicles, with an option for three more, for the tram line currently operating in the city. The new vehicles, to be delivered in 2023 to TUSSAM, […]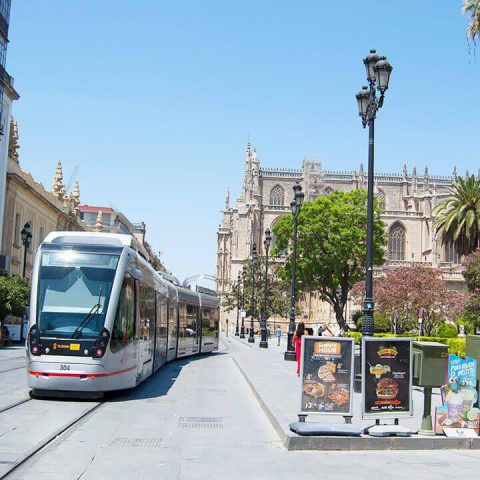 The city of Seville will receive two new trams. On 21 July 2022, the City Council of Seville signed a contract with the CAF group to supply two new vehicles, with an option for three more, for the tram line currently operating in the city. The new vehicles, to be delivered in 2023 to TUSSAM, Seville's public transport operator, will complement the current fleet of four Urbos 3 series vehicles (301 – 304 series), also manufactured by CAF, which will also provide maintenance for 30 years.
The line, called T1, better identified as Metrocentro and inaugurated in 2007, is currently 2.2 km long, with five stops: San Bernardo railway station (main interchange point, where there is also a metro station), Prado de San Sebastian, Puerta de Jerez, Archivo de Indias, and Plaza Nueva, the terminus of the centre, passing through C. San Fernando (near the university campus) and Avenida de La Costitucion, two of the city's main arteries, play a fundamental role in the mobility of the beautiful Spanish city.
Sevilla tram network to grow
The service is guaranteed from 6 a.m. to around midnight, with passages approximately every 10 minutes. Almost 4 million passengers use the tram every year, which has contributed significantly to reducing air pollution in the city centre. Operation also takes place on catenary-free sections, thanks to the adoption of on-board batteries that can be recharged at stops in just 20 seconds.
The new vehicles will consist of five modules and will be low-floor; there will also be an energy storage system enabling them to operate even when there is no overhead line between stops.
A tried and tested vehicle that has been in production for more than 10 years, the Urbos 3 is still a very innovative vehicle, thanks also to its distinctly modern design. Equipped with a low floor, the tram can develop a speed of up to 70 km/h; the fittings are made with flexibility in mind – a variable number of modules and different interior design solutions. The vehicle is also equipped with an air-conditioning and video surveillance system, as well as internal indicators to inform passengers about the route and other details.
In Spain the Urbos 3 is also used on the Cadiz, Granada, Malaga and Zaragoza networks.
With the arrival of the new trams, an increase in frequency can be provided, and it is also desirable to extend the line as far as Seville's Santa Justa railway station, with three intermediate stops, which would make the line more integrated into urban mobility.
By Stefano Alfano
Opening picture: https://visitasiviglia.com/