Skoda wins tender to deliver 91 trolleybuses in Vilnius
Škoda Group has won the tender for the delivery of trolleybuses in Vilnius, Lithuania. The contract with transport operator JSC "Vilniaus viešasis transportas" includes the delivery of 91 Ško-da 32 Tr vehicles with a total value of more than 52 million euros. The Lithuanian capital's fleet will thus receive modern vehicles that will contribute to […]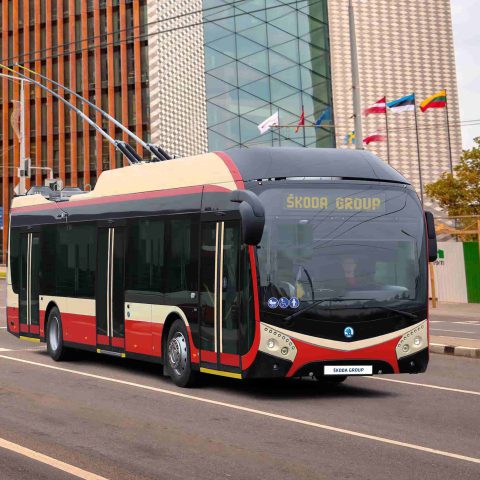 Škoda Group has won the tender for the delivery of trolleybuses in Vilnius, Lithuania. The contract with transport operator JSC "Vilniaus viešasis transportas" includes the delivery of 91 Ško-da 32 Tr vehicles with a total value of more than 52 million euros. The Lithuanian capital's fleet will thus receive modern vehicles that will contribute to a cleaner and healthier living environment. The trolleybuses will be con-signed between 2024 and 2025.
The contract represents another success for the group in the region. Since 2018, a total of 41 trolleybuses with Škoda traction equipment have been operating in Vilnius, while another 125 trolleybuses were previously delivered by the group to Riga, Latvia. This makes the company one of the leading trolleybus manufacturers in Europe in the long run. In addition to trolleybuses, Škoda has delivered 13 double-decker trains in Lithuania and is interested in other orders for electric train units.
Skoda 32 Tr, the low-floor trolleybuses with batteries
These twelve-meter vehicles will be equipped with a traction battery for autonomous driving over a distance of at least 20 km. The battery can be recharged directly from the catenary while in motion (so-called In-Motion-Charging). Alternatively, the batteries can be recharged at the depot via the CCS2 connector. Traffic safety and driver comfort so-are ensured by a modern camera system for monitoring traffic in front of the vehicle and the "Mirror Eye" system that replaces the conventional exterior side mirrors.
Passenger safety inside the vehicle will be enhanced by a camera system for monitoring the passenger compartment. Advanced air conditioning will be installed in the trolley buses, both in the passenger compartment and in the driver's cabin. Passengers will also benefit from a comprehensive information system and Wi-Fi connectivity. In addition, a boarding ramp for people with reduced mobility is planned. Another notable feature is the virus neutralization device. The order also includes a contract for the supply of spare parts needed for regular trolleybus maintenance for the first 5 years of operation.
"I am immensely proud that we have once again confirmed our position as the leading trolleybus manufacturer in Europe. We place great emphasis on sustainability and innovation in vehicle production and I am pleased to be able to offer our partners solutions that are both efficient and environmentally friendly. The Baltics is one of our most important regions, as we have already delivered hundreds of vehicles here," says Petr Novotný, President Components & Bus Mobility at Škoda Group. "In addition to our trolleybuses, our double-decker electric units are also in service in Lithuania, and we are very interested in getting involved in other train tenders as well. We are thrilled to be able to contribute with our products to create a greener and more comfortable public transport system for the residents of Lithuania."
"Trolleybuses with traction batteries and dynamic catenary charging are a highly efficient technology with huge economic and environmental potential. Another distinct advantage is that these vehicles do not require additional electric charging infrastructure, which is required for electric buses. Also, the new vehicles will significantly reduce existing repair costs and passenger inconvenience, thus ensuring faster, more timely and comfortable journeys for both the company's drivers and our passengers. This type of trolleybus is more manoeuvrable, more comfortable, and can bypass obstacles not only at junctions but also on surrounding streets if necessary, making the public transport system even more flexible and efficient," said Darius Aleknavičius, Director General of Vilnius Public Transport.