Daimler Truck, Traton and Volvo together to develop a European charging network for e-coaches ed e-trucks
Daimler Truck, Traton and Volvo Group have signed a binding agreement to create an equally owned joint venture «to install and operate a high-performance public charging network for battery electric, heavy-duty long-haul trucks and coaches across Europe», as stated in the press release. Such a (very relevant) news follows the announcement, made in July 2021, of […]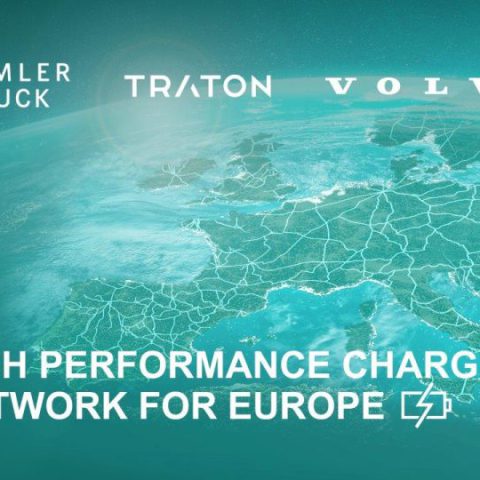 Daimler Truck, Traton and Volvo Group have signed a binding agreement to create an equally owned joint venture «to install and operate a high-performance public charging network for battery electric, heavy-duty long-haul trucks and coaches across Europe», as stated in the press release.
Such a (very relevant) news follows the announcement, made in July 2021, of the non-binding agreement for the foundation of the future joint venture, aimed at giving a decisive boost to the development of electric mobility for heavy-duty vehicles all over Europe.
Daimler Truck, TRATON and Volvo Group for e-mobility
Now, we know that the planned joint venture is expected to be fully operative in 2022. It will be equally owned by the three parties, which are supposed to invest 500 million euro each in the project. The one made by these three major groups is assumed to be by far the largest charging infrastructure investment in the European heavy-duty truck industry to date.
After the creation of the joint venture, Daimler Truck, Traton and Volvo Group aim to install and operate at least 1,700 high-performance green energy charging points on and close to highways as well as at logistic and destination points within five years. The future joint venture is planned to operate under its own corporate identity and be based in Amsterdam, Netherlands.
The joint action of Daimler Truck, Traton and Volvo Group addresses the urgent need for a high-performance charging network to support truck operators with their transition to CO2-neutral transport solutions, especially in heavy-duty long-distance trucking. High-performance charging infrastructure enabling long-haul trucking is a cost-efficient way towards significant, fast-to-realize emission reductions. This initiative is a significant start and an accelerator to make CO2-neutral heavy trucks and coaches a success.