Electric coaches: challenges, constraints, potential solutions. By Antonio Augusto Fernandes, University of Porto
Below, a contribution by Antonio Augusto Fernandes, Professor Emeritus, University of Porto, Faculty of Engineering (aaf@fe.up.pt)Picture caption: Feup eCoach interior design (Registered as a Community Design, with the Nº 008640346-0001, at the European Union Intellectual Property Office ) The demand for electric buses is increasing at a very rapid pace all over the world , […]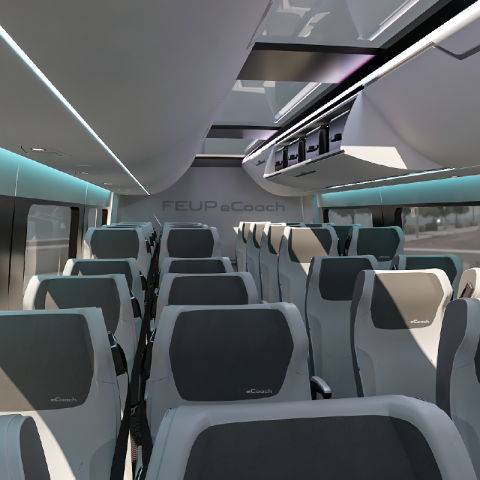 Below, a contribution by Antonio Augusto Fernandes, Professor Emeritus, University of Porto, Faculty of Engineering (aaf@fe.up.pt)
Picture caption: Feup eCoach interior design (Registered as a Community Design, with the Nº 008640346-0001, at the European Union Intellectual Property Office )
The demand for electric buses is increasing at a very rapid pace all over the world , with the global buses and coaches market growth expected to reach $56.77 billion in 2026 at a CAGR of 7.6%. The electric bus adoption in urban public transportation started in China.
At the end of 2017 there were 3 million city buses in operation worldwide, but only 385,000 belonged to the category of electric bus, according to Bloomberg New Energy Finance (representing a share of 13%). At the end of 2018 in Europe and USA there were only around 2,250 electric buses running: out of the global circulating 425 000 electric buses, 421 000 were deployed in China. Electric urban buses are expected to represent over 67% of the global bus fleet in 2040, with an estimated 645,000 units in 2025 (about 39% of the global urban buses fleet).
Constraints for zero emission transition in the coach field
In Europe, out of the 200,000 buses in public transport, it is expected that a third will be zero-emission by 2030. However, the introduction of electric intercity and long distance coaches has been slower, even though it has been demonstrated that total cost of ownership is lower, besides being more efficient and cleaner. One of the reasons might be the limited range of current batteries for heavy duty service and cost/maturity of alternative technologies, such as hydrogen fuel cells. Other reasons may be related to the more stringent requirements/constraints that coaches must meet, especially for long distance service, such as:
acceleration energy requirements
noise, vibration and harshness (NVH)
structural integrity (torsional and flexural strength)
safety (crashworthiness in rollover type accidents)
durability (corrosion, fatigue and fracture)
aerodynamics (drag force)
rolling resistance at speed
batteries weight and position
passenger and luggage packaging arrangements
passenger comfort requirements (lighting, visibility, riding comfort, temperature/humidity, seating comfort and space)
design for sustainability
reduced energy consumption (fuel or electricity economy)
These tougher constraints mean that new electric coaches will have to follow the same trends that we have seen in the last 5 years in the automotive industry, with OEMs introducing new ground up electric vehicles (pioneered by Tesla), instead of vehicles built on a combustion engine platform, which imposes many tradeoffs and compromises. The increased fuel economy requirements led car OEMs to reduce weight of the vehicles by downsizing, and other strategies.
The coach industry has been slow to introduce new lightweight technologies, compared with the car industry.
In order to design and deploy novel electric coaches, innovative Integrated Solutions will be needed :
Novel concept designs and architectures
Lightweight materials
Technologies enabling lightweight vehicle systems
This will impose several challenges, namely :
Reduce environmental impacts
Increase energy efficiency across the entire vehicle life-cycle
Demonstrate affordable and sustainable vehicle weight reductions
Deploy design procedures/methodologies to ensure structural integrity and safety, in particular, crashworthiness and durability
Reduce vehicle development time and lead time for market introduction
The FEUP eCoach project
A novel design concept, FEUP eCoach, developed and digitally proof tested at University of Porto, Faculty of Engineering (www.fe.up.pt), with the collaboration of the Design Studio Almadesign, embodies many features that may represent a paradigm shift of intercity coach design, capable of providing integrated solutions to overcome some of the challenges referred previously and allow a smooth transition from the dominant design, based on diesel powertrains and steel body in white, to other forms of energy, in particular batteries or hydrogen fuel cells, and to other structural/material designs.
The FEUP eCoach Concept embodies an Intercity / Long distance electric coach, aimed at developing a family of electric powered coaches, built around an electric drivetrain platform, powered by batteries or fuel cells. The concept can be classified as a "product-platform" innovation project, from which a family of "derivative" product projects, based on a common platform (long range intercity coaches, short range peri-urban coaches, tourism coaches, variable number of passengers), can be developed.
The architecture will allow increased subsystems volume series in a low volume production industry. The body in white is built around / grounded in the battery/fuel cell platform, using the same philosophy currently used by electric car OEMs.
The value proposition is associated to various benefits, namely but not exclusively: lightweight electric passenger coaches, optimized luggage packaging, with improved aerodynamics to minimize environmental impacts and total cost of ownership (TCO).
Several lightweight strategies were adopted in the design, combining them with a novel design of the coach interior that is expected to provide a safer and pleasant ambiance and a unique travel experience.The driving cockpit design is compatible with the use of driver assistance digital multimedia systems and a safer driver position in frontal crash accidents. Current intercity and long-distance coaches markets are still based on diesel applications. The transition to new forms of energy , in particular batteries and hydrogen fuel cells , will require the adoption of novel designs and innovative solutions, as referred. At the moment, it is still uncertain which technologies will be the dominant ones in the future. Thus, a flexible strategy, that maintains open the various approaches, is required, until the dominant design emerges. The FEUP eCoach provides a novel and flexible platform that represents a breakthrough and a paradigm shift for the future design of intercity and long distance coaches.