Flixbus announces: hydrogen long-distance buses on the European network by 2024
Flixbus hydrogen-powered coaches are set to be in operation in Europe by 2024. It's FlixMobility itself to announce the future milestone. «Diesel buses in the FlixBus fleet can be replaced with fuel cell buses in the future», the German group underlines. The minimum range request is 450 km on a single refilling. FlixMobility is taking […]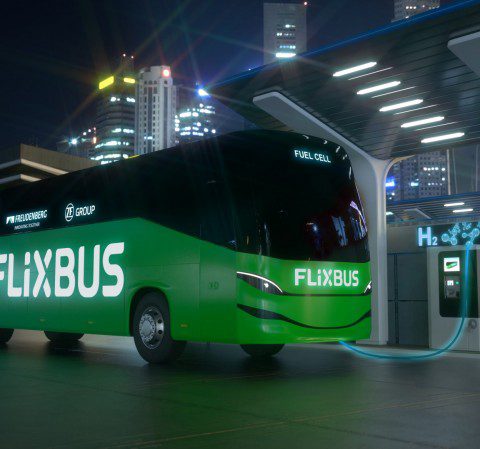 Flixbus hydrogen-powered coaches are set to be in operation in Europe by 2024. It's FlixMobility itself to announce the future milestone. «Diesel buses in the FlixBus fleet can be replaced with fuel cell buses in the future», the German group underlines. The minimum range request is 450 km on a single refilling.
FlixMobility is taking part in the recently started research project HyFleet together with its partners Freudenberg Fuel Cell e-Power Systems and ZF. The project consortium recently received the official "UIA" (a non-binding letter of intent) confirmation by the German Federal Ministry of Transport and Digital Infrastructure. FlixBus has recently launched two biogas-powered buses in operation and has been piloting battery-electric buses in France and Germany (although some issues occurred). A cooperation with German technology group Freudenberg was announced already in late 2019.
Fuel cell power technology is part of the green mobility revolution and gives bus producers the chance to shape the future of sustainable mobility. With this project, we continue our path of providing millions of people sustainable and affordable mobility. We are fully in line with the carbon neutrality objective of the EU and Germany and are ready to deliver

André Schwämmlein, founder and CEO of FlixMobility
HyFleet project for fuel cell bus coach
It focuses on the development of a high-performance fuel cell system for long-distance buses to bring sustainable and CO2-free mobility to life. Upon development of this technology, FlixMobility plans to test and launch fuel cell powered buses in long-distance traffic until 2024 in Europe to set new standards. The climate NGO atmosfair is involved as an associated partner and a European bus manufacturer will also join the project in the future.
In the first phase of the HyFleet project Freudenberg is developing a long-range fuel cell system that will be tested directly in a demonstrator coach. "We need solutions for long-distance," Claus Möhlenkamp, CEO of Freudenberg Sealing Technologies. "With our fuel cell system, we have such a solution. Together with our partners such as ZF Friedrichshafen AG and FlixBus, we are now developing the scientific basis for rapid industrialization and upscaling of the technology."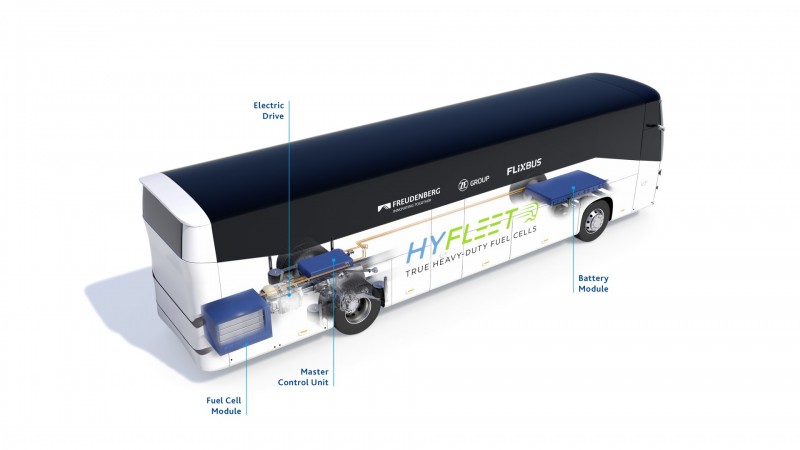 FlixBus: hydrogen buses are our future
«As a matter of fact, a passenger leads to emission of 26 grams carbon dioxide per driven kilometer. On a trip from Munich to Berlin, this would amount to approximately 15,6 kg CO2. Compared to a flight that causes roughly 143 kg CO2 equivalents on the same trip, this is a very small amount», the group says. Far beyond that, FlixMobility expects the planned fuel cell coaches powered by green hydrogen to save 100% of our emissions resulting in 0 g CO2 equivalents.
While hydrogen-powered buses are already operating inner-city routes, solutions for hydrogen-coaches for long distances are still lacking due to the extremely demanding nature of long-distance bus operations: FlixBuses drive around 200.000 km yearly with distances up to more than 1.000 km per day with usually only short stops.
Depending on the number of drivers involved during a trip the bus will legally have to take a break after 4,5 hours of driving, which is roughly reached after 450 km. For this reason, any diesel coach alternative should be able to perform at least 500 kilometers distance before refueling. Hydrogen offers great opportunities because it will be able to reach the required range or even more and refueling times will be as short as refueling Diesel buses. Thus, «diesel buses in the FlixBus fleet can be replaced with fuel cell buses in the future», the German group underlines.
FlixBus: fuel cell coaches for the green mobility revolution
André Schwämmlein, founder and CEO of FlixMobility: "We are proud to be part of the HyFleet project to develop the first fuel cell-powered long-distance bus in Europe until 2024 together with Freudenberg and ZF. Fuel cell power technology is part of the green mobility revolution and gives bus producers the chance to shape the future of sustainable mobility. With this project, we continue our path of providing millions of people sustainable and affordable mobility. We are fully in line with the carbon neutrality objective of the EU and Germany and are ready to deliver. It's great to see that the German government acknowledges the need for the transport sector to speed up its decarbonization and is ready to support collective transport on this road."