Indcar bets on biomethane. Two vehicles on display at Milan's Next Mobility Exhibition
Indcar highlights its vision of low-emission transportation at the Next Mobility Exhibition, Italy's most important show dedicated to the sustainable mobility sector. At its booth, Indcar is showcasing its technologies for decarbonizing mobility by offering customers solutions tailored to their businesses. The Spanish manufacturer has a comprehensive portfolio that focuses on sustainability, maximum productivity and […]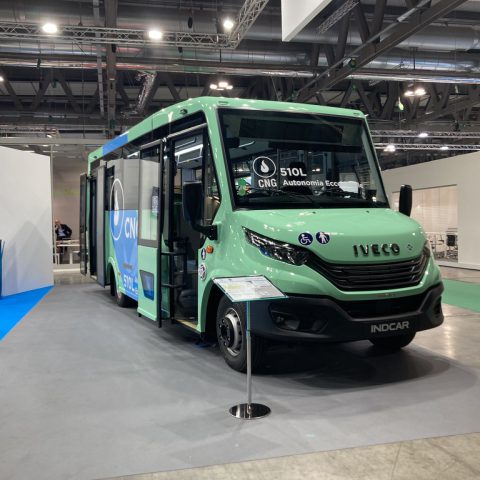 Indcar highlights its vision of low-emission transportation at the Next Mobility Exhibition, Italy's most important show dedicated to the sustainable mobility sector. At its booth, Indcar is showcasing its technologies for decarbonizing mobility by offering customers solutions tailored to their businesses. The Spanish manufacturer has a comprehensive portfolio that focuses on sustainability, maximum productivity and efficiency by proposing biomethane (CNG) and renewable fuel (HVO) transportation solutions.
Indcar's exhibition space at the Next Mobility Exhibition features two models: the Mobi City 8 CNG XL and the Wing 8. The former is a gas-powered minibus for urban use, while the Wing is a touring minibus also approved to be fueled by HVO (Hydrotreated Vegetable Oil) and available in a CNG (Compressed natural gas) version.
Focus on Indcar Mobi City 8 CNG XL
The Indcar Mobi City 8 CNG XL is a minibus based on the Iveco Daily and features a length of 8 meters and wheelbase of only 4.3 meters. Measures that allow contained maneuvering space, a feature appreciated by transportation companies called upon to operate in historical centers.
The Indcar Mobi City 8 CNG XL is equipped with FPT's 3-liter four-cylinder engine that delivers 140 horsepower and ensures particularly low levels of emissions at the exhaust. To increase the range Indcar has built a gas cylinder system with a maximum capacity of 510 liters (compared to the standard 246 liters), leading to increased autonomy thus meeting the toughest operational requirements.
The structure is type-approved according to Directive 2007/46, all-metal and subjected to anti-corrosion treatment. The outer coatings, on the other hand, are made of fiberglass with metal inserts. The INDCAR Mobi City 8 CNG XL carries up to 37 passengers and is available in Class I and Class II versions.

Indcar Mobi "is the best in class on the European market and the only gas-powered minibus with a range of 350 kilometers. It has been produced since its start of production in more than 1,500 vehicles. In Italy in particular, INDCAR has delivered more than 350 units in 2019-2022. Major customers include: Atac Rome, AMT Genoa, Acamir, and Autolinee Toscane. INDCAR, through the Consip tender won by Iveco Bus, has planned to produce this CNG model for the Italian market to be delivered by 2023", Indcar says.
Indcar Wing 8 in the spotlight
At Next Mobility Exhibition Indcar is also exhibiting Wing 8, an eight-meter long touring minibus carrying 28 passengers, also available in 8.5-meter size with 30-passenger capacity and 7.7-meter size in the rear collector version. The Indcar Wing 8 is built on Iveco Daily 70C21 mechanicals characterized by a swan-neck 'C' spar structure connected by studded tubular cross members. The rear axle is rigid while the front axle has independent wheels.
Wing is equipped with a three- liter FPT four-cylinder engine that delivers 210 horsepower featuring the four valves per cylinder controlled by overhead camshaft, the latest generation common rail and a system consisting of particulate filter, EGR and SCRfor low emissions. Hi-Matic transmission is provided. Wing features a driver's seat capable of offering more comfort and visibility to the driver so as to also increase safety levels.
Also for the driver's seat is the arrival of the new interior camera, integrated into the rearview mirror. The rear-view mirror screen also takes over the reverse function. Also on the Wing are LED side marker lights, which also perform a signaling function and improve visibility when maneuvering. Also LED are the profile lights on the access steps, steps now covered in PVC, in a color coordinated with the interior compartment aisle. A classic handrail integral with the steel wall designed by the INDCAR design center is provided to facilitate the ascent. The Indcar Wing is available in diesel, CNG and HVO versions.
Biomethane on the rise?
Biomethane is expected to account for 40 percent of the total natural gas as a vehicle fuel by 2030, Indcar says, resulting in a 55 percent reduction in greenhouse emissions associated with mobility. The entire range of Indcar CNG minibuses can run on biomethane.
HVO – Hydrogenated Vegetable Oil, is a second-generation biodiesel fuel, whose acronym stands for "Hydrogenated Vegetable Oil." This "green" diesel fuel, produced on an industrial scale since 2007, is characterized by the total absence of sulfur and ash produced during the combustion process. The fuel can be used either in pure form as an alternative to conventional diesel or as a supplement to improve overall environmental performance. HVO is a renewable fuel composed of 100 percent paraffins, molecules identical to those found in conventional diesel fuels. Compared with conventional fuels, HVO 100 has a completely renewable origin, enables a reduction in carbon dioxide emissions, requires no technical adaptations when used as a substitute for conventional fuel, and can be dispensed from the diesel tank.