Ballard will launch heavy-duty fuel cell modules for public transport at UITP Summit 2023
Ballard Power Systems is set to showcase its latest generation FCmove hydrogen fuel cell modules for zero-emission public transport at the UITP Global Transport Summit in Barcelona, from 4-7 June 2023. New Ballard's 70kW FCmove HD and 100kW FCmove-HD+ are designed for the specific requirements of transit buses and available in rooftop and engine bay […]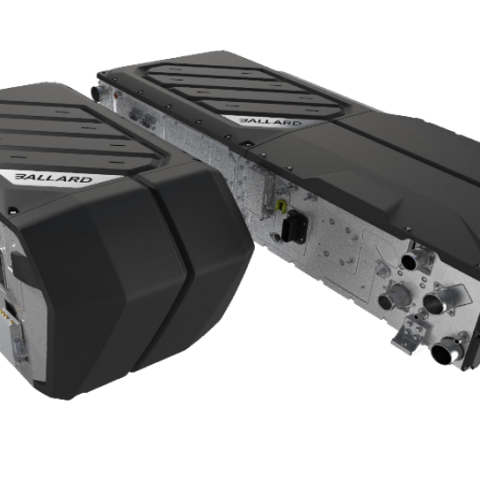 Ballard Power Systems is set to showcase its latest generation FCmove hydrogen fuel cell modules for zero-emission public transport at the UITP Global Transport Summit in Barcelona, from 4-7 June 2023.
New Ballard's 70kW FCmove HD and 100kW FCmove-HD+ are designed for the specific requirements of transit buses and available in rooftop and engine bay configurations.
Ballard fuel cell new modules for public transport
Hydrogen fuel cell powered buses with FCmove range products have been operating in revenue service since the mid-2000s and Ballard-powered buses and trucks have now operated over 150 million km globally.
Powering the fast-growing number of zero-emission bus fleets in Europe, North America and China, Ballard's FCmove product range incorporates fuel cell modules with a power range from 45kW – 120 kW.
FCmove-HD+, with 100kW power, in exhibition at UITP Summit together with a 70kW module, is said to be 40% more compact, over 30% lighter and with half the component parts of previous generations. Also at Ballard's Spanish stand, the FCgen-LCS stack uses Ballard proprietary heavy-duty membrane electrode assembly (MEA) and low-cost durable carbon plates. It "provides stable electrical power for FCmove products over a wide range of operating and environmental conditions", the supplier says.
Demand is rising for fuel cell buses
"Fuel cell electric buses are fast gaining momentum as a zero-emission solution in fleets where longer range, short fuelling time and high power requirements are a priority," said Nicolas Pocard, Vice President of Marketing & Strategic Partnerships, Ballard Power Systems. "We're encouraged by the growth in volume deployments and demand for hydrogen-power for public fleets – both buses and trains – proving that the next stop for zero-emission public transport is hydrogen power."
"The FCmove™ fuel cell range is designed for applications where reliability, durability and uncompromised performance are the key factors for a public transport operator's total cost of ownership," concludes Nicolas Pocard. "Our learnings from real-word experience enables us to deliver technology to meet zero-emission targets without disrupting existing operations, including range and performance, and our customer care team provides support to ensure successful implementation and operation during product lifetime."