What to expect from UITP Summit in Barcelona? A guide to news and anticipations [TO BE UPDATED]
UITP Global Public Transport Summit 2023 in Barcelona is just around the corner, promising a platform for industry leaders to showcase their latest advancements in the public transport sector. This highly anticipated event is set to unveil groundbreaking innovations that will shape the future of urban mobility. From electric vehicles and autonomous solutions to cutting-edge […]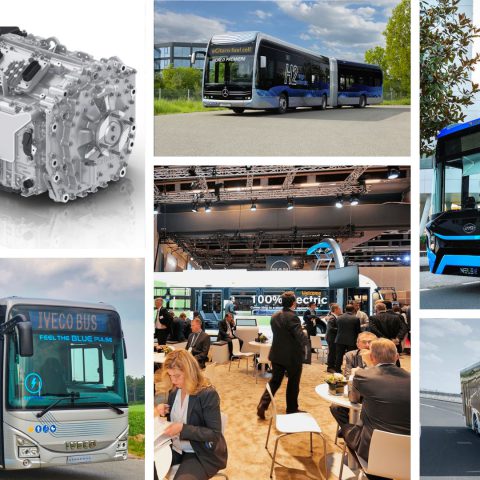 UITP Global Public Transport Summit 2023 in Barcelona is just around the corner, promising a platform for industry leaders to showcase their latest advancements in the public transport sector. This highly anticipated event is set to unveil groundbreaking innovations that will shape the future of urban mobility.
From electric vehicles and autonomous solutions to cutting-edge technologies and eco-friendly designs, the exhibition floor will be buzzing with excitement. In this article, we will explore some of the key highlights and anticipated breakthroughs from prominent exhibitors, offering a glimpse into the transformative landscape of public transport at the UITP Summit, among the main public transport exhibition in 2023.
We'll be exhibiting – feel invited at our stand
We're thrilled to announce that the Sustainable Bus editorial staff will be actively participating in the UITP Global Public Transport Summit 2023. We are excited to join the event as exhibitors: you'll be able to find us at 7D108
If you're attending the summit, feel invited to visit our stand and meet our team. We'll have copies of Sustainable Bus magazine available for distribution, providing you with a valuable resource packed with insightful articles and updates from the world of sustainable public transportation.
Iveco Bus, the e-Crossway for Barcelona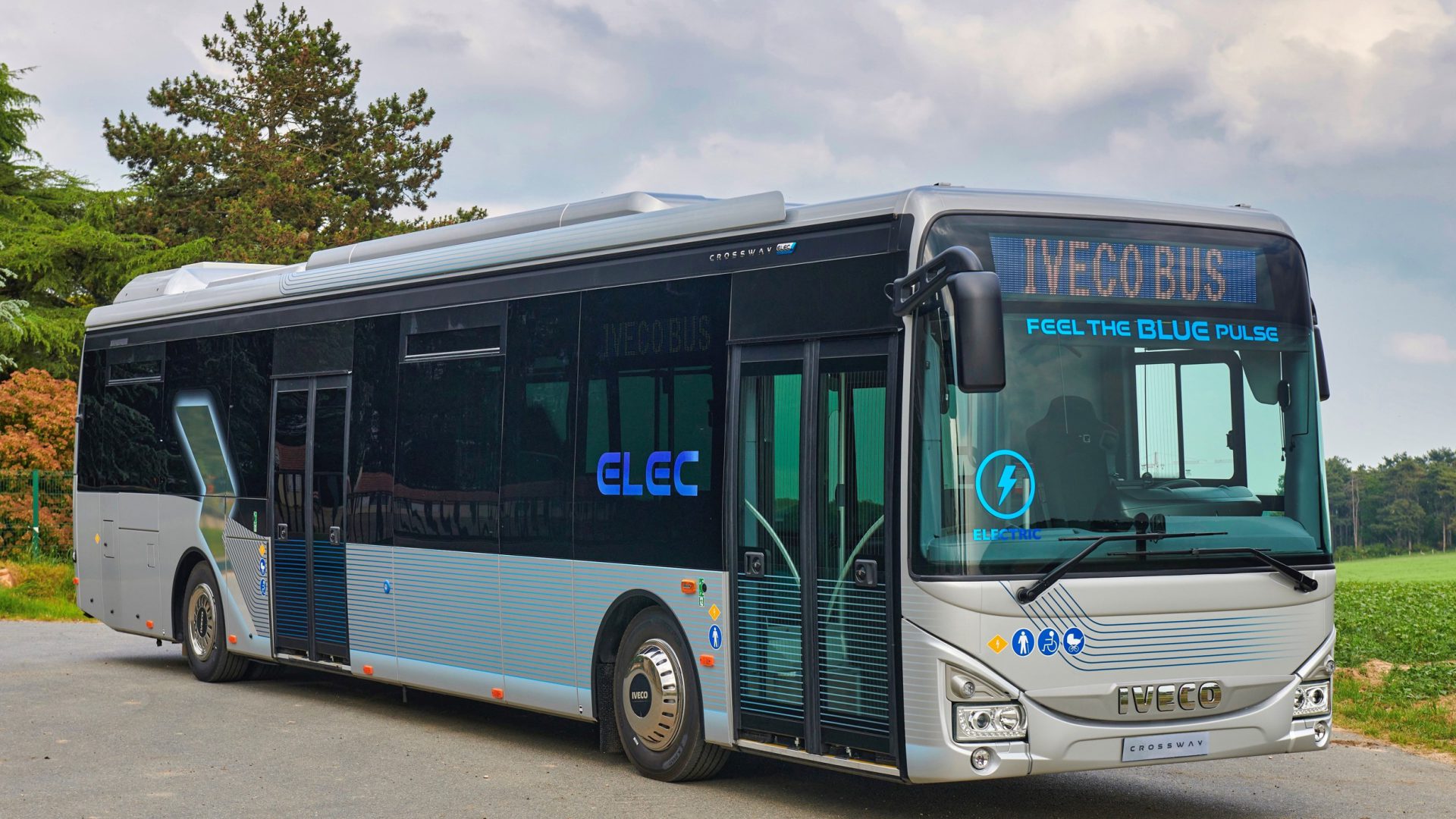 As we write, this is set to be the main news of the exhibition: Iveco Bus will showcase at UITP Summit in Barcelona 2023 the first 100% electric intercity vehicle ever produced by the brand, in a 13-metre version (just launched at a press event in Paris). It'll be accompanied at the stand by a 9.5m long electric urban midibus from the E-Way range (which is approaching its 'next generation'). The intercity e-bus launch is in line with the brand roadmap of having a full electric bus range in 2023.
The Crossway LE Elec bus is available in both urban (Class I) and intercity (Class II) variants, with options for 12-meter and 13-meter lengths. Powered by a central electric motor delivering 330 kW of power and a maximum torque of 2,200 Nm (by Siemens/Accelera by Cummins), the bus relies on NMC lithium-ion batteries assembled by FPT, offering high energy density (180 kW/kg). The Class I version can be equipped with five, six, or seven battery packs, providing respective energy capacities of 346 kWh, 416 kWh, and 485 kWh. The Class II version features 416 kWh or 485 kWh capacities.
What is more, a FPT Industrial area presenting a new battery pack with an exclusive design will be provided by the Group as well as a corner dedicated to the manufacturer's expert digital services.
Mercedes eCitaro fuel cell to be revealed!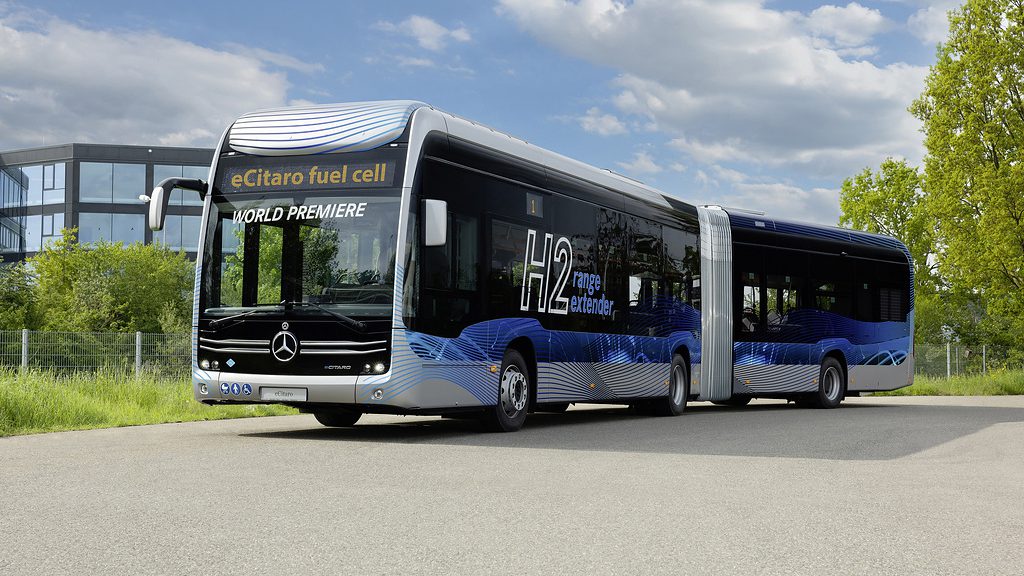 Daimler Buses is set to unveil the Mercedes eCitaro fuel cell in Barcelona. This event will provide visitors with the opportunity to witness the first-ever series-production eCitaro electric bus featuring a fuel cell as a range extender. Daimler Buses has collaborated with Toyota as the provider of the fuel cell module for the eCitaro.
Notably, the eCitaro fuel cell project distinguishes itself from many other fuel cell buses on the market through its battery capacity. While it is common for such buses to feature a smaller LTO battery (typically below 50 kWh) in addition to the fuel cell module, the eCitaro is equipped with a battery capacity comparable to its battery-electric counterpart. In fact, the 18-meter version of the eCitaro can house a battery with a capacity of up to 392 kWh.
Four e-buses at Karsan's stand
Karsan will bring in Barcelona its 6-meter e-bus Karsan e-Jest, market leader in the segment since three years. The e-Atak will be shown it its autonomous version (and another Autonomous e-Atak will be around…). At Karsan's stand there will be enough room for a 18-meter e-Ata. Last but not least, a 12-meter e-Ata Hydrogen will be also exhibited, after the unveiling at IAA last year.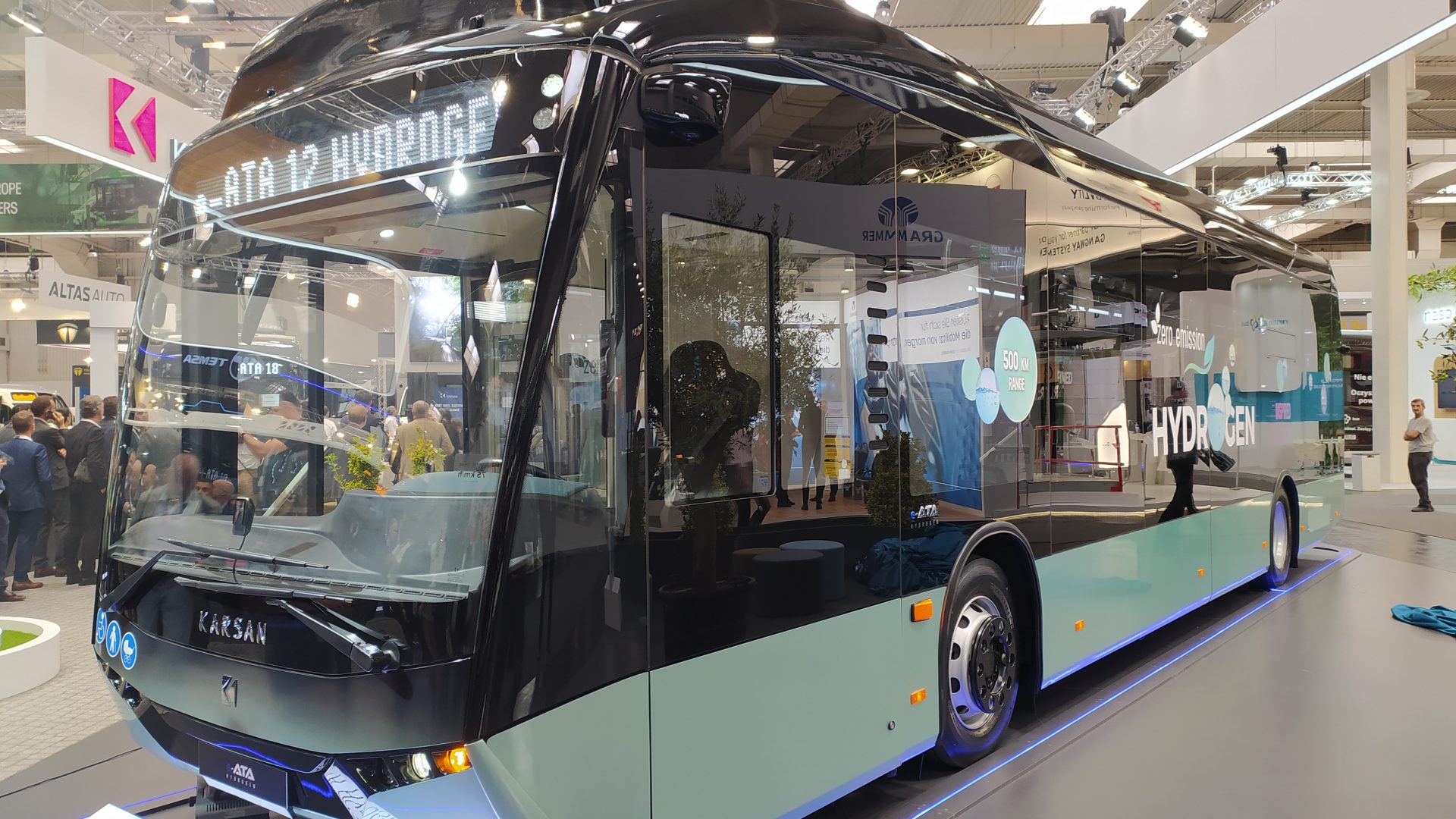 BYD-Castrosua 12-meter e-bus to be launched in Barcelona
BYD will be exhibiting a selection of latest innovations including the newly upgraded BYD eBus B19 articulated and the first customised BYD-Castrosua 12-metre eBus. Deal between the two companies was signed in September 2022.
The latter combines BYD's electric powertrain technology and battery expertise with Castrosua's NELEC body, following a collaboration between BYD and Castrosua to produce tailor-made vehicles to meet the specific requirements of Spanish customers.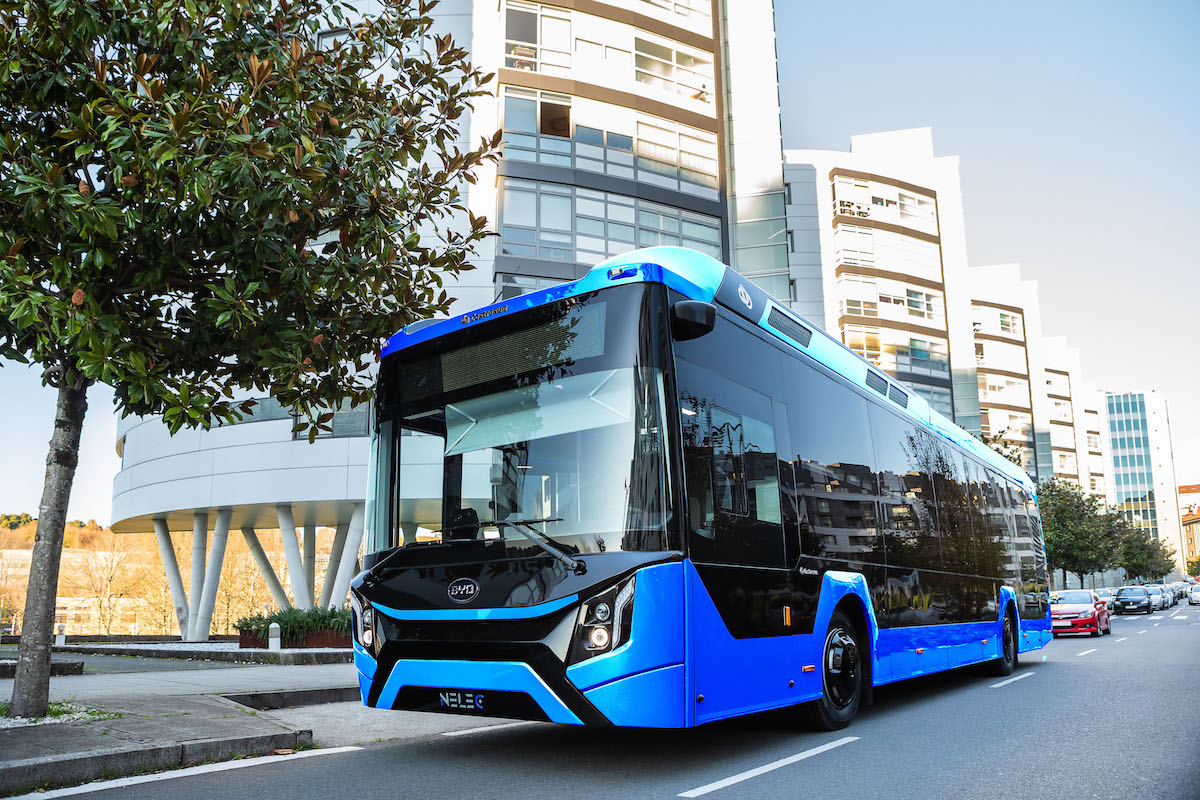 MAN to bring the 10-meter Lion's City E at UITP Summit
MAN at UITP Summit will show the newly-launched Lion's City 10 E, the latest member of the Lion's City E family. The new variant – that you can find analyzed in the just-published issue of Sustainable Bus May 2023 – will be officially presented to the public at the UITP Global Public Transport Summit in Barcelona. In the meantime it has already been offered in some tenders (over twenty vehicles have already been ordered in Switzerland and Germany).
It features a tare weight approximately one ton lighter than the twelve-meter bus (at least in the configuration with maximum battery capacity). In the standard configuration with three double doors there is room for 27 seats plus a disabled platform, plus about fifty standing places, for an overall capacity of around 80 passengers, in line with thermal buses of the same length.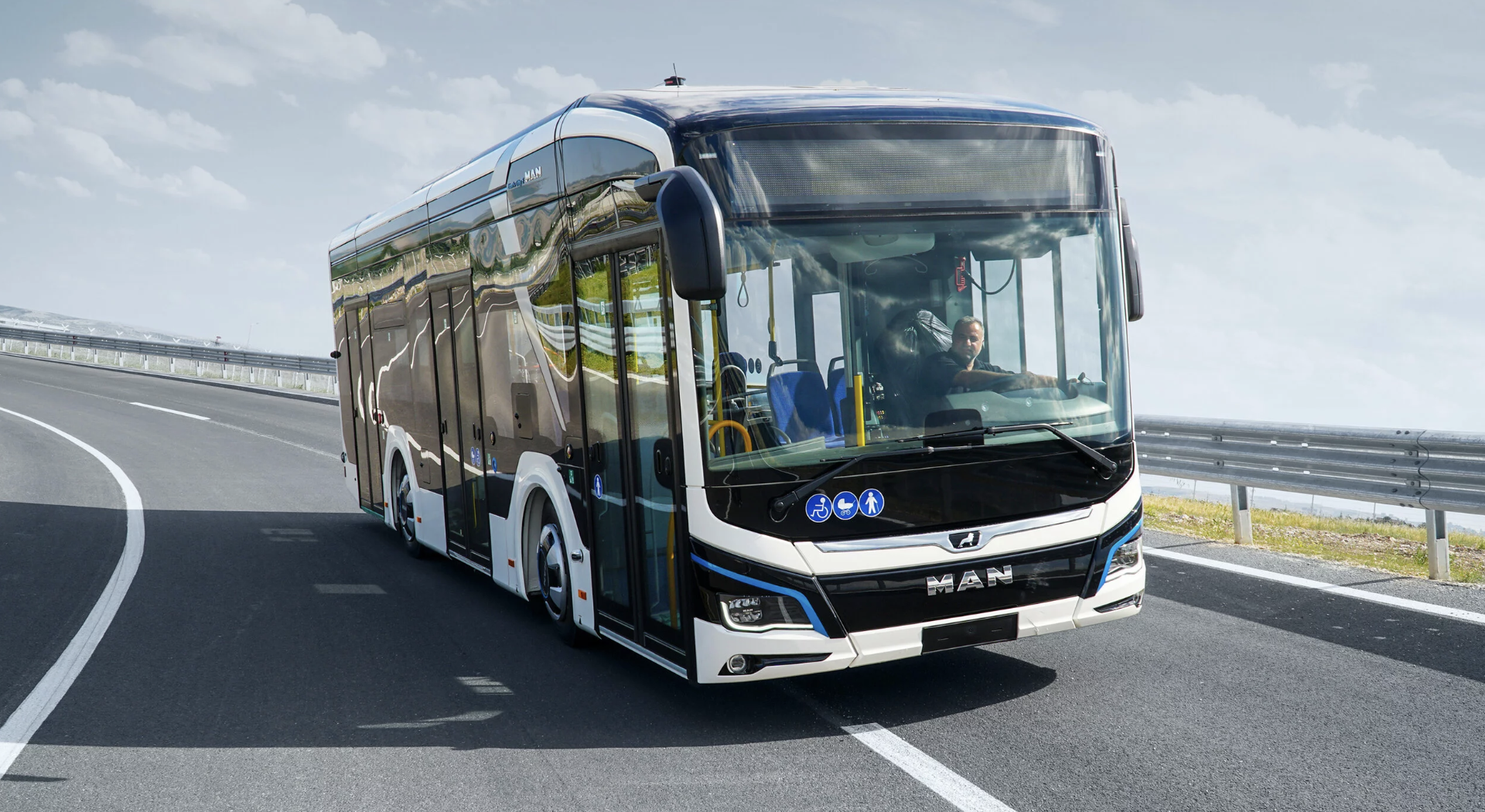 Irizar and Ebusco at UITP Summit 2023
Irizar e-mobility will be playing at home. The company states they will "present two electric buses that are transforming public transport in cities". It'll also be opportunity to present the new Management Team.
Dutch Ebusco will be present with both an Ebusco 2.2 and an Ebusco 3.0. "Visitors will be able to experience the power of carbon composite for themselves: on the stand, visitors will have the opportunity to see and hold a carbon beam to feel how light and yet strong this material is. Additionally, visitors can learn more about fleet monitoring by following a demo about Ebusco live", Ebusco spokeperson states.
VDL new generation Citea in Barcelona
VDL will be displaying a new generation Citea, model Low Floor 12,2 metres.
This demonstration vehicle, as widely known, is equipped with lightweight composite sidewalls, a sandwich roof, double glazing in sidewalls, rear and doors and flap windows left and right. Furthermore, it'll feature exterior in distinctive blue petrol, white and shiny black colours, 490 kWh battery, two double doors (by Ventura), 41-3 passenger seats, camera monitoring system.
Solaris at UITP Summit 2023 with the Urbino 12 Electric
At the 2023 UITP Global Public Transport Summit Solaris Bus & Coach will demonstrate its most popular model, the Urbino 12 electric, manufactured to order for carrier TMB Barcelona.
It features electric central traction motor. The energy needed to drive them is stored in Solaris High Energy batteries with a total capacity of 420 kWh.
The vehicle, which can accommodate up to 77 passengers, is equipped with a full package of safety systems – including MirrorEye (re-designed mirrors, or rather cameras which project the image onto screens inside the vehicle, which significantly expand the field of vision and improve the aerodynamics of the bus) and MobilEye Shield+ (a system that signals the risk of collision and warns the driver – with acoustic signals and visual alerts on the display – also in cases when changing lanes without adequate signalling beforehand or when no appropriate distance to the vehicle in front is maintained).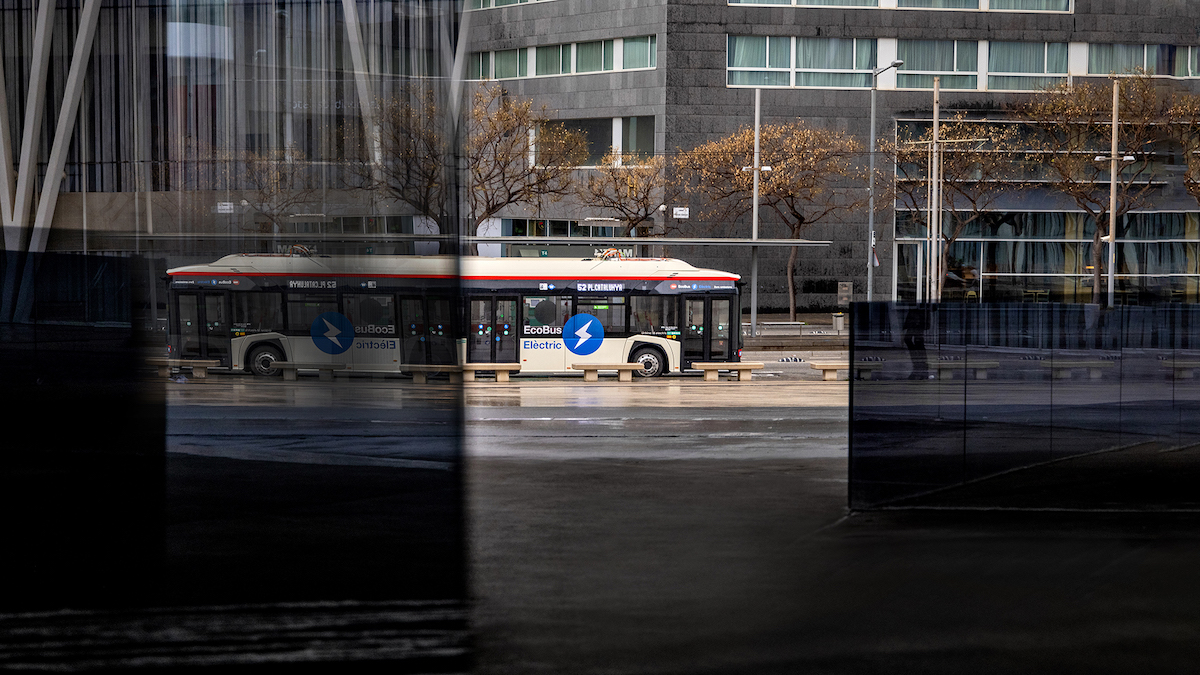 Apart from the presentation of its bus, representatives from Solaris will also take the floor in the capacity of experts during the Spotlight-Forum Sessions. They will share with the Global Summit's participants their expertise and experience regarding hydrogen buses (presentation by Mateusz Figaszewski, E-mobility Development & Market Intelligence Director, entitled "Accelerating zero-emission bus deployment") and on battery safety (presentation by Jakub Jóźwiak, After Sales Director, as part of the section "Latest innovations in charging and battery technology for e-buses").
ZF at UITP Barcelona 2023 with focus on autonomous solutions
At the UITP Global Public Transport Summit in Barcelona, ZF will unveil its CeTrax 2 dual electric central drive system for buses, which features an integrated three-speed transmission that allows easier tackling of steeper slopes and challenging topographies.
ZF will also showcase its Level 4 autonomous shuttle capable of maneuvering fully electric in mixed traffic without a safety steward. Additionally, ZF will exhibit its SCALAR fleet orchestration platform for AD-driven vehicles, its Bus Connect platform's EcoLife Health Check module for remote diagnostics for bus fleets, and its first Collision Mitigation System for city buses that offers active braking to help avoid or mitigate impending collisions.
Masats: bus ramps towards a new era
Masats will present a series of latest innovations at the UITP Expo in Barcelona. In the bus sector, Masats will be showcasing its all-new RE2 electric ramp, which allows comfortable access to the vehicle with a single 930 x 850 mm platform. Despite weighing 48 kg, the ramp is tested up to 350 kg and includes a presence sensor on the edge and on platform for enhanced safety. The ramp can be operated manually. The supplier will also introduce the 028d sliding door, which is designed for vehicles with limited clearance at the top. The door is suitable for all vehicles, including autonomous or double-decker vehicles. The door also features predictive maintenance through built-in Masats Evolution electronics, being it a focus on the company (that belongs to Irizar group).
IVU Technology at UITP Global Summit in Barcelona
Berlin-based IVU Traffic Technologies will be presenting the latest features of the integrated, one-stop solution IVU.suite. The main focus will be on solutions for autonomous driving, electromobility, and disruption and incident management.
"Germany is the first country in the world to have allowed autonomous vehicles on public roads for public transport and logistics. IVU has been involved in this success from the very beginning: for over two years, the IT specialist has been using IVU.suite's integrated software to support the city of Monheim with Europe's only autonomous line operation to date", IVU stresses.
Managing personnel and vehicle resources competently is the key to success for every transport operator. This is particularly relevant for disruptions. From the vehicle and personnel dispatch to the control centre and passenger information – IVU.suite's end-to-end digital workflow rises to the most complex challenges. The new module IVU.incident also helps you to communicate, document and overcome incidents of any kind.
Ballard at UITP Summit with latest generation range
Fuel cell modules provider Ballard Power Systems is set to showcase its latest generation FCmove hydrogen fuel cell modules for zero-emission public transport at the UITP Global Transport Summit in Barcelona, from 4-7 June 2023.
New Ballard's 70kW FCmove HD and 100kW FCmove-HD+ are designed for the specific requirements of transit buses and available in rooftop and engine bay configurations.
INIT with next generation suite at UITP Summit
INIT will be showcasing a next generation of its integrated planning, dispatch, telematics, and ticketing system MOBILE.
What is interesting, INIT will present Ticketing-as-a-Service (TaaS) at its UITP booth. It "enables transport companies to quickly introduce Open Payment Ticketing according to the EMV payment method and without extensive investment – even in addition to existing fare management systems. This is made possible by a cloud-based platform. It allows transport companies to manage their fares and best fare options using a browser application and it processes payments. As a result, transport companies can offer maximum service with minimum effort – at minimal costs", as the company states.
ABB E-Mobility to unveil new charging solutions, with focus on flexibility
ABB E-Mobility just shared that it "will launch its new charging solution for electric fleets on booth 6E240″. The group adds some background considerations: "With the decarbonization of road transport taking center stage in many nations' climate policies, recent years have seen huge strides made towards the provision of electric mobility solutions. But while the growing number of public charging points is excellent news for EV drivers, these alone do not meet the needs of electric fleets. Despite comprising just 4% of vehicles, buses and trucks contribute a staggering 40% of global transport emissions, making their rapid electrification a vital step in the decarbonization process. Slightly fewer than 66,000 electric busses were sold worldwide in 2022, around 4.5% of total bus sales. The electrified share of the bus market is rising quickly, however, by 20% in Europe and 27% in the US, with India accounting for more demand than the US and Europe combined, and the Chinese market acquiring 98% of all e-busses globally. With this rapid rise comes significant demand for more flexible and efficient charging solutions to enable e-bus fleets to keep running from the space-restricted urban depots where they are often based. ABB E-mobility's new charging solution represents a big step in helping to deliver against the complex needs of fleet operators".
Volytica diagnostics – CarMedialab partnership
Volytica diagnostics and CarMedialab (INIT Group) have announced a strategic partnership aimed at further developing the condition monitoring of electric bus batteries. The collaboration comes ahead of the UITP Summit in Barcelona, where both companies will showcase their solutions at booths H1500 and C202.