Bosch is beginning production of a 800-volt drive for electric vehicles
Bosch is starting the production of new powertrain solutions for electric vehicles based on 800-volt technology. This will make recharging faster and provide a further boost for electromobility. According to the manufacturer, the 800-volt version of the inverter is based on silicon carbide semiconductors. These increase efficiency, and thus also range. In the 800-volt variant of the […]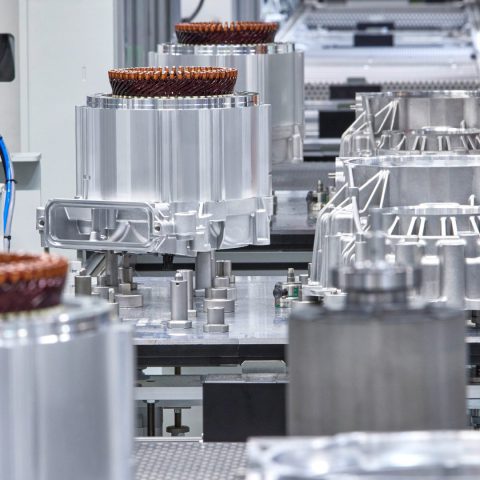 Bosch is starting the production of new powertrain solutions for electric vehicles based on 800-volt technology. This will make recharging faster and provide a further boost for electromobility.
According to the manufacturer, the 800-volt version of the inverter is based on silicon carbide semiconductors. These increase efficiency, and thus also range. In the 800-volt variant of the electric motor, Bosch has increased the power density. This reduces weight and allows for a more compact design.
This modification allows for thinner cables, which saves on space, weight, and copper. As a result, the inverter is more compact and powerful. With a 400-volt onboard network, the maximum charge power at charge spots that are powerful enough is 250 kilowatts. With 800 volts, twice this is possible in theory. In addition, the inverters feature SiC chips, in which carbon atoms have been introduced into the crystalline structure of the ultrapure silicon. This improves the semiconductors' electrical conductivity.
Bosch 800-volt drives for electric vehicles
The standout features of the 800-volt variant of the Bosch electric motor now going into volume production are 830 Nm torque and 460 kilowatts output. In terms of power-to-weight ratio, this delivers 35 percent more power density, at 60 kilowatts per kilogram. This means that the Bosch motor achieves a maximum efficiency of up to 98 percent.
"Bosch is upping the voltage in electromobility. Our 800-volt technology is the next step toward more powerful electrical powertrains and shorter recharging times," said Ralf Schmid, the executive vice president responsible for electrification in Bosch's Powertrain Solutions division. Bosch will be presenting its latest novelties at IAA Mobility in Munich at the beginning of September.