Bus disinfection strategies highly needed. Public transport and post-Covid19 era
Bus disinfection practices have become an imperative in this period of spread of the Covid-19 pandemic, and will remain so in the post-Coronavirus period. This is made clear in the national guidelines for public transport and also, as of February 2020, in the UITP Factsheet "Management of Covid-19. Guidelines for public transport operators", where it is […]
Bus disinfection practices have become an imperative in this period of spread of the Covid-19 pandemic, and will remain so in the post-Coronavirus period. This is made clear in the national guidelines for public transport and also, as of February 2020, in the UITP Factsheet "Management of Covid-19. Guidelines for public transport operators", where it is clearly reported that «Cleaning routines may have to be adapted and in- creased focus should be put on disinfecting common surfaces and spots to touch».
Anyhow, leaving for a moment aside what national regulations will make mandatory, effective bus disinfection procedures will be essential to restore users' confidence in public transport.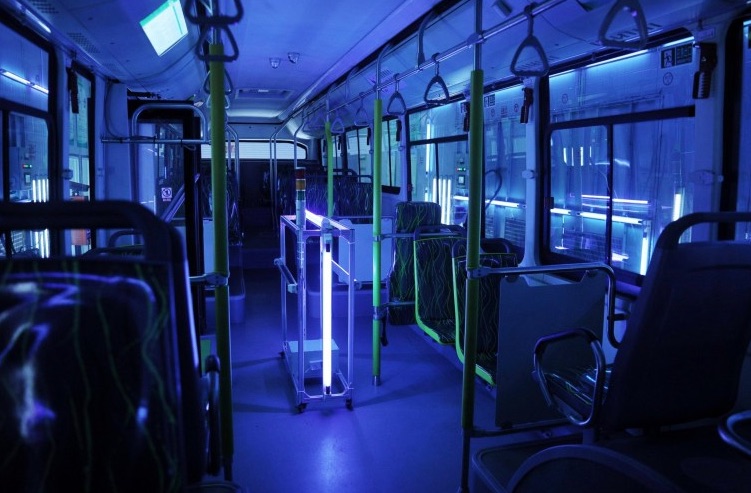 UV light as a way to (empty!) bus disinfection
Much attention has been gathered by UV lamps as a way to disinfect the bus interiors. Pictures from the UV chambers of Shanghai public transport company Yanggao quickly went around the world. The carrier executes the UV cleaning process remotely through 210 UV tubes. Two cleaning rooms have been converted to this extent, and each can disinfect up to 250 buses a day. Anyhow, it must be stressed that UV lamps, cautioned the World Health Organization, must not be used on skin as they can cause irritation and are among the causes of skin cancer. So they can be used only in empty buses as a way to achieve a quick bus disinfection.
Bacteria killing LED lamp for bus disinfection
The disinfection of vehicles, be them public transport means or other, is the goal of the 'bacteria killing' lamp developed from the company Code 3 (Ecco group), based in the UK, with Vital Vio VioSafe technology based on LED light. The light allows the continuous sanitization of environments from the bacteria.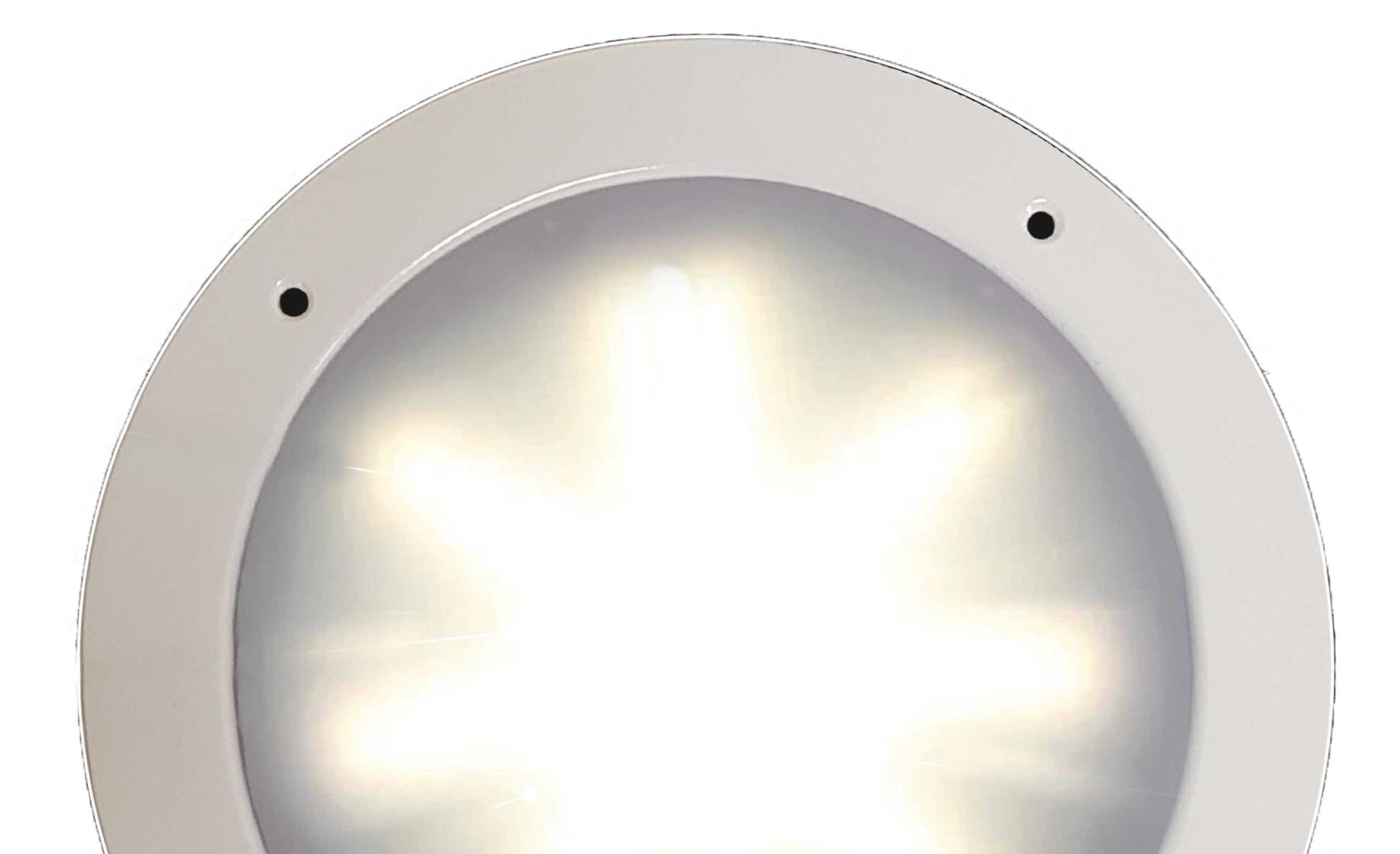 LED light does not present any danger to human health, unlike UV light, which is also used for vehicle disinfection against Covid19 (as already mentioned) but is to be used only without people on board. Vital Vio's technology is designed to meet IEC 62471 standards, provides guidance for the photobiological safety assessment of lamps, lamp systems and defines exposure limits, and is proven effective in killing bacteria and other harmful organisms including: MRSA, Salmonella, E. coli, and C. diff. Features include 48 LEDs, clear polycarbonate lens, bright and dim mode, and a 5 year warranty.
Marcopolo, a spray for Covid-free buses
Marcopolo Next, a division of Marcopolo focused on innovation, in collaboration with Aurratech, developed a spray ad hoc for the bus disinfection. The FIP Onboard (FIP stands for 'fog in place') spray will be part of the onboard biosafety services that will be offered by the South American manufacturer, already tested by Viação Ouro e Prata, Rio Grande do Sul transport operator.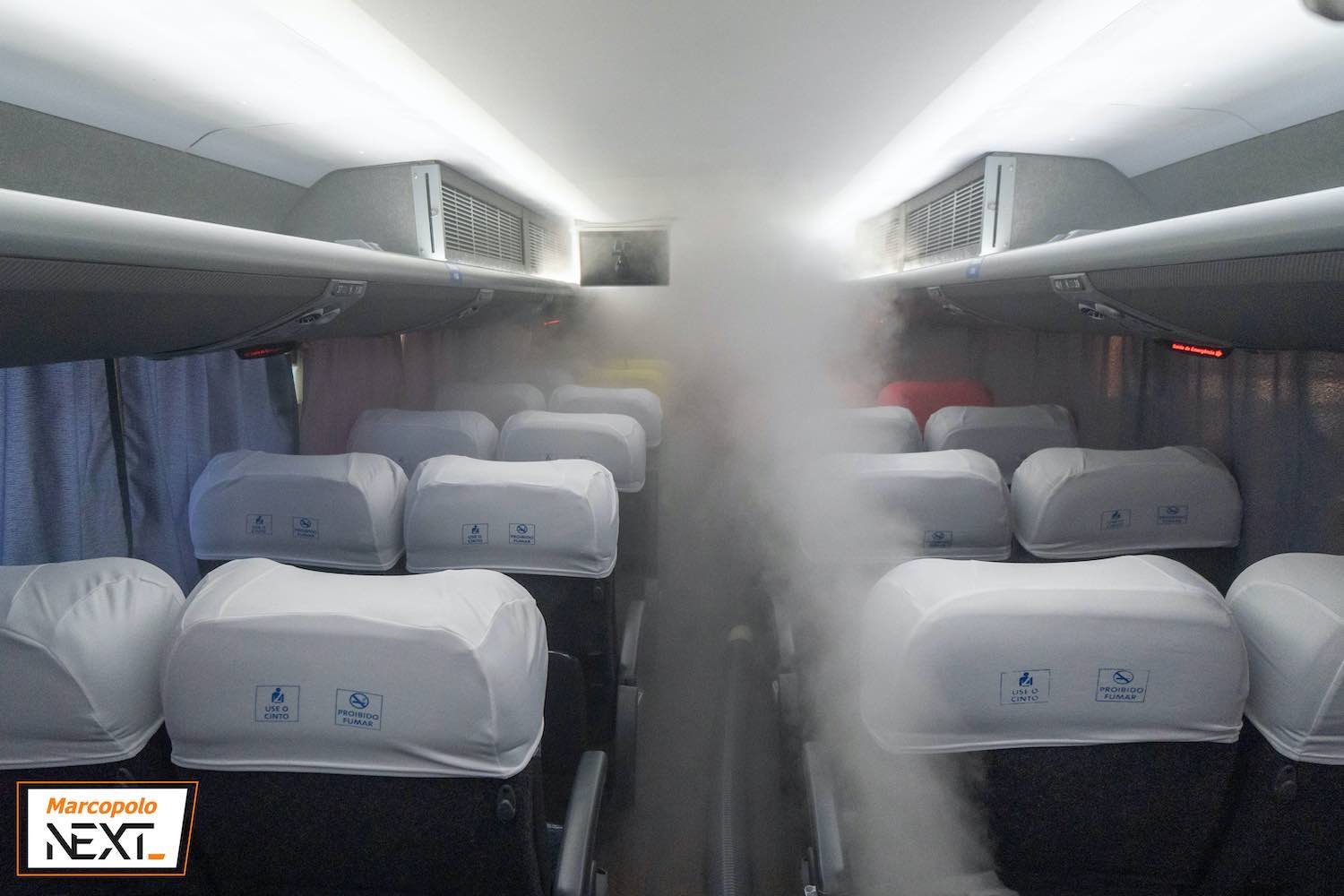 How does it work? A fog is dissipated throughout the inside of the bus. In about 10 minutes, the product acts and disinfects, preventing the spread of viruses, reports the company. The fog acts without leaving the seats damp and does not interfere with the operation of internal electronic equipment. The total application process takes less than 20 minutes and guarantees protection for up to three days. FIP Onboard has a formula developed exclusively for buses.
In Warsaw a comprehensive bus disinfection was carried out by Polonus SA. The operation involved both Warsaw West bus station and the vehicles. The disinfection was realized through ozonation machines, it was reported on Polandin.
Not only bus disinfection: A/C usage is critical
It doesn't concern bus sanification, but another very critical point for virus contagion on public transport vehicles is the use of A/C systems. The Chinese bus air conditioning supplier Cling shared a decalogue on how should public bus air conditioners be properly used and effectively disinfected.