Cummins is on track with Meritor-developed e-powertrain 17Xe for heavy-duty vehicles
A new electric powertrain for heavy-duty vehicles called 17Xe ePowertrain has been tested by Cummins for the first time at Millbrook Proving Ground in Bedfordshire. This powertrain was developed by Meritor, which is since early 2022 part of Cummins, along with consortium partners Danfoss' Editron division and Electra, under the guidance of the Advanced Propulsion […]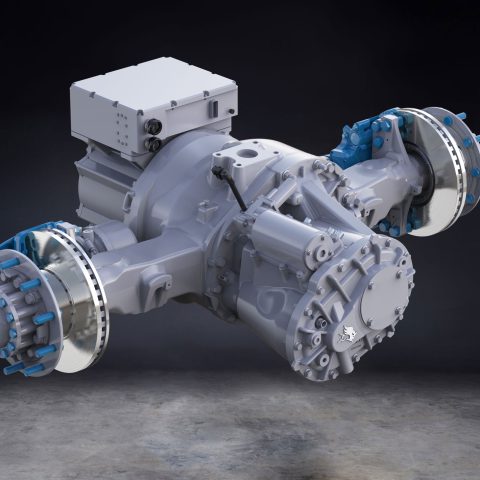 A new electric powertrain for heavy-duty vehicles called 17Xe ePowertrain has been tested by Cummins for the first time at Millbrook Proving Ground in Bedfordshire. This powertrain was developed by Meritor, which is since early 2022 part of Cummins, along with consortium partners Danfoss' Editron division and Electra, under the guidance of the Advanced Propulsion Centre (APC). The test was carried out successfully in a trial truck, Cummins points out.
Cummins launches 17Xe ePowertrain
The 17Xe ePowertrain is capable of producing 430 kW of continuous power, making it suitable for use in heavy-duty trucks and buses in 6×2 or 4×2 configurations. It is available with a range of gear ratios and three-speed transmission capabilities.
Danfoss' Editron division was responsible for developing and supplying the high-power electric motor and high-efficiency silicon carbide inverter that power the axle. The electric motor is based on a patented architecture and thermal management methodology that exceeds the APC's 2035 Roadmap targets for power density. This means that only one motor is needed for the electric powertrain design, which is a significant improvement compared to current alternatives that require two motors to meet the power requirements of this product segment, Cummins says.
Cummins 17Xe ePowertrain for trucks and buses
"We're excited to showcase the capabilities of the 17Xe ePowertrain," said John Bennett, General Manager – ePowertrain at Cummins. "The compact, integrated design and power density are ideal for OEMs interested in developing future-proof, sustainable heavy-duty equipment. We look forward to working with our customers to accelerate decarbonisation of the heavy-duty vehicle market."
"I am really proud to see this major milestone by demonstrating a fully integrated e-axle into a heavy-duty vehicle," added Sunil Maher, Senior Project Delivery Lead, APC. "Seeing this prototype vehicle in operation is a significant step to addressing net-zero transport challenges in the UK. I look forward to the next stage of development which will see technical improvements and further product variation, to deliver solutions for heavy-duty and commercial vehicles. The collaboration between Cummins, Danfoss' Editron division, and Electra Commercial vehicles accelerates technology development, and with the funding support this enhances skills, and increases capabilities which strengthen the UK's supply chain as well as safeguarding and creating jobs".