More performance ebus batteries: triple alliance Keolis, Iveco Bus and Forsee Power
Keolis, Iveco Bus and Forsee Power together to optimize the performance of electric bus batteries. The three companies have signed a collaboration agreement to improve the performance of ebus batteries by pooling their specific expertise. The goal is to gain control over battery aging and optimize the use of these assets, which are a central […]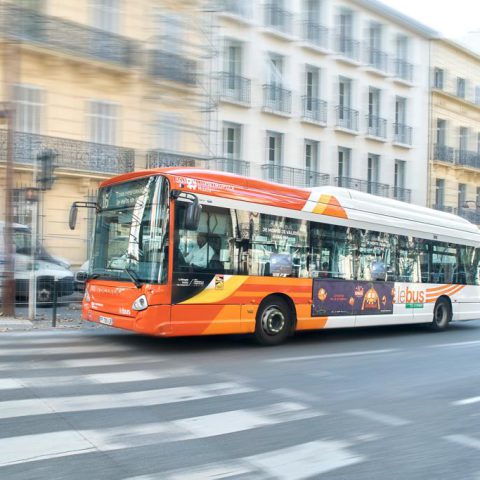 Keolis, Iveco Bus and Forsee Power together to optimize the performance of electric bus batteries. The three companies have signed a collaboration agreement to improve the performance of ebus batteries by pooling their specific expertise.
The goal is to gain control over battery aging and optimize the use of these assets, which are a central technical and economic challenge in electric bus systems. The first trials will take place in the public transport network of Aix-en-Provence, Southeast France (Aixenbus), which has a fleet of 41 electric buses.
The first phase of this partnership, which is already underway, consists of knowledge sharing in order to assign members to their respective fields of expertise. The second phase, on the other hand, involves diagnosing the current situation and identifying opportunities for optimization. A new phase will begin in 2023: at this stage, strategies to optimize the use and operation of electric vehicles will be implemented in order to slow down the aging process of batteries and save energy.
Depending on the results obtained, this collaboration may be extended to other urban transportation networks operated by Keolis.
Protagonists's statments
Pierre Gosset, Industrial Director of Keolis group: «This partnership marks an important step for Keolis Group in improving our knowledge of batteries. The fleet and the network in Aix-en-Provence offer us the opportunity to conduct a life-sized experiment that will enable us to monitor the equipment over time, in different seasons and conditions in the field. I would like to thank our public transport authority partner, the Métropole Aix Marseille Provence, who is supporting us in this project. The goal is to better our understanding of batteries, then to control the battery ageing process, in order to improve their reliability, reduce risks and, if possible, extend their lifespan. By sharing their knowledge, the partners will be able to assess the actual performance of the batteries in service, and the factors that affect their lifespan, more precisely. This information will be fundamental for predictive maintenance and the reduction of energy consumption. These results will obviously be shared with the public transport authority».
Solène Grange, Managing Director of Iveco France: «This agreement represents a significant development for our electric mobility offer. The data exchanges with our E-WAY by HEULIEZ buses provide additional input for the analyses we already conduct as part of our IVECO ON connected services, which are designed to meet the main requirements of public transport and operators for proactive maintenance and the optimisation of fleet management»
Nicolas Cailloux, Vice-President Europe of Forsee Power: «We are pleased to be part of this partnership with Keolis and Iveco Bus, which will enable a real-life case study of a sizeable fleet of 41 electric buses on the Aixenbus network. As the leader in battery systems for buses 1 a major public transport operator 2 one of Europe's leading designers and manufacturers of buses 3 the European leader in smart battery systems in Europe, with 1,500 equipped buses, Forsee Power has teams of experienced experts to analyse the data with its new smart charging service. The data sent from the E-WAY by HEULIEZ electric buses will enable our engineers to propose good battery management practices that will optimise their use with the charging infrastructure, thereby optimising their service life. The purpose of this initiative is to further reduce costs and the environmental footprint of electric buses, which are already very competitive in comparison with internal combustion engines».