Optibus acquires Trillium and expands in North America
Optibus, a cloud-native solution for mass transit planning, scheduling, rostering and operations, announced the acquisition of Trillium, a SaaS provider that helps transportation operators and agencies keep passengers informed. Trillium will become Optibus' Global Center for Data Excellence and operate as a subsidiary of Optibus, integrating its market-leading expertise in public transportation data feeds and […]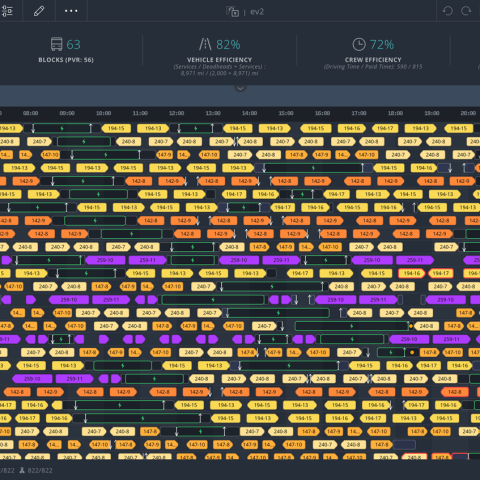 Optibus, a cloud-native solution for mass transit planning, scheduling, rostering and operations, announced the acquisition of Trillium, a SaaS provider that helps transportation operators and agencies keep passengers informed. Trillium will become Optibus' Global Center for Data Excellence and operate as a subsidiary of Optibus, integrating its market-leading expertise in public transportation data feeds and a team of twenty-five data experts into Optibus, strengthening and diversifying Optibus' mass transit optimization capabilities and reinforcing the company's global expansion strategy.
Apps play a key role in transit passenger travel: every day, billions of people use their phones to discover transportation options, plan trips, and access real-time ETA and service changes. When data is missing or inaccurate, passengers are uninformed, directly impacting ridership levels and the passenger experience. Uninformed passengers perceive unexpected wait times as 3-5 times more burdensome than time spent in the vehicle, reducing the usefulness and appeal of public transportation.
Trillium improves communication with passengers by allowing real-time schedules and service data to be published in a format usable by apps including Google Maps and Apple Maps. In its fourteen years of operation, Trillium has helped over 350 U.S. transportation agencies and operators, including the Port Authority of New York and New Jersey, Caltrain, Anaheim Resort Transportation, San Francisco Bay Ferry, Sonoma County Transit, DC Streetcar, and Departments of Transportation in Massachusetts, Oregon, Colorado, and other U.S. states, improve passenger experience and communication.
Trillium joins the Optibus family
«This new partnership between Trillium and Optibus, two innovative and customer-focused technology companies, is exciting for the transportation industry. As a current Optibus customer and long-time Trillium customer, I am confident that this combination will give Marin Transit and other Optibus customers a more sophisticated and robust set of tools to manage and publish GTFS passenger data», said Robert Betts, director of operations and planning for Marin Transit.
The acquisition diversifies Optibus' service offerings to include Trillium's data-centric products and services, including GTFS Manager, transit alerts, interactive maps and transit websites. Optibus will begin to take a consultative approach to challenges that cannot be solved by software alone, but also require data aggregation and analysis.
«Our acquisition of Trillium accelerates Optibus toward its vision of a complete, end-to-end software platform for daily transportation operations. We are committed to realizing this vision through the development of cutting-edge technologies along with organic business developments and business development initiatives that enable us to work with industry leaders like Trillium», said Amos Haggiag, CEO and co-founder of Optibus.
«Open data systems are what drives public transportation forward. By joining Optibus, Trillium will integrate its data-centric offerings into an end-to-end software platform for public transportation operations, allowing us to continue to provide excellent support and advice to transit agencies and state and federal DoT customers in North America», the words of Aaron Antrim, founder and CEO of Trillium.