Valeo's novelties at Busworld: from battery cooler to zero-emissions HVAC for e-buses
Valeo will be participating in Busworld Europe 2023, the world's largest event for buses and coaches, held in Brussels from October 7 to 12, 2023. The focus will be on thermal management systems for buses worldwide, emphasizing thermal comfort, safety, and emissions-free fleet solutions: "thermal comfort without compromise, maximum safety and fleet-efficient solutions with zero […]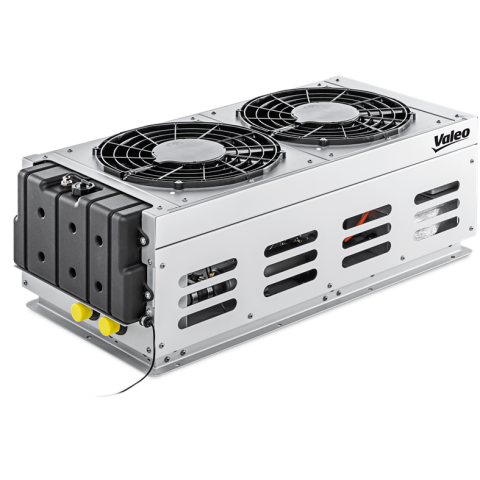 Valeo will be participating in Busworld Europe 2023, the world's largest event for buses and coaches, held in Brussels from October 7 to 12, 2023.
The focus will be on thermal management systems for buses worldwide, emphasizing thermal comfort, safety, and emissions-free fleet solutions: "thermal comfort without compromise, maximum safety and fleet-efficient solutions with zero emissions", as the company says.
Valeo E-Cooler: battery temperature management at Busworld
The rapid growth of electric buses in the shift toward low-carbon mobility has significantly impacted vehicle development and powertrain-related systems, including heating and air conditioning. To address this need, Valeo will present its E-Cooler solution in Brussels (picture above). This new system provides efficient battery temperature management with a maximum cooling capacity of 10 kW. It aims at safeguarding batteries from overheating during charging and discharging. The system cools them during high-temperature driving conditions, and even includes a heating function to maintain optimal battery temperatures. An additional heating function even warms up the sensitive batteries if necessary to restore the optimum temperature range, Valeo explains.
Valeo HVAC solutions at Busworld, starting with REVO-E HP R744
Valeo's latest air conditioning system for buses with alternative engines, the all-electric rooftop air conditioner REVO-E HP R744, will be introduced. This system cools and heats the interior of electric vehicles with minimal energy consumption, Valeo claims. Notably, it features dynamic de-icing on demand, ensuring energy-efficient heat pump operation even at temperatures below 5°C.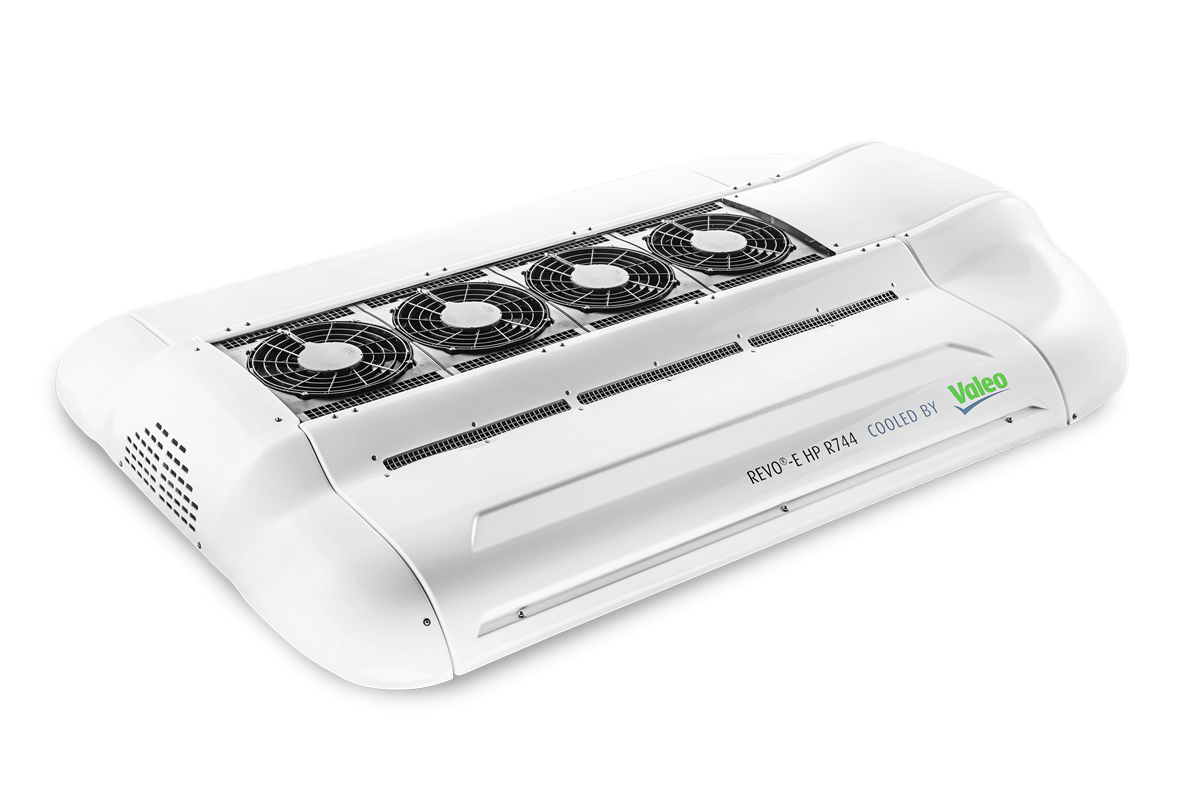 The system operates using the natural refrigerant R744. The chemical properties of this refrigerant and the specially developed control system enable it to be used at ambient temperatures from -20° to +50°C, Valeo states. Its electronic control system optimizes cooling and heating capacity according to demand and available energy, maximizing efficiency.
The Valeo REVO-E HP R744 system is designed with flexibility in mind, offering easy installation and product mix options for vehicle manufacturers. It's a "plug & play" unit that can be delivered to customers pre-filled.
Thermo HV heater for e-buses ready for Busworld
At Busworld 2023, Valeo will finally showcase its high-voltage heater, the Thermo HV, designed for electric buses and in series production since June 2023. This heater features stepless heat output control through an integrated control unit, either by regulating water outlet temperature or limiting maximum heating output and power consumption.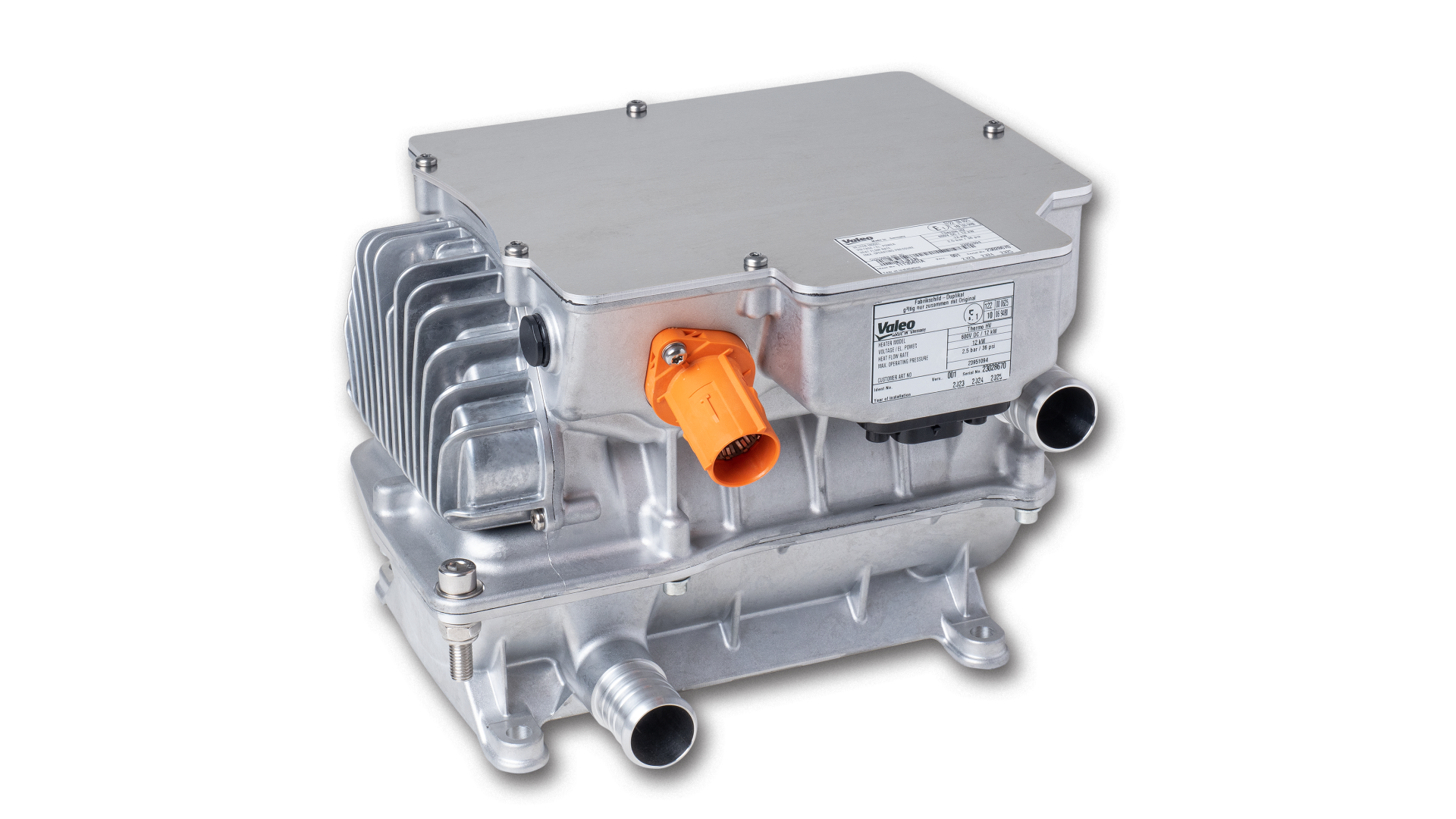 With a voltage range of 450-850 VDC, the Thermo HV delivers a consistent 12 kW heat output, making it a standout choice. It's CAN-capable and provides valuable operating data to the vehicle system through intelligent diagnostic functions.
Also on display in the Valeo booth, the smart SPump family will present "the best solution for almost any application with cooling or heating circuits in the vehicle interior or for components, e.g. batteries. Versions with PWM and CAN feature variable speed control, save energy, reduce noise emission and always provide outstanding performance required for electrically powered vehicles. The SPump S120 and S200 are the lightest weight and most compact circulation pumps of their kind within the product family"