Webasto introduces battery management system for buses and heavy-duty vehicles
Webasto, besides offering in-house developed battery system, is launching an Electrical Battery Thermal Management (eBTM). The system helps to maintain the ideal temperature range for traction batteries in vehicles like trucks, vans, buses, and construction machinery. By keeping the batteries within this temperature range, eBTM allows for maximum operating performance and longer lifespan for the […]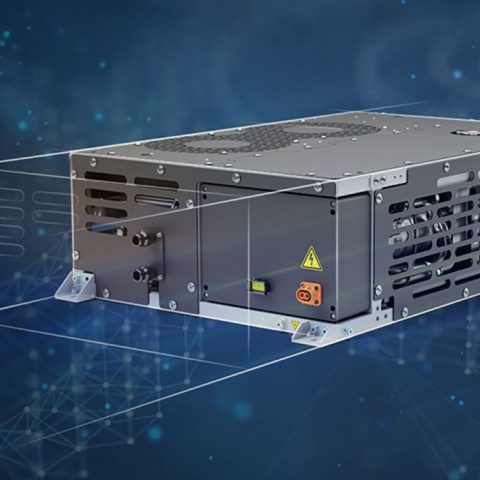 Webasto, besides offering in-house developed battery system, is launching an Electrical Battery Thermal Management (eBTM). The system helps to maintain the ideal temperature range for traction batteries in vehicles like trucks, vans, buses, and construction machinery. By keeping the batteries within this temperature range, eBTM allows for maximum operating performance and longer lifespan for the batteries, as well as faster charging times.
Webasto battery management system
Webasto's eBTM system is designed to be versatile and can be used in both 400-volt and 800-volt applications. It has the capacity to deliver up to 8 kilowatts of cooling and up to 10 kilowatts of heating power for battery systems with a maximum capacity of 210 kilowatt hours.
The system measures 100 x 70 x 30 centimeters, and weights 90 kilograms. The necessary components for the coolant and heating circuits, electric water pumps, and control units are pre-installed within the eBTM housing, making the system plug-and-play ready for quick deployment.
The solution, Webasto says, "allows batteries to be charged using up to 41 percent more power compared to batteries without thermal management. The accelerated power input results in a significantly reduced charging time. For a driving profile having a high frequency of starts and stops, thermal management provides 8.9 percent more range, resulting partly from 24 percent greater energy recuperation at low temperatures. Under hot climatic conditions, the eBTM furthermore improves the "state of health" by 21 percent".
Webasto eBTM, ideal range temperature for batteries
"The cornerstones of e-mobility are high-performance traction batteries that store the energy necessary for e-drives and deliver it at the push of a button. In order for the batteries to develop their full performance and ensure the vehicles and equipment function properly, the batteries must be operated within their ideal temperature range, regardless of ambient temperatures and load. While batteries that are too cold lose power, excessive heat can cause chemical degradation of the battery cells, which can reduce their service life," says Jörg Hornung, Vice President Business Line Thermal Management at Webasto. "The eBTM allows us to deliver a sophisticated system solution to meet this challenge that harmonizes optimally with our own traction batteries, but also with those of other suppliers."