The Novociti Volt will mark Anadolu Isuzu's debut in the electric midibus segment
Anadolu Isuzu, the Novociti Volt will mark the debut of the Turkish brand in the battery-electric midibus segment. The group exports its vehicle to more than 40 countries, in particular the European market, where the company sells over 1,000 vehicles every year. «Anadolu Isuzu is fast on track toward becoming a global brand with a diverse […]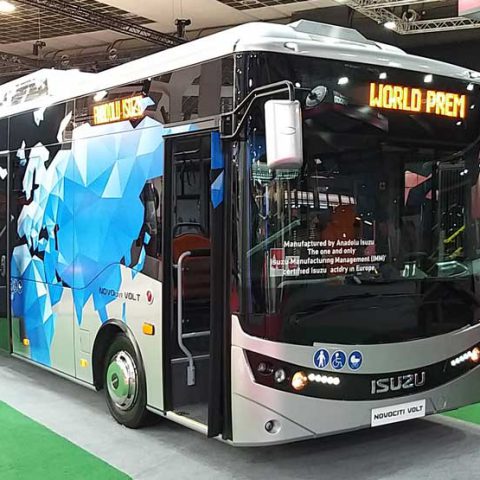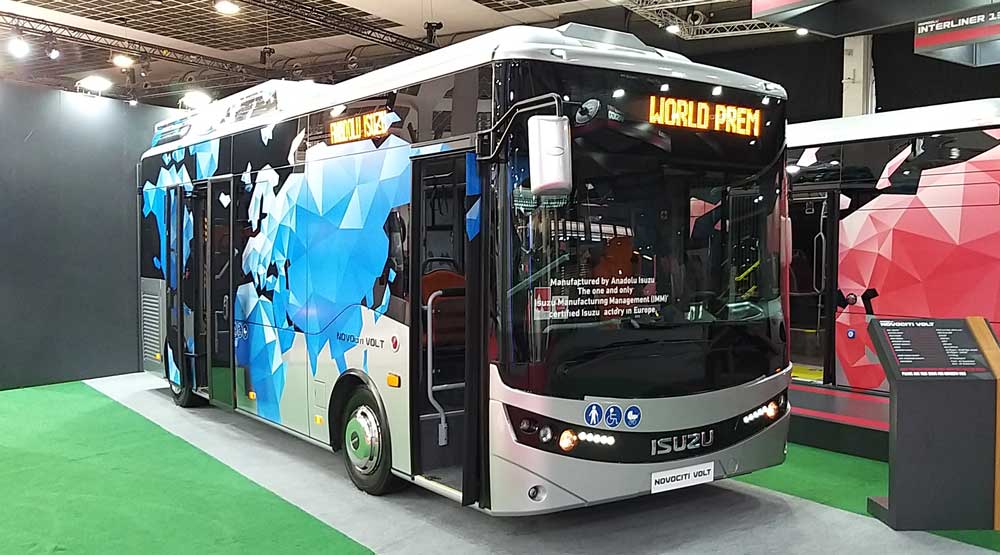 Anadolu Isuzu, the Novociti Volt will mark the debut of the Turkish brand in the battery-electric midibus segment. The group exports its vehicle to more than 40 countries, in particular the European market, where the company sells over 1,000 vehicles every year.
«Anadolu Isuzu is fast on track toward becoming a global brand with a diverse range of vehicles developed by our R&D Center by considering the local needs in target markets», Isuzu points out.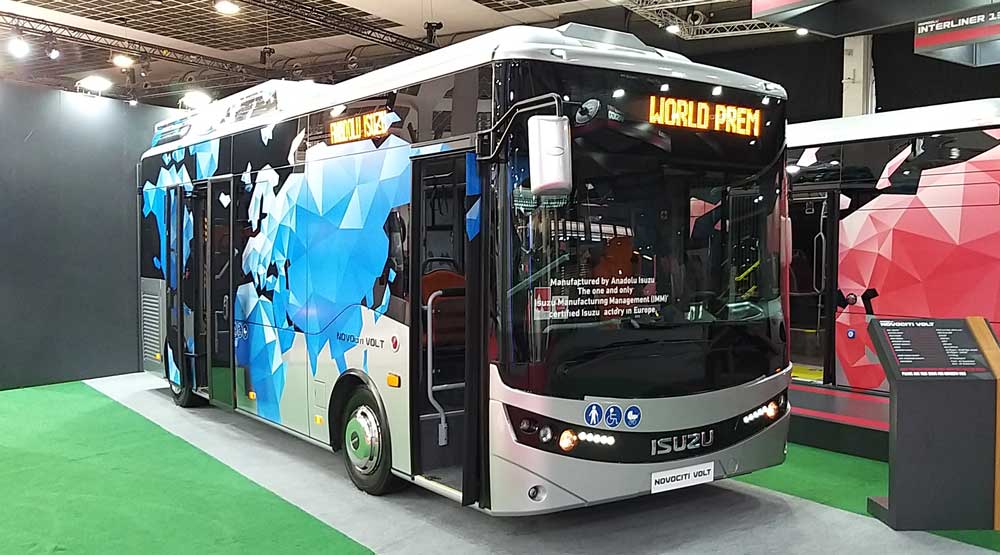 Isuzu electric bus, coming
Showcased at Busworld Brussels 2019, the design of Novociti Volt is built on the Novociti Life platform, Anadolu Isuzu's renowned, award-winning product since 2018.
Anadolu Isuzu R&D Center, which has been working on electric vehicles for years to create the most reliable structure, selected a 600-Volt infrastructure for the new system. Users may choose to charge the vehicle with conventional AC charging in 8.5 hours. The same charging plug can be used for both AC (22kw) and DC (150kw) charging, Isuzu points out.
Other enhancements on the vehicle include battery and vehicle software and efficiency. Novociti Volt will have a 211 kWh battery as standard. Other capacity options will be available in the future for different usage requirements. The advanced high tech battery will come with an 8-year warranty, Isuzu ponts out, delivering up to 80% SOC or 500,000km. The R&D team decided to power the vehicle with a 255 kW e-motor with 2,355 Nm torque.
Anadolu Isuzu, midibus leader for 15 years
Anadolu Isuzu says it has maintained its position as the export leader of the Turkish midibus segment for 15 years. The midibuses and buses that Anadolu Isuzu sells are currently used in more than 40 countries, with the majority consisting of EU member states.
In the last three years, Anadolu Isuzu delivered nearly 300 units Citiport 12m solo buses to Romania through the Sibiu, Constanta and Iasi city contracts. Last year, the company delivered 20 Isuzu Citiport 12m buses to Wroclaw, Poland, and nearly 220 units of NovoCITI LIFE to Georgia, marking Turkey's largest ever midibus export deal in one lot. Furthermore, nearly 200 units Citiport 12m and Citiport 18m articulated buses are operating in Israel since 2018. Anadolu Isuzu has an R&D Center with nearly 100 engineers.
CNG buses for North Macedonia
As part of an export deal signed with North Macedonia in February 2020, Anadolu Isuzu announces it will deliver 6 INTERLINER (KENDO) 13m CNG vehicles to serve the city of Bittola by the end of the year. The company entered the North Macedonian market 15 years ago with the truck category, and exported its first buses in 2019. Following a purchasing decision as part of a capacity increase project at Skopje Airport, the company delivered three Citiport 12m buses to the TAV-operated airport, and later 4 Isuzu Citiport 12m vehicles with CNG to the city of Prilep, North Macedonia.
To date, the total number of vehicles that Anadolu Isuzu delivered to various European countries, which the company has been exporting for the last 26 years, has reached close to 8,000. With a strong aftersales network that provides rapid service across Europe, Anadolu Isuzu sold vehicles worth Euro 16.9 million to the city of Tbilisi, Georgia, last year, marking the largest midibus export in its segment in the history of the Turkish automotive industry.