Cheshire (UK) adds a Mellor Orion E electric minibus to its fleet
UK-based Mellor has supplied a fully accessible Orion E to Cheshire West and Chester Council. The new Orion is significant as being the local authority's first electric bus, joining an existing fleet of 28 predominantly Mellor-built passenger vehicles.  In late 2021 West Yorkshire Combined Authority, Leeds City Council and First West Yorkshire have taken delivery […]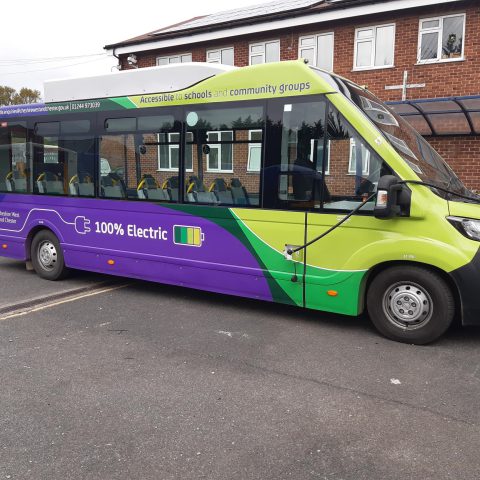 UK-based Mellor has supplied a fully accessible Orion E to Cheshire West and Chester Council. The new Orion is significant as being the local authority's first electric bus, joining an existing fleet of 28 predominantly Mellor-built passenger vehicles. 
In late 2021 West Yorkshire Combined Authority, Leeds City Council and First West Yorkshire have taken delivery of seven Mellor Orion e-buses for use on their new FlexiBus on-demand service.
The Orion E's saloon has been purpose-designed to support the council's diverse needs. Phoenix Sirius detachable seats can carry 15 passengers or, if seats removed, allow access for up to five wheelchairs. A rapid sliding side door and double rear doors with folding ramps aid access. Interior heating is delivered by a Webasto unit.
Cheshire adds a Mellor Orion E electric minibus to the fleet
Cheshire West and Chester Council's new Orion E will see regular zero-emission service on accessible home-to-school journeys for children with complex needs. The bus will also support with the transport of elderly clients into local day centres.
Lisa Rimmer, Principal Fleet Operations Officer at Cheshire West and Chester Council, said: "We've been working hard to put the infrastructure in place to allow us to introduce fully electric buses into our fleet. Our services suit electric bus use and the addition of our first battery-electric bus supports the Council's wider carbon reduction plan. The longstanding relationship we have with Mellor has allowed us to see how successful the Orion E has been for other operators. A week-long demonstration of the bus confirmed its suitability within our fleet."