Daimler Buses delivers 250th bus, an eCitaro, to Dresden
Daimler Buses has delivered an eCitaro to the Dresdner Verkehrsbetriebe: this is the 250th bus it is supplying to the Dresden-based operator, to which a further 19 vehicles will be added, since the order involves a total of 20 vehicles. «These new buses are a perfect addition to our fleet of environmentally friendly vehicles. They […]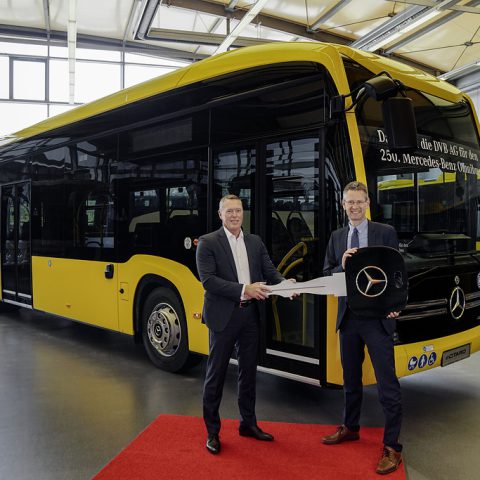 Daimler Buses has delivered an eCitaro to the Dresdner Verkehrsbetriebe: this is the 250th bus it is supplying to the Dresden-based operator, to which a further 19 vehicles will be added, since the order involves a total of 20 vehicles.
«These new buses are a perfect addition to our fleet of environmentally friendly vehicles. They are the future of local transport in Dresden: electric, quiet and modern. About a third of our more than 500,000 passengers travel by bus every day, using at least one of the 29 routes planned to do so», said, Andreas Hemmersbach, finance and technical director of Dresdner Verkehrsbetriebe.
Rüdiger Kappel, Fleet Sales Manager of Daimler Buses Germany, personally handed over the vehicle: «We have been supplying buses to DVB for over 30 years and are proud that they have confidence in the quality of our products. With the zero-emission electric buses, we want to contribute to making the center of Dresden more attractive and worthwhile».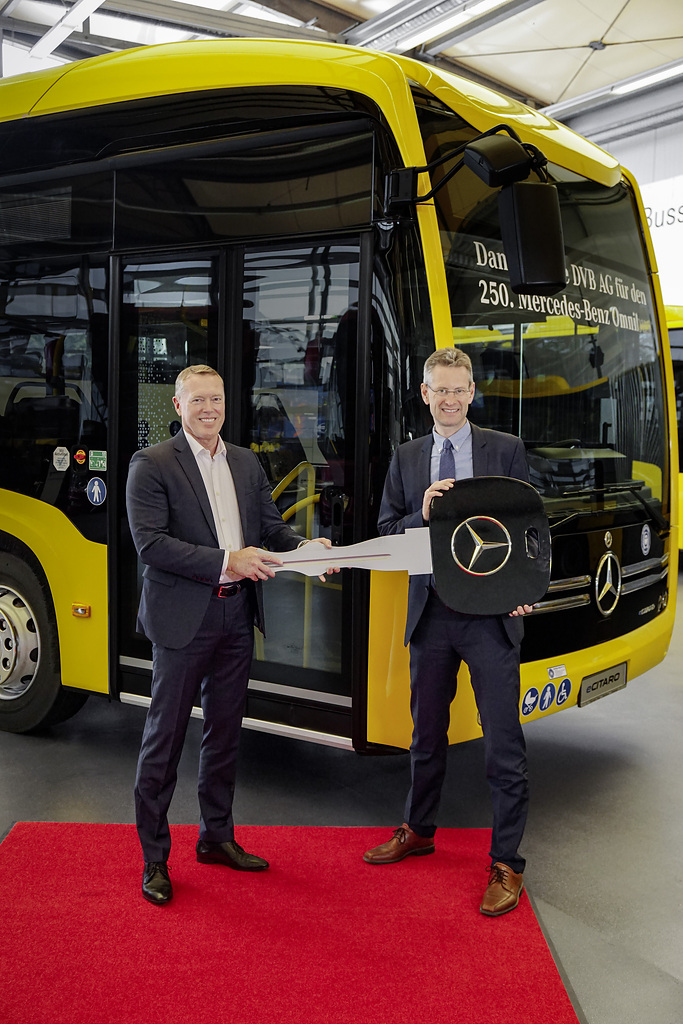 Daimler for sustainable mobility in Dresden
To achieve sustainable mobility, DVB is looking to integrate as many electric buses as possible into its fleet of around 150 vehicles, in addition to its environmentally friendly light rail systems. By the summer of 2022, all 20 eCitaro buses ordered, 18 of which are articulated, will be in regular service throughout the city. Among other things, these new vehicles will replace eight Citaro hybrid buses, which were purchased in 2011 and are still in use today.
Going forward, electric buses will be used on routes 68 and 81. Route 68 is one of the busiest bus routes and runs through the center of the city. Here, the locally zero-emission operation will make a particular contribution to climate protection. In contrast, route 81, which runs along the city's perimeter, has a particularly challenging topography and connects Dresden's city center with important commercial and electronic locations to the north of the city.