Ebusco got an order for 21 e-buses in Barcelona. The first time in Spain
Ebusco announces it has signed a contract with Àrea Metropolitana de Barcelona (AMB) in Spain for 21 Ebusco 2.2 12-meter buses and related chargers, to be delivered in the second quarter of 2023. It's their first contract in Spain (and bring the number of countries covered to nine). The Dutch company has recently announced it […]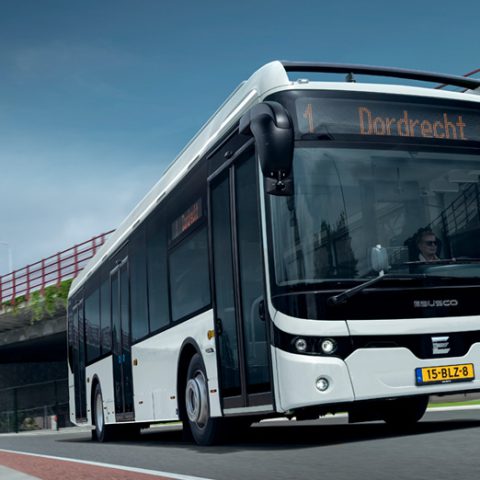 Ebusco announces it has signed a contract with Àrea Metropolitana de Barcelona (AMB) in Spain for 21 Ebusco 2.2 12-meter buses and related chargers, to be delivered in the second quarter of 2023. It's their first contract in Spain (and bring the number of countries covered to nine).
The Dutch company has recently announced it is going to establish a plant in France. To this extent, it has signed a letter of intent to lease 21,000m2 in the Metropole Rouen.
The Dutch manufacturer was recently chosen as e-bus supplier by DB, in Germany (with the previous 2.2 model). In 2021 the King of the Netherlands yesterday officially opened Ebusco new factory hall in Deurne by putting the Ebusco 3.0 bus on the charger (the manufacturer delivered the first units in Munich). The factory in Deurne is expected to have a production capacity of 500 emission-free buses per year by 2022, Ebusco says. The company went public listing at Euronext Amsterdam. One of the largest contract achieved in 2021 was with BVG Berlin, in Germany.
Ebusco e-buses headed to Barcelona
Àrea Metropolitana de Barcelona (AMB) is the public administration of the metropolitan area of Barcelona, a large urban conurbation made up of 36 municipalities. AMB plans and operates bus and subway networks and other sustainable transport services, the 21 new Ebusco 2.2 buses will be used in Metropolitan Bus services.
Peter Bijvelds, CEO of Ebusco comments: "We are very excited to expand our geographical presence with this very first order in Spain. Spain is one of the target markets in our international expansion strategy as the electric bus market in Spain is expected to grow considerably in the coming years. We are looking forward to support AMB in their transition to sustainable transport."