Mercedes eCitaro G tested at 2,000 metres in Italy
A fully electric bus Mercedes eCitaro G was tested for the first time on the Alpe di Siusi, in Italy, at an altitude of 2,000 metres. "This is the first ever test of an 18-metre long battery-electric bus for local public transport at this altitude. It is a special moment for zero-emission mobility," comments the […]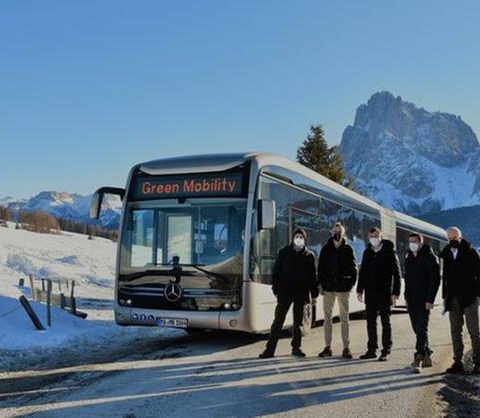 A fully electric bus Mercedes eCitaro G was tested for the first time on the Alpe di Siusi, in Italy, at an altitude of 2,000 metres.
"This is the first ever test of an 18-metre long battery-electric bus for local public transport at this altitude. It is a special moment for zero-emission mobility," comments the mobility councillor of the Province of Bolzano, Daniel Alfreider, who took part in the first test run from the hamlet of Compaccio, in the municipality of Castelrotto, to Saltria and back.
"Thanks to the national recovery and resilience plan, the investments we are trying to achieve will be used in South Tyrol for new means of transport for sustainable mobility," said the councillor, reiterating that "the goal the Province is trying to achieve is zero-emission mobility for South Tyrol". The tests are therefore a big step towards this goal.