Eighteen-meter electric articulated buses: BYD's first time in Spain
BYD has secured an order from four 18-meter electric articulated buses, which will be supplied to operator Moventis in Spain. This is a first for the Chinese manufacturer: it is making an articulated delivery to Iberian territory for the first time ever. Moventis handles intercity passenger transport in the Vallés Occidental area, near Barcelona. The […]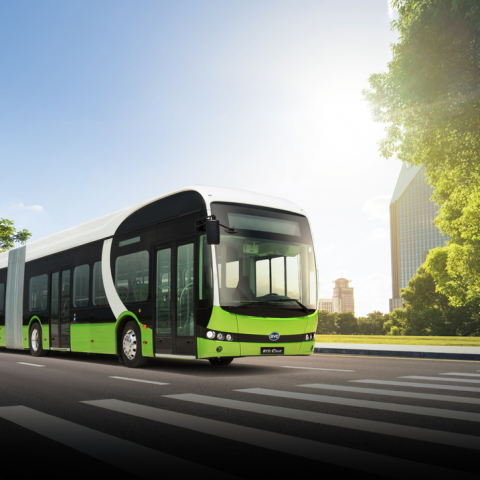 BYD has secured an order from four 18-meter electric articulated buses, which will be supplied to operator Moventis in Spain. This is a first for the Chinese manufacturer: it is making an articulated delivery to Iberian territory for the first time ever.
Moventis handles intercity passenger transport in the Vallés Occidental area, near Barcelona. The BYD pure-electric articulated buses are scheduled for delivery later this year. The BYD-signed articulated buses will operate on weekdays in the province of Barcelona, encouraging more commuters in the region to use environmentally friendly bus services to get to and from work instead of using private transport.
The features of the BYD ebuses
The 18-meter zero-emission articulated buses offer ample space, capable of accommodating 110 passengers. All ebuses are powered by BYD's next-generation iron-phosphate battery technology, designed to ensure optimal levels of performance and operational safety. The battery capacity of 478 kWh offers a range of 300 km on a single charge.
Jordi Castells, COO of Moventis and Manager for Sarbus, said: «We have decided to add articulated eBuses from BYD to our fleet because they represent good quality and value for money, as well as high levels of autonomy. We are pleased to start this relationship with BYD. Naturally, we are relying on BYD's dedication to ensure these first articulated eBuses in the country perform in line with expectations».
Joaquín Bellido, BYD Iberia eBus Sales Director, said: «We are delighted to receive our first order from Moventis, made especially noteworthy as it is the first ever order for 18-metre articulated eBuses in the Iberian region. These eBuses will provide zero-emission transport services for local people, in a busy commuter hotspot, prompting the net-zero decarbonisation process within Iberia. It is yet another example of how NEV products are making significant progress in European markets. BYD is well placed to supply the right products for a wide range of European operations, bringing our new energy solutions to customers across Europe».