Nobina wins two contracts in Stockholm (with roll out of electric buses)
With two new contracts, Nobina has been given increased confidence by SL to operate and develop public transport in Huddinge-Botkyrka-Söderort and in Nacka-Värmdö. The contracts largely include electric buses, as it will be the first time that electric buses are introduced on a larg scale in the Stockholm area. Both contracts will start operating in […]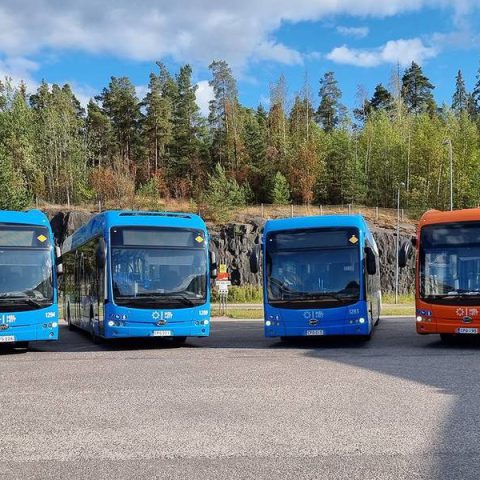 With two new contracts, Nobina has been given increased confidence by SL to operate and develop public transport in Huddinge-Botkyrka-Söderort and in Nacka-Värmdö. The contracts largely include electric buses, as it will be the first time that electric buses are introduced on a larg scale in the Stockholm area. Both contracts will start operating in April 2023 and are worth a total of approximately SEK 12.7 billion over the ten-year contract period. No option years are mentioned.
All vehicles of the contracts meet high environmental standards according to industry standards and will run on 100% fossil-free fuels. Furthermore, the vehicles are equipped with security cameras, real-time systems, USB chargers and low entry points.
The contracts include around 530 buses at the start of service, a large proportion of which are electric buses. In both contracts, additional electric buses will be added during the contract period, with the Huddinge-Botkyrka-Söderort contract seeing an increase of around 40 electric buses and the Nacka-Värmdö contract seeing an increase of around 70 electric buses.
«Nobina and SL have a well-established and long-standing cooperation and we are pleased to be able to expand it further through two new contracts – says Henrik Dagnäs, CEO of Nobina Sweden -. It is also particularly pleasing that the two contracts mean a significant expansion of electric buses in Stockholm. At Nobina, sustainability is a matter of course and also something we promise our passengers. The investment in electric buses is both a clear example of how we are working to fulfil this promise, and one of several important contributions to the company's goal of reducing carbon dioxide emissions by 80 per cent by the year 2030».