The first eCitaro with solid-state batteries on the road in Wiesbaden
On the way to emission-free local public transport, Wiesbaden and its public transport operator ESWE Verkehr have reached the following milestone: 21 new battery buses Mercedes eCitaro and 56 stationary charging stations have been put into operation at the bus yard in Gartenfeldstraße. Despite difficult current conditions, the nationwide unprecedented project for the electrification of […]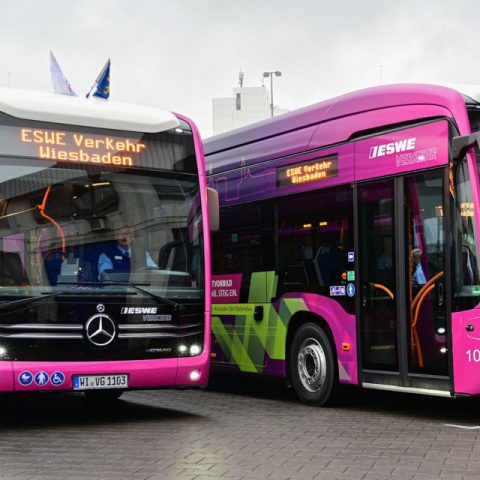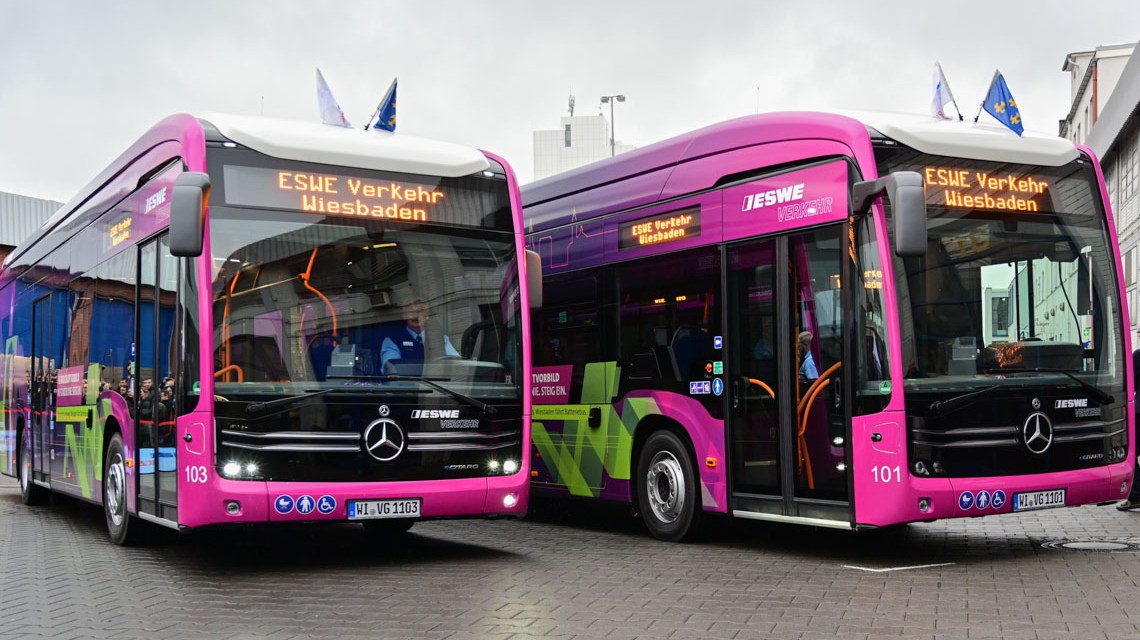 On the way to emission-free local public transport, Wiesbaden and its public transport operator ESWE Verkehr have reached the following milestone: 21 new battery buses Mercedes eCitaro and 56 stationary charging stations have been put into operation at the bus yard in Gartenfeldstraße. Despite difficult current conditions, the nationwide unprecedented project for the electrification of the bus fleet is progressing.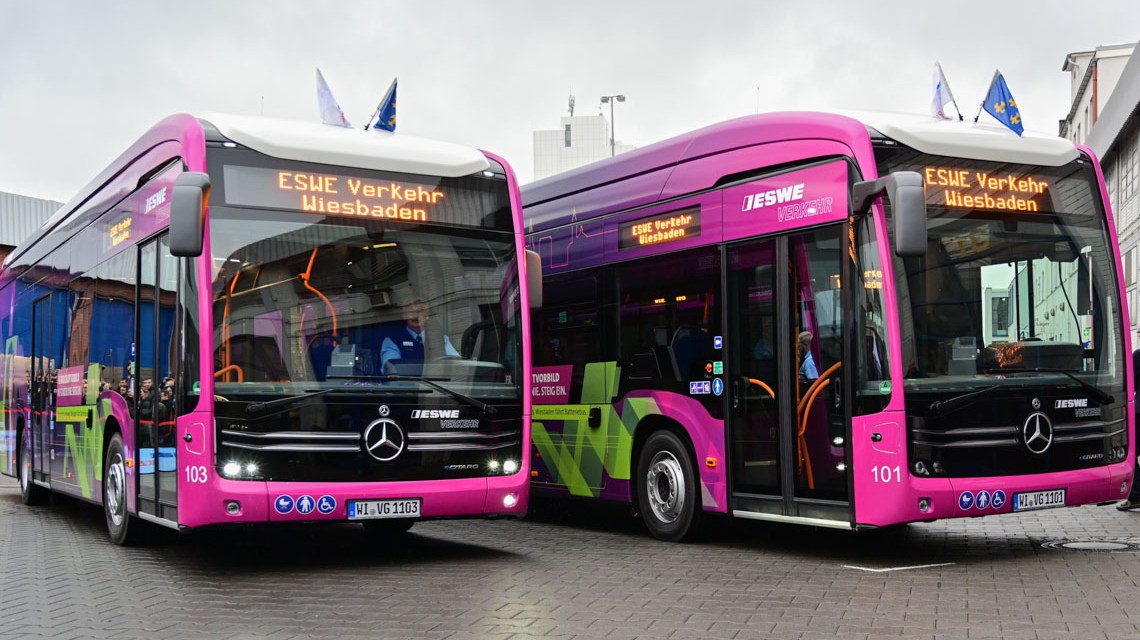 The first eCitaro with solid-state batteries on the road
The previous ten battery buses delivered in November 2020 will now be supplemented by 21 additional vehicles of the type eCitaro from Mercedes Benz. These have a so-called solid-state battery, a technology coming from the French brand Blue Solutions. The battery technology does not use the chemical element cobalt and is based on LMP formula. This means that it is produced in a particularly environmentally friendly way. Certified and sustainable green electricity is used to charge the battery buses, ESWE points out.
The purchase of the buses and the charging infrastructure is funded by the German Federal Ministry for the Environment.
ESWE Wiesbaden bets on plug-in charging
By the end of the first quarter of 2021, the 56 battery-electric buses of the first order (41 of them feature the solid-state batteries) will all be on the road. Then each of the 56 modern vehicles will have a plug-in charging station in the depot (as a charging stations provider, Heliox has been selected). By the end of 2021, a total of 120 battery buses of this type will be available for ESWE Verkehr, the operator points out. At the same time, just as many charging points will be built in the depot.

In addition to the extensive standard equipment, the vehicles have an active braking system as well as turning assistant, which also benefits the safety of cyclists. In addition to the expansion of the charging infrastructure, ESWE Verkehr is using an intelligent depot management system. This automatically monitors the buses and assigns them the optimal parking space at the charging station depending on the charging status, further route planning and available capacity.
"A milestone for mobility throughout the state capital Wiesbaden". This is how Jörg Gerhard, Managing Director of the mobility service provider ESWE Verkehr, describes the new achievements.
"In Wiesbaden we don't just talk about innovations, we also implement them. The passengers will enjoy the comfortable ride, the increased bus range, free WLAN, USB sockets, live information via monitor and more space for prams, walkers and for getting on and off. In addition, the vehicles are very quiet and thus relieve residents and the environment" says Andreas Kowol, head of the transport department.