The first VDL Citea Low Entry electric will be delivered in Helsinki (Finland)
The newcomer of the electric VDL Citea family got its first order. Finnish public transport company Tammelundin Liikenne Oy, that provides the regional transport in Helsinki for the public transport authority HSL with around 40 buses, is the first customer to place an order for 2 units of VDL Citea SLE-129 Electric. And also the first public transport […]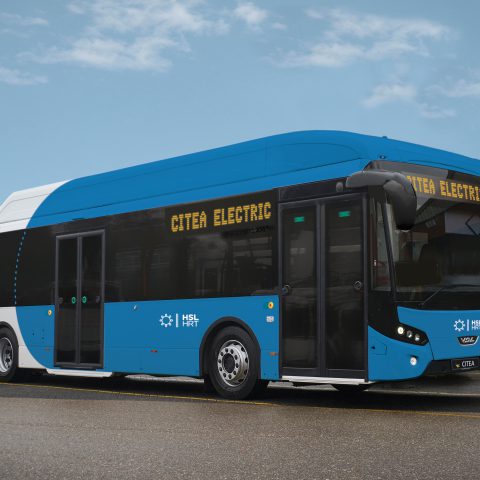 The newcomer of the electric VDL Citea family got its first order. Finnish public transport company Tammelundin Liikenne Oy, that provides the regional transport in Helsinki for the public transport authority HSL with around 40 buses, is the first customer to place an order for 2 units of VDL Citea SLE-129 Electric. And also the first public transport company in Finland to purchase electric buses on a commercial basis. The contract follows the launch, in autumn 2018, of electric Citea Low Entry variants. The buses will begin service in August 2019, and will operate for 22 hours a day.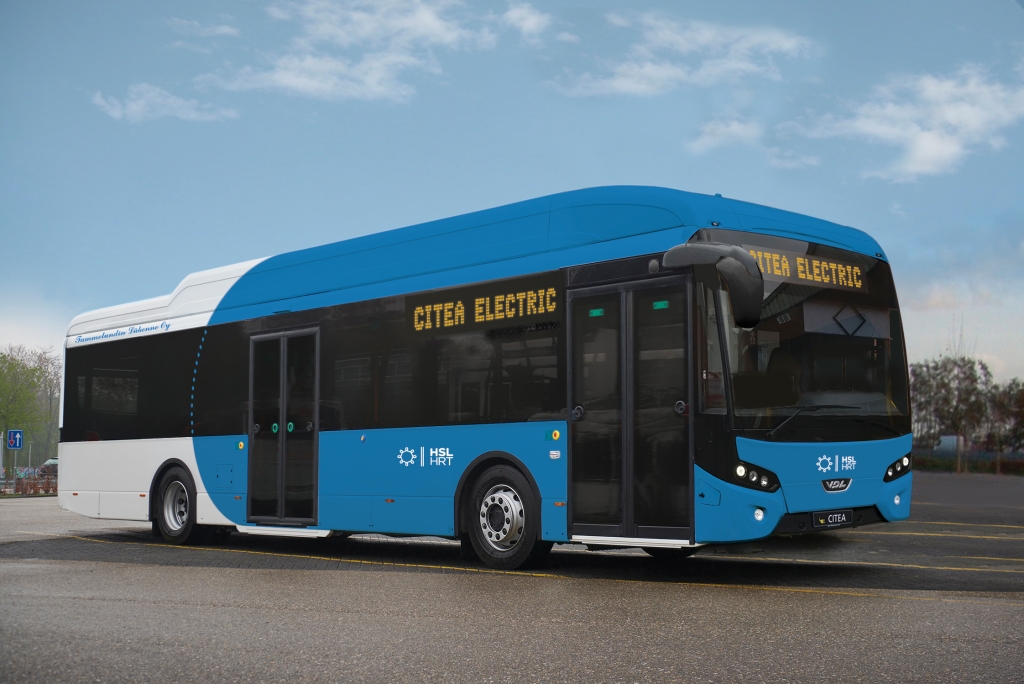 Electric buses in Helsinki
More precisely, the electric buses by VDL will be deployed on lines 90 and 96 in the Vuosaari region of Helsinki, as direct replacements for the current diesel buses. During the evening and night the buses will run to Helsinki Central Station. The vehicle has a length of 12.9 metres, a 40+3 seating configuration and a passenger capacity of approximately 80 passengers. The Citeas SLE-129 Electric for Tammelundin Liikenne are equipped with the new 216 kWh battery pack, VDL says in a press release.
Rapid charging up to 300 kW
During the day the buses are used for short distances of 2 and 5 kilometres and recharged at the metro station in Vuosaari. In the evening and at night the buses travel distances of 17 and 19 kilometres and are recharged at Helsinki Central Station. The buses are topped up during operation by means of a roof-mounted pantograph with a power transfer capacity of 300 kW. When out of service, the vehicles are also slow charged with 50 kW depot chargers using the CCS plug at the Tammelundin Liikenne depot. In total, the two VDL Citeas SLE-129 Electric for Tammelundin Liikenne will be in operation 22 hours a day.
Helsinki to become a sustainable city
"Making public transport more sustainable plays a major role in the transition to a healthier living environment. As a public transport company we believe it is important that we do our part to make Helsinki a sustainable city. It makes us proud to be the first public transport company in Finland to purchase electric buses on a commercial basis and to do so in collaboration with VDL Bus & Coach," said Launo Elers, Managing Director Tammelundin Liikenne Oy.
The first Finnish public transport company to buy electric buses
"With this first order for the Citea SLE-129 Electric, Tammelundin Liikenne demonstrates its confidence in VDL Bus & Coach as a transition partner and market leader in the field of electric public transport. We are proud that in addition to the 22 VDL Citeas LLE the customer already has in operation we are now able to supply the first VDL Citeas SLE Electric, and look forward to further cooperation in the future to boost Helsinki's sustainability," said Henrik Mikkola, Managing Director VDL Bus & Coach Finland Oy.
VDL expands Citea Electric bus range
At the moment, VDL is one of the main European manufacturer of electric bus. Today, more than 250 units of VDL Citea Electric bus are in operation across Western Europe, where together they have covered some 15,000,000 electric kilometres. Both Citea SLE Electric versions (12 and 12.9 meters) are the perfect complement to the Citea LLE-99 Electric, at present mainly deployed on regional lines in the Netherlands and Luxembourg. The Citea SLE Electric is equipped as standard with the new 216 kWh battery pack, and as an option can be fitted with the new 288 kWh battery pack. This provides the VDL Citea SLE Electric with an action radius of between 100 and 200 kilometres, without requiring top-up charging. Both the 12 and the 12.9 metre-length variants come as standard with a CCS plug. As an option, the Citea SLE Electric can be equipped with a roof-mounted or inverted pantograph, with a capacity of up to 450 kW.
CLICK HERE TO READ THE ARTICLE REGARDING THE LAUNCH OF LE VARIANTS