First VinBus electric buses launched in Vietnam
The first electric buses with VinBus' logo has been launched in Vietnam (Vinhomes Ocean Park, Gia Lam). The vehicle is manufactured and assembled at the Automobile Manufacture Complex in Hai Phong, as outlined in an article by Insideevs. VinBus is a subsidiary of Vingroup and was established in September 2019. The company is focused on […]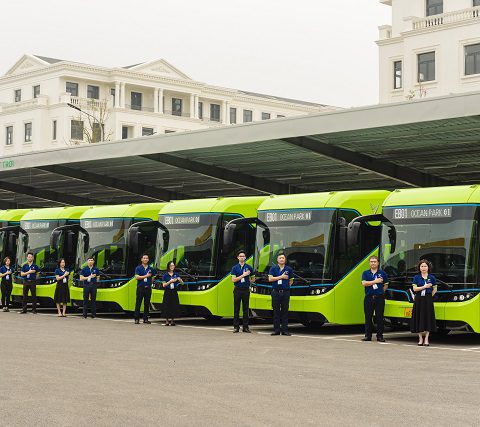 The first electric buses with VinBus' logo has been launched in Vietnam (Vinhomes Ocean Park, Gia Lam). The vehicle is manufactured and assembled at the Automobile Manufacture Complex in Hai Phong, as outlined in an article by Insideevs.
VinBus is a subsidiary of Vingroup and was established in September 2019. The company is focused on e-bus deployment, where the e-buses are to be produced by VinFast, another subsidiary of the same group, in Vietnam. The launch of this new Vingroup venture was accompanied with the announcement of plans for 3,000 e-buses in the country. Star Charge, which belong to Wanbang Digital Energy, will cooperate with VinBus in the establishment of the first electric bus service system in Vietnam, based on a deal signed in October 2020.
The first electric buses by VinBus in Vietnam
According to information released last year, VinBus is expected to operate around 150 – 200 e-buses in the cities of Hanoi, Ho Chi Minh City and Phu Quoc. The battery capacity of VinBus electric bus is up to 281 kWh. VinBus e-buses for Vietnam are equipped with driver behavior monitoring system, which gives warnings about possible hazardous actions like distracted driving, drowsiness, signs of fatigues; bus stop announcement screens, free wi-fi on board, and a series of LCD entertainment screens.