Gillig reaches 100th BE buses produced (with Cummins)
North American manufacturer Gillig announces it had completed production of its 100th battery electric bus. The bus is scheduled for delivery to Metro Transit in St. Louis, Missouri in October. By the end of 2021, Metro Transit will have a total of 10 Gillig battery electric buses in its fleet. In July this year Clark […]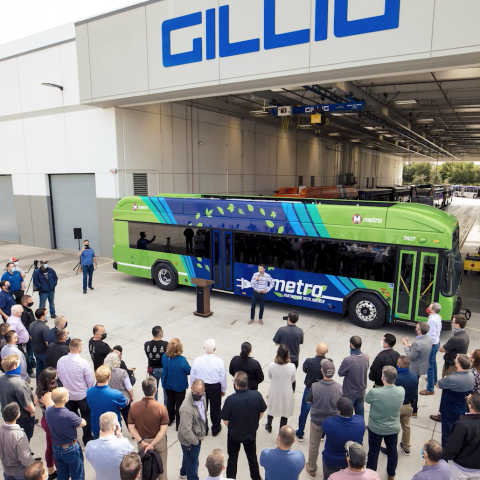 North American manufacturer Gillig announces it had completed production of its 100th battery electric bus. The bus is scheduled for delivery to Metro Transit in St. Louis, Missouri in October. By the end of 2021, Metro Transit will have a total of 10 Gillig battery electric buses in its fleet.
In July this year Clark County Public Transit (C-Tran) in Vancouver, Washington State, has awarded Gillig an order for eight 12-meter battery electric buses and charging equipment with an award value of $9.74 million. The manufacturer has recently secured a 44 e-bus contract in Utah.
Gillig, the first e-bus in 2016
The first electric bus was introduced by Gillig in 2016. More than 50 customers across the country are now operating Gillig's battery electric bus or have orders for the vehicles. The bus builder is currently booking new bus orders into 2023.
Gillig's current electric bus is a second-generation product built on the company's Low Floor Platform. The bus features the Cummins Battery Electric System, featuring remote diagnostics and over-the-air connectivity and is supported by Cummins service centers located throughout the country.
Gillig and Cummins for the e-bus range
Cummins first announced the electric partnership with Gillig in 2017. Since unveiling the first battery electric transit bus and delivering it to Santa Monica, California in 2019, the two companies have worked together to ensure the bus builds upon the legacy of transit performance of the more than 27,000 Gillig buses in service throughout the United States today.
"This is a great milestone for Cummins, Gillig and Metro Transit, but we are just getting started," said Amy Davis, Vice President and President of New Power at Cummins. "The adoption of zero-emissions technologies is critical to meeting sustainability targets and neutralizing climate change. Cummins is here to partner with customers to decarbonize and is committed to providing battery-electric solutions with the innovation, support and service that customers expect from Cummins."