Switzerland, Hess trolleybuses in Winterthur. A tender awarded for up to 70 vehicles
Hess secured a framework contract for up to 70 battery-powered articulated trolleybus vehicles in Winterthur, in the German area of Switzerland. Now the awarding of the first lot is awaited within spring, with the first vehicle expected in the city by summer 2022. 11 to 23 units will be double-articulated models. Up to 70 Hess […]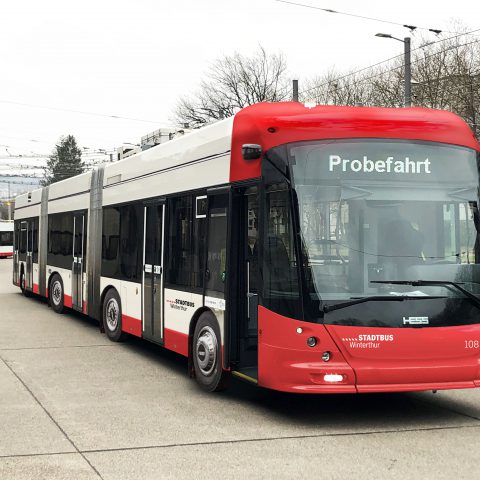 Hess secured a framework contract for up to 70 battery-powered articulated trolleybus vehicles in Winterthur, in the German area of Switzerland. Now the awarding of the first lot is awaited within spring, with the first vehicle expected in the city by summer 2022. 11 to 23 units will be double-articulated models.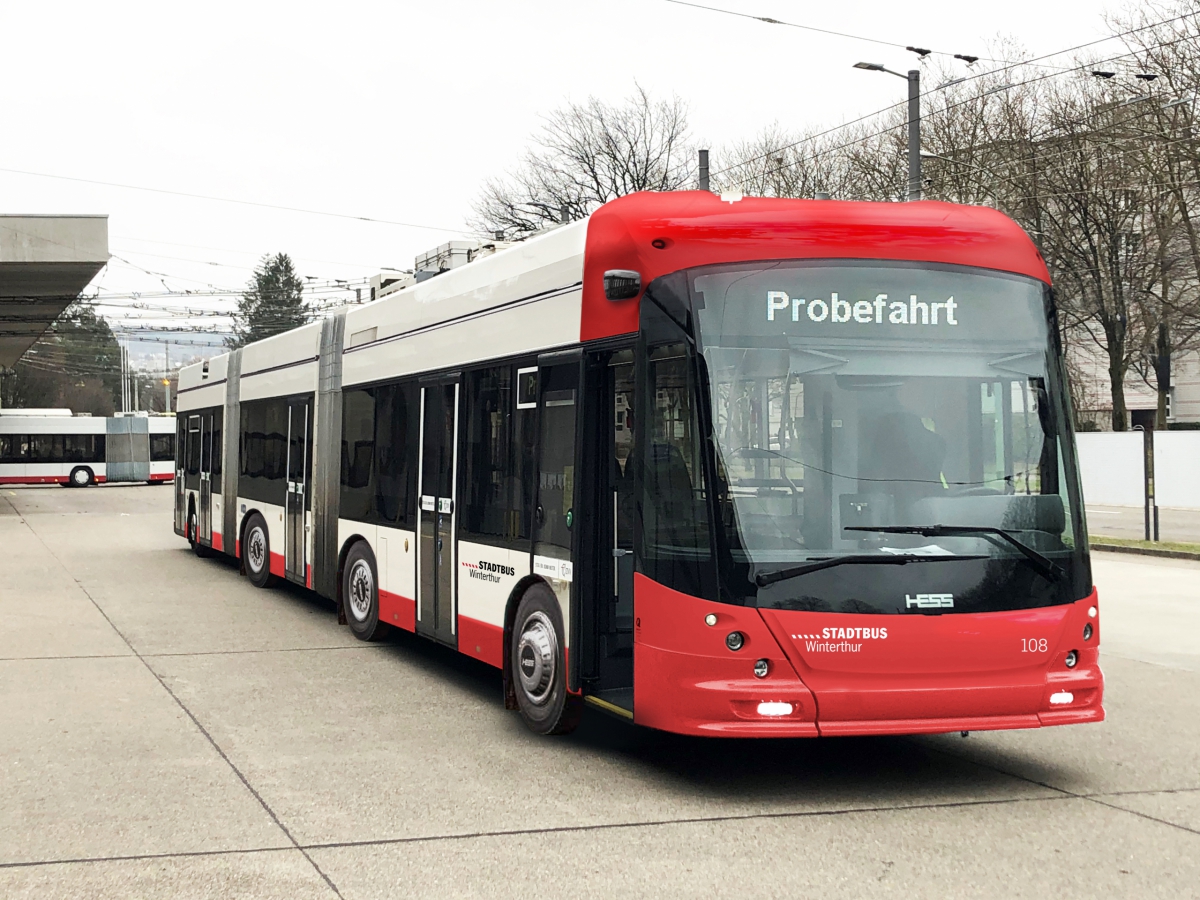 Up to 70 Hess trolleybuses in Winterthur
Last October, Stadtbus Winterthur launched the tender for a new generation of trolleybuses. The contract for a maximum of 70 vehicles was awarded to Carrosserie Hess AG in Bellach. The vehicles will be in operation on lines 5 and 7. On 13 January 2021, in fact, the government council approved the project planning for the electrification of the two lines (a 2 million CHF investment). In addition to the procurement of vehicles, the necessary infrastructure is also well on its way, Stadtbus Winterthur highligts.
The tender for the new bus generation (articulated and double articulated trolleybuses equipped with "Dynamic Charging" technology, i.e. battery powered) with an estimated contract value of 110 million CHF (nearly 100 million euros) was carried out in an open procedure by Stadtbus.

Electrification of public transport service in Winterthur
In January 2021 Stadtbus Winterthur made clear its strategies for the years to come. «With the electrification of lines 5 and 7, 90 per cent of bus passengers in the city of Winterthur are to be transported electrically, CO2-neutrally and as quietly as possible in the future», the carrier says. Electrification of line 5 is expected to be completed by December 2023, while for line 7 the deadline is ed 2026. Five km of new overhead lines will be introduced.
Stadtbus Winterthur stated: «Due to the already very well developed trolleybus network, Stadtbus Winterthur has decided to continue on this path and to rely on electric buses with "dynamic charging" (battery trolleybuses). This allows the vehicles to travel overhead line-free sections by means of batteries, which are then recharged during the journey on the existing overhead lines. Construction site traffic and line extensions can thus be handled much more cheaply than before».
Hess battery trolleybuses in Winterthur: first vehicle in 2022
By the end of December 2020, Stadtbus had received bids from two manufacturers. The vehicles of the two manufacturers were tested on the route network and the offers were evaluated. The economic viability was assessed according to the following criteria: costs, technology, customer view, driver's cab and customer service, the operator points out.
The contract was then awarded to Carrosserie Hess AG, based in the Swiss city of Bellach (SO). The framework contract does not yet commit Stadtbus to any order, the company points ount. The concrete awarding of contracts for the individual lots will be carried out separately. Stadtbus intends to order the first lot in May 2021. The first vehicle is expected in Winterthur in summer 2022. The new vehicles are set to replace all existing trolleybuses and the diesel vehicles on lines 2E, 5 and 7.