Ikarus has won its first Polish order: 5 e-buses to be delivered in Szczecinek
Electrobus Europe, distributor of Ikarus buses, and Szczecinek City Council signed a contract for the order of five electric buses Ikarus 120e, set to be delivered within 11 months. It's the first order won by Ikarus in Poland. The vehicle is already in operation in Hungary and Germany. Zoltán Sipos, Managing Director of Electrobus Europe, […]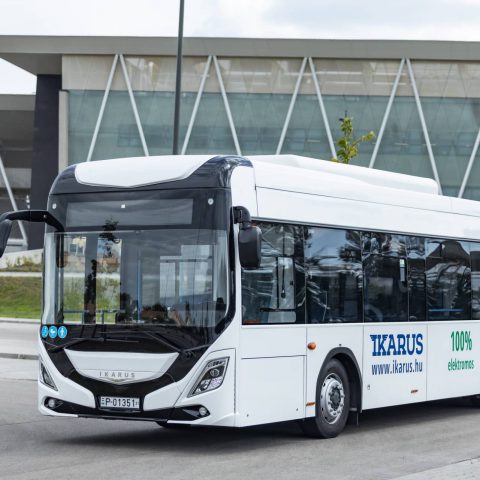 Electrobus Europe, distributor of Ikarus buses, and Szczecinek City Council signed a contract for the order of five electric buses Ikarus 120e, set to be delivered within 11 months. It's the first order won by Ikarus in Poland. The vehicle is already in operation in Hungary and Germany.
Zoltán Sipos, Managing Director of Electrobus Europe, and Daniel Rak, Mayor of Szczecinek in north-western Poland, signed a contract in late August confirming Ikarus' success in the city's public tender for electric buses.
The first e-bus tender won by Ikarus in Poland
The city of Szczecinek is expanding its existing fleet of 10 electric buses with the Ikarus zero-emission buses, which, when delivered, will take the oldest internal combustion vehicles off the streets of Szczecinek.
The 12-metre-long, fully low-floor electric Ikarus buses, with a total capacity of 86 passengers, will be delivered in a 3-door version with 27+2 passenger seats.
The vehicles will be equipped with lithium-phosphate (LFP) traction battery pack with a total capacity of 314 kWh, which "will allow a range of up to 350 km, meaning that they can run continuously and uninterrupted throughout the day", Ikarus states. The Polish EkoEnergetyka will supply the charging equipment for the tender-winning buses on a concession basis.
Ikarus and Ekoenergetyka in Szczecinek
The driver's cabin will be enclosed to match local requirements, and the buses will be equipped with air conditioning, onboard WiFi, USB charging sockets for the traveling public's mobile devices, and, of course, a disabled access area.
"This is a real milestone in the history of both Ikarus and Electrobus! I am proud that, after almost three decades, Ikarus buses will appear once again on Polish roads. I am particularly pleased that our cooperation can support the city in its exemplary efforts to promote green public transport", said Zoltán Sipos, Managing Director of Electrobus Europe, who added that "yesterday undoubtedly opened a new chapter in the life of Ikarus. This contract is the most positive feedback and message to the market that Ikarus is ready for international expansion again".