Karsan sells a first Autonomous e-Atak to Vy Buss in Norway
Karsan has delivered the first batch of Level-4 autonomous buses ready for real road conditions in USA and Europe, to Romania. And new orders are coming from Northern Europe, Norway. The Autonomous e-ATAK is already testing the roads in Stavanger, Norway. Autonomous e-ATAK, launched one year ago, was sold to the private operator Vy Buss […]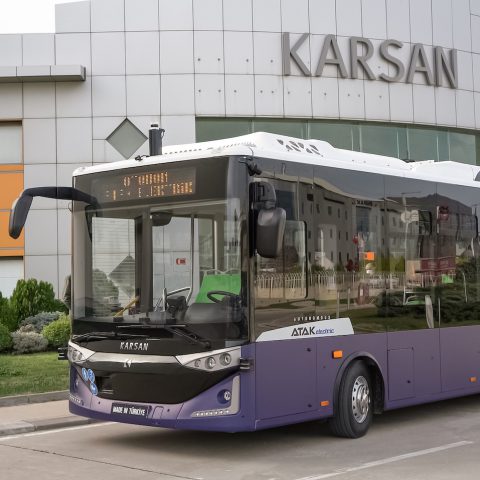 Karsan has delivered the first batch of Level-4 autonomous buses ready for real road conditions in USA and Europe, to Romania. And new orders are coming from Northern Europe, Norway. The Autonomous e-ATAK is already testing the roads in Stavanger, Norway.
Autonomous e-ATAK, launched one year ago, was sold to the private operator Vy Buss and will go into service for Kolumbus, the PTA in the region. With this operation, Autonomous e-ATAK also won the title of "the first electric autonomous full size bus to be used on a city line and to carry urban passengers" in Europe, according to Karsan.
Karsan Autonomous electric bus for Vy Buss
Karsan CEO Okan Baş said, "We made our first export in the Northern European market, to Norway with our 8-meter electric autonomous bus e-ATAK. We continue to lead the way in to the future of transportation with our products, with "one step ahead in the future of the mobility' as our vision. This is another milestone for Karsan Autonomous e-ATAK, as it will be the first driverless big bus to carry passengers in real road conditions in Europe".
CEO of ADASTEC Dr. Ali Ufuk Peker said: "We are very excited to extend our flowride.ai Level-4 Automated Driving Software Platform in partnership with Karsan Autonomous e-ATAK to Norway. With our mission of making public transportation operations more efficient, more comfortable, more safer and with our vision of "public transportation ahead of the time" we are committed to the innovation of the future mobility. We are confident that Kolumbus and Vy will mark one of the milestones in Stavanger and it is a pleasure for us to take part in this partnership."
The Autonomous Atak Electric was modeled on Atak Electric, Karsan's 100% electrically powered electric bus in the 8-meter segment. Karsan's R&D team worked in collaboration with the US-based tech company ADASTEC. Level-4 Autonomous software developed by ADASTEC has been integrated into Atak Electric's electrical-electronic architecture and electric vehicle software. Autonomous Atak Electric was modeled on Atak Electric, powered by 220 kWh batteries developed by BMW that is capable of producing 2500 Nm torque with 230 kW engine power. The Atak Electric can carry up to 52 passengers.