Karsan electric bus range goes now from 6 to 18m. Karsan e-ATA range launched
Karsan e-ATA electric bus range has been launched: 10, 12 and 18-meter vehicles have been presented today during an online event: now the e-bus range from the Turkish manufacturer ranges from 6 to 18 meters, being 6-meter and 8-meter Karsan Jest Electric and Karsan Atak Electric already in production and operation since a couple years […]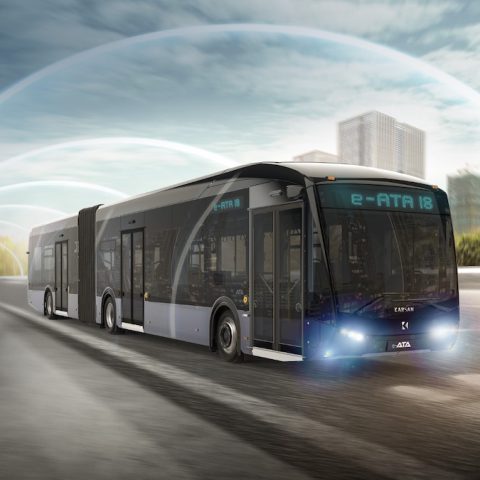 Karsan e-ATA electric bus range has been launched: 10, 12 and 18-meter vehicles have been presented today during an online event: now the e-bus range from the Turkish manufacturer ranges from 6 to 18 meters, being 6-meter and 8-meter Karsan Jest Electric and Karsan Atak Electric already in production and operation since a couple years so far (and now rebranded as e-Jest and e-Atak).
Based on their appearance, the vehicles looks like they are based on Bozankaya Sileo's platform, as the two Turkish companies have a deal in force. However, Karsan pointed out that Karsan e-ATA has nothing related with Sileo except for the exterior design, whose rights have been bought from Bozankaya. «All hardware, software electric and electronic infrastructure, such as batteries, tracktion unit system, charging infrastructure, driver cockpit area, cluster, braking system, compressor system, remote control infrastructure, passenger seat layouts, air conditioning & heating system, all interior trim details are fully designed and developed from scratch by Karsan R&D team», Karsan says.
«We are the only European manufacturer able to offer e-buses from 6 to 18 meters», Karsan's CEO Okan Baş said during the launching ceremony. «And all the range will be developed with autonomous driving technologies in the coming years», he added. Okan Baş says also that series production has already started and the first batch of 10 vehicles will be delivered in Romania within 2021.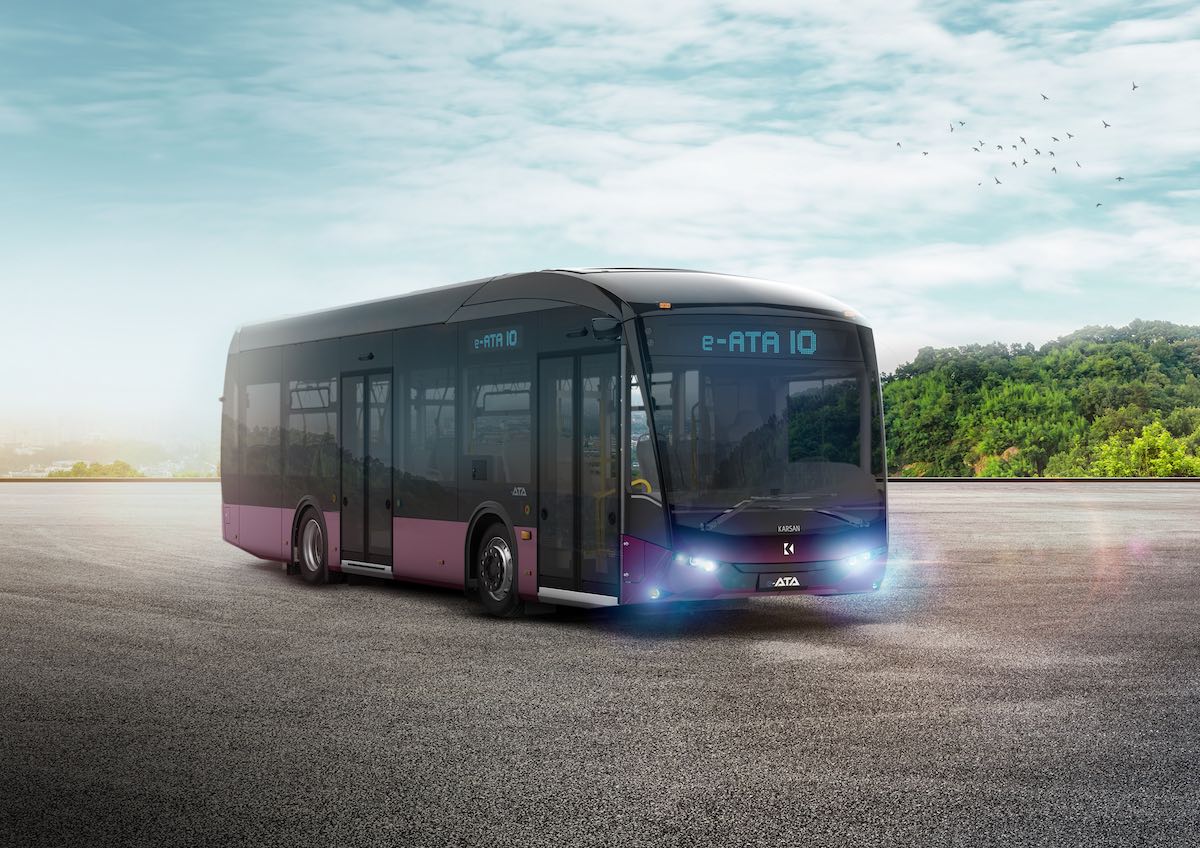 Karsan e-ATA electric bus range unveiled
Recently Karsan landed Turkish largest export e-bus (it involves also Karsan e-ATA vehicles). The Jest Electric has achieved the position of European market leader in the segment of 3.5-6 ton electric minibus in 2020, by reaching a 43 percent market share.
Karsan e-ATA electric bus range has been launched: 10, 12 and 18-meter vehicles have been presented today during an online event. Now the e-bus range from the Turkish manufacturer will be on a roadshow since October.
Karsan electric bus range is then now consisting of e-Jest, e-Atak and e-ATA, being the latest made of three lengths variants.
Technically speaking, the Karsan e-ATA buses are fully low floor and are moved with in-wheel e-motors integrated to the wheel's hubs. Power is up to 250 kW on 10 and 12-meter, with the articulated e-bus developing 500 kW.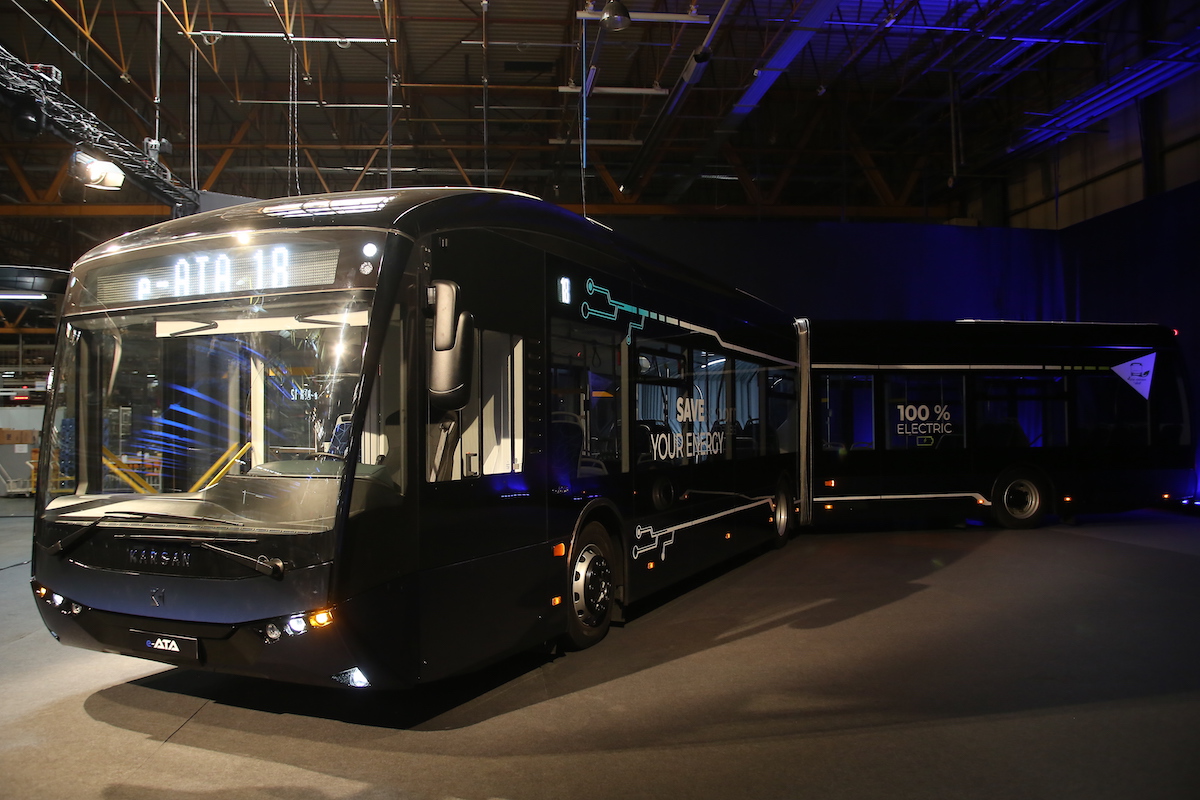 Seven battery pack variants on Karsan e-ATA e-bus range
Karsan offer seven battery pack variants, from 150 kWh to 600 kWh. The manufacturer claims a range up to 450 kilometres in real conditions. Charging procedures can be made through plug-in connection (but also fast charging option is possible). With its fast charging technology, it can be charged in 1 to 4 hours depending on the size of the battery. Mirrorless cameras features as optional. The Karsan e-ATA range is equipped with an acoustic alert system to increase safety for road users.
Being more specific, Karsan e-ATA maximum battery capacity is 300 kWh for 10 meters and 450 kWh for 12 meters, it can go up to 600 kWh for its 18-meter class. e-ATA's wheel-mounted electric hub motors deliver 250 kW of peak power and 22,000 Nm of torque in its 10 and 12 meter-long versions, enabling them to climb the steepest of slopes effortlessly. The maximum power of 500 kW in the 18 meter-long version shows the highest performance even at full load.
Karsan e-ATA, what about battery capacity?
Concerning Karsan e-ATA passenger capacity, the bus builder says it can carry 90 passengers with 10 meters, over 100 with 12 meters, and more than 150 with 18 meters, depending on the preferred battery package. With its electric hub motor technology positioned on the wheels, e-ATA offers a large, spacious and ergonomic interior, making the driving experience more efficient. The VDV-compatible driver's cockpit enables control of the vehicle down to the smallest detail. Drivers have full control over the vehicle, overseeing energy consumption, reading warnings and checking the air conditioning using the screen in front of them. While safety systems such as mirror camera, collision and lane departure warning guarantee the safe travel of the driver and passengers. e-ATA offers high safety thanks to its electrical and electronic infrastructure that complies with the ISO 26262 Functional Safety standard.
Okan Baş, CEO of Karsan, said: "All over the world, especially in Europe, there are more and more environmentally friendly initiatives to create a better world for future generations. One of these is the fully eco-friendly configuration of buses that offer round the clock transportation service for the public. The process is even accelerated by government incentives and the target dates set by industrialized countries for transition to zero emission vehicles. Karsan has been at the forefront of this change for two years now.  As you all know, we developed the Jest and Atak Electric models, with proven BMW i battery technology, in as short a time as a 1 year in a consecutive process and started with their mass production. We became the segment leader in the European Market in 2020 with the 6-meter Jest electric bus, the creator of its class. The 8-meter long Atak Electric offers the longest range in its class and is in high demand throughout Europe, especially in France, Germany and Romania. On the other hand, we broke new ground with our Autonomous Atak Electric model in the 8-meter class, which we started serial production and introduced to the whole world. In the last two years, our range of electric vehicles covered more than 2 million kilometers in many European countries."
12 and 18-meter e-buses for Europe
Mentioning that Europe would be needing large, 100% electric buses like the e-ATA series, Okan Baş, CEO of Karsan, continued, "When we look at the European market for urban buses, we find that 83% of the market consists of 12 and 18 meter large buses. On the other hand, the conversion from diesel to electric buses is increasing rapidly. It is expected that 35% of vehicles sold in 2024 and at least 50% by 2030 will be all-electric. To support this conversion, major cities such as Paris, London and Hamburg are now stipulating zero-emission vehicles for new bus purchases. Anticipating the trend, Karsan started making entirely new plans five years ago to lead the path ahead. Now, we are present in the whole market with our e-ATA series of 10, 12, and 18-meter fully electric buses which we have put on the market today. This make us reedy to electrify the future with our electrical product range of all lengths from 6 meters to 18 meters."