MCI launching a new electric coach in the US, Flixbus already tested it
MCI is launching a new electric coach in the US. Flixbus already took the opportunity to test it. Built by Motor Coach Industry (MCI), part of New Flyer Industries group, the vehicle has been sent on a Sacramento to San Francisco route (around 85 miles) for evaluation on October 28. MCI is bringing the vehicle around in […]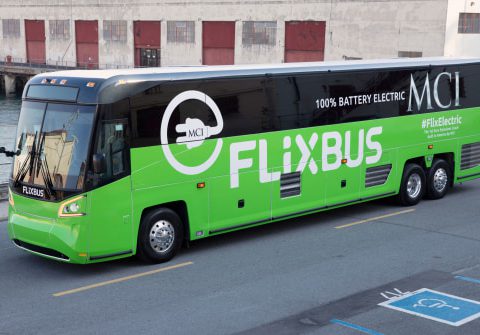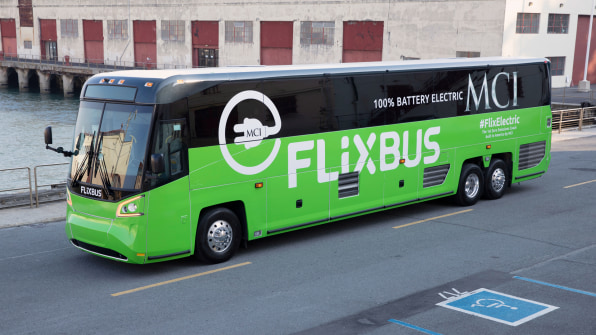 MCI is launching a new electric coach in the US. Flixbus already took the opportunity to test it. Built by Motor Coach Industry (MCI), part of New Flyer Industries group, the vehicle has been sent on a Sacramento to San Francisco route (around 85 miles) for evaluation on October 28.
MCI is bringing the vehicle around in California along a statewide tour. The first series production coaches are expected to hit the road between 2020 and 2021.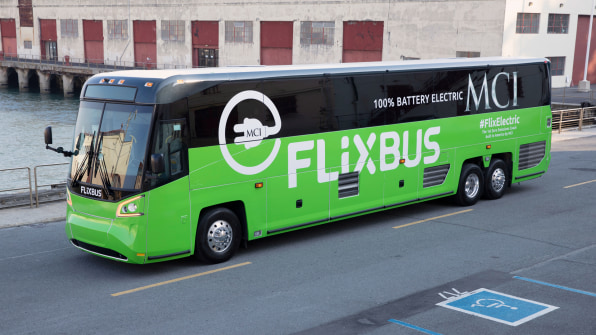 MCI electric coach on a pilot. Then Altoona tests
The electric coach MCI D45 CRTe LE CHARGE will be offered for pilots in California over the next three months. When the rally concludes, MCI will send this battery electric coach to the Altoona test, required for all new bus models for use in federally funded public transit systems procurement. The D range of MCI coaches will be fully Buy America compliant, MCI points out.
Two Flixbus electric coaches already operational in Europe
On 28th October the electric coach has been tested by Flixbus. The German-based company already has a couple of electric coaches, by Chinese manufacturers Yutong and BYD, in operation in Germany and France respectively on two short routes. These pilots started in 2018. Michael Kahn, head of business development at FlixBus USA, told to the media Fast Company that "They're still being run today with the same electric buses, so we've seen proof and evidence of the long-distance and the long-term capabilities of a safe and reliable electric option overseas".
Still Kahn said, as reported on Fast Company: "L.A. to Vegas is a great example of a route that right now is just outside the range of what the current electric bus models can do, but is a great candidate, as the technology improves, to replace a lot of folks who travel via plane. Especially when you have to deal with LAX, you really are not saving yourself that much time by going to the airport and flying. And certainly, the emissions that you're contributing towards with a plane ticket are much more."
Moreover, recently Flixbus announced the beginning of a cooperation with Freudenberg Sealing Technologies aimed at preparing the introduction of hydrogen coaches in its long distance bus network.
Siemens drivetrain for MCI electric coach
The electric coach features a 750 V Siemens electric drive motor capable of 350 HP and maximum torque of 3,320 ft-lb. Energy comes from a 389 kWh energy storage system (which is also available up to 544 kWh) built on the ultra-high energy NMC lithium-ion cell platform from US-based XALT Energy. To meet long-distance commuter needs, this model's high-power plug-in battery follows the J1772 interoperability standard, and charges to full in less than 3 hours with a 150 kW in-depot charger, MCI points out.
The model is also equipped with MCI Connect Telematics, a system that measures key performance metrics including distance and time on route, auxiliary systems, along with battery efficiencies related to grade, and ambient temperature in real time.
Besides the technological features, the MCI D45 CRTe LE CHARGE features a revolutionary patented LE (Low Entry) vestibule with a seating area and a ramp that significantly improves dwell times and the boarding and ride experience for passengers with disabilities, according to the manufacturer.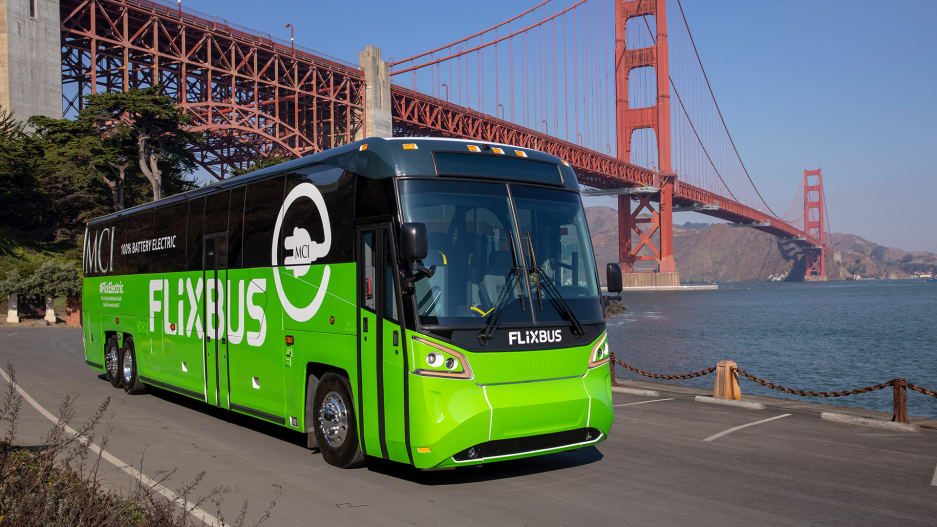 MCI, an electric coach that performs as a diesel one
"In all, we will be prepared to deliver a 100 percent electric coach that performs the same or better than our current clean diesel, hybrid and CNG models," said Tom Wagner, MCI vice president of public sector. "Our electric development has been accelerated with the assistance from our sister company (New Flyer), supporting us with their many years of experience producing electric buses."
"Over the next three months, we're creating opportunities for private and public transportation leaders in California and other states to test our next-generation D-Series coach, a zero-emission, all-electric vehicle built for the highway," said Patrick Scully, MCI vice president of sales, marketing and customer service. "This model's breakthrough in accessibility has the ability to transform express service while helping communities reduce their carbon footprint."
"FlixBus is changing the way people access transportation by applying their innovative model to better connect people to places by bus," said Brent Maitland, MCI vice president of marketing and product planning. "The iconic brand's long-distance application presents an ideal format to demonstrate our electric platform because of our roles as mobility solutions providers to mitigate congestion and improve the environment. Our customers know MCI to be reliable in both product and support. And now we're at the forefront of reliable electric motor coaches."