Mellor has delivered the first Sigma electric buses in Scotland
Mellor has delivered the first two Sigma 8s to a Scottish bus operator, Shuttle Buses. The buses represent a significant milestone for Mellor; not only being the first Sigma in Scotland (the new electric bus family was launched in late 2021), but also the first customer examples of the electric midibus, designed from the ground […]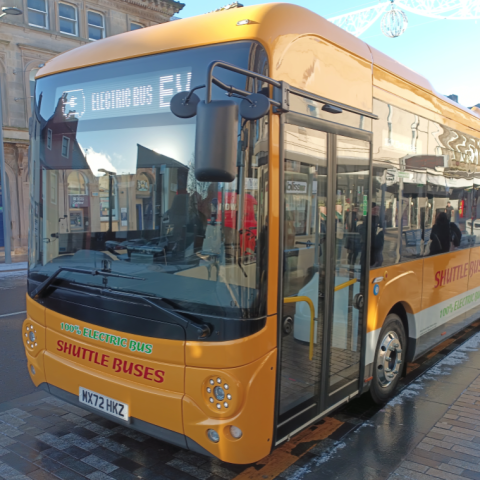 Mellor has delivered the first two Sigma 8s to a Scottish bus operator, Shuttle Buses. The buses represent a significant milestone for Mellor; not only being the first Sigma in Scotland (the new electric bus family was launched in late 2021), but also the first customer examples of the electric midibus, designed from the ground up with zero emissions in mind.
Presented in Shuttle Buses' distinctive yellow and white livery, the two Sigma 8 are capable of carrying 27 seated passengers with 27 standees and have been configured to Mellor's 'rural' specification with a single passenger door. 
Mellor delivered e-buses in Scotland
Before placing an order, the long-standing Mellor customer tested a Sigma 10 demonstrator.
The second model in Mellor's six-strong Sigma range, the Sigma 8 is 2.35 metres wide, making it perfect for service routes with low patronage, operating in environments such as housing estates and on narrow lanes where vehicle size is a limiting factor, and on demand-responsive transport programmes. Operators looking for a slightly larger bus can opt for the Sigma 9, which is able to seat up to 31 passengers. 
Shuttle Buses are no strangers to operating size appropriate buses, with eight Mellor Stratas already operating within the 60-strong fleet. The two new vehicles were part-funded by Transport Scotland under their ScotZEB scheme, with financing from Virgin Money Asset Finance Direct.
Ross Granger, Managing Director of Shuttle Buses, said "Our two Sigma 8s have settled down well and we're achieving 145 miles a day with battery power to spare, even in a Scottish winter. Drivers and passengers alike appreciate the 'big bus' feel of the Sigma, and we look forward to continuing to partner with Mellor as we move towards an all-electric fleet".
"Shuttle Buses were undoubtedly impressed with the quality, engineering and refinement of the Sigma," said Morgan Clissett, Bus Division Managing Director at Mellor. "The company's previous experience in working with us has, for them, allowed for a smoother transition to EVs than with another manufacturer. Our whole philosophy is about making the purchasing and aftersales process easier for our customers. We see it as a partnership, rather than a single transaction."