Osnabrück, the 4th MetroBus line soon electrified
Fourth MetroBus line goes electric in Osnabrück, north west of Germany (one year ago it was three e-lines). The PTO Stadtwerke Osnabrück has just announced that line M5 will be completely converted to electric operations by February 2022: the conversion of the final turnaround at Waldfriedhof Dodesheide, including the charging station, has been completed with […]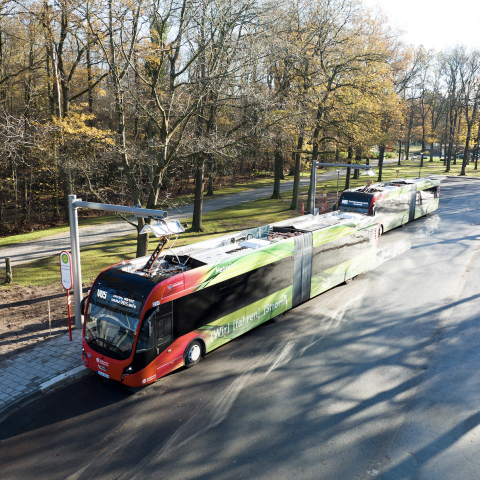 Fourth MetroBus line goes electric in Osnabrück, north west of Germany (one year ago it was three e-lines). The PTO Stadtwerke Osnabrück has just announced that line M5 will be completely converted to electric operations by February 2022: the conversion of the final turnaround at Waldfriedhof Dodesheide, including the charging station, has been completed with the exception of minor remaining work. Ten more electric articulated buses will thus be used on the M5. The last contract with VDL was signed in summer 2019: 62 e-buses in total have been procured.
Osnabrück, four electric bus line in the city
"Our passengers on the M5 have already been able to board an e-bus from time to time in recent weeks," explains Stadtwerke e-bus project manager Joachim Kossow. The charging station at the other end of the M5 at the Kreishaus had already been completed in the summer and has been operational since then. The reason for the early work was the district's wish to combine the electrification of the terminus with the district hall extension work in terms of timing and appearance. "This in turn gave us the opportunity to test E operation on the M5," says Kossow.
Almost all of the 62 articulated electric buses ordered from the Dutch manufacturer VDL have arrived at the Stadtwerke. Four of the five MetroBus axles are then now operated completely electrically. The M4 (Hellern-Nord – Belm) is now the last axle. The conversion work on the end turnaround in Hellern-Nord is almost complete.