Quantron saw order intake of €20M in 2023 until July (and signs ZEV Declaration)
Zero emission truck and bus manufacturer Quantron took stock of the first seven months of the current year, released the company's outlook for the next year and announced the signing of the ZEV Declaration. The latter aims to achieve 100% zero-emission new car and van sales in leading markets by 2035 and globally by 2040 at the […]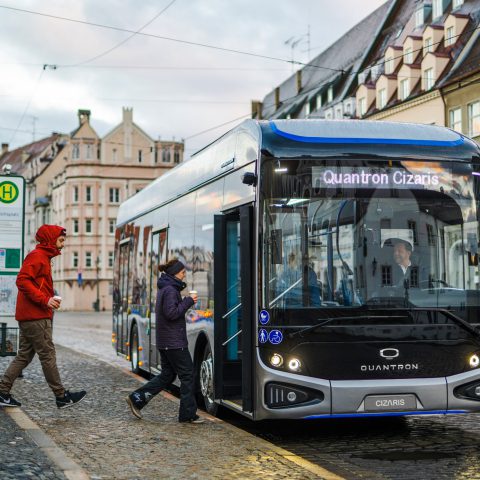 Zero emission truck and bus manufacturer Quantron took stock of the first seven months of the current year, released the company's outlook for the next year and announced the signing of the ZEV Declaration. The latter aims to achieve 100% zero-emission new car and van sales in leading markets by 2035 and globally by 2040 at the latest.
Starting from the figures shared by Quantron, the first seven months of 2023 saw order intake of 20 million euros, cumulative order backlog and approved funding applications of over 100 million euros, with the celebration of the first five H2-powered light trucks (QUANTRON QLI FCEV) and battery-electric city buses (QUANTRON CIZARIS 12 EV) delivered to customers.
Quantron sees strong demand of ZE vehicles in the near future
Given the strong demand for zero-emission commercial vehicles and the ramp-up of its QHM FCEV, the company expects a significant increase in sales in 2024 with a minimum target of 80-100 million Euro. In addition, Quantron plans to further expand its international presence in Europe and is determined to advance innovative technologies in the field of hydrogen together with new strategic partners and its Joint Ventures.
ZEV Declaration, with ZEV standing for Zero Emissions Vehicle, was launched at COP26 in Glasgow by a leadership group of more than 100 countries, companies, and organizations. The signatories of the ZEV Declaration commit to ensuring that only zero-emission vehicles are sold in leading markets worldwide no later than 2040 and by 2035 in leading markets.
Additionally, to support the growing number of signatories and connect the world's leading zero-emission transportation organizations, the Accelerating to Zero Coalition (A2Z Coalition) was established in 2022. It serves as a platform where signatories can coordinate, align and strengthen their activities to achieve their ambitious goals.
"We welcome the opportunity to sign the ZEV Declaration. QUANTRON is zero-emission from its inception, it is part of our DNA. It feels like a natural act to sign the ZEV Declaration, since this is exactly our purpose: We deliver holistic solutions to the transport industry and help them to wean fleets off fossil fuels. We have the broadest zero-emission vehicle portfolio in the industry, due to our technology agnostic approach, offering BEV and FCEV", stated Michael Perschke, CEO of Quantron AG.