Rimini, a tender for up to 114 electric buses (12 and 8 meter)
START Romagna has launched a tender for the purchase of electric buses headed to Rimini. The tender is worth EUR 106.8 million and a deadline of 6 September 2023. The news is reported on the Italian media Autobusweb, belonging to the same publisher as Sustainable Bus. They will not be the first electric buses in […]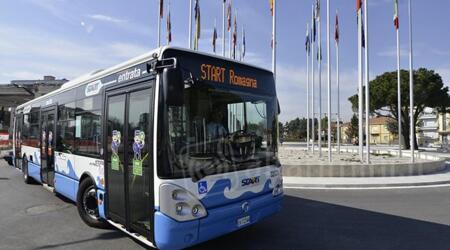 START Romagna has launched a tender for the purchase of electric buses headed to Rimini. The tender is worth EUR 106.8 million and a deadline of 6 September 2023. The news is reported on the Italian media Autobusweb, belonging to the same publisher as Sustainable Bus.
They will not be the first electric buses in START's history: Karsan has in fact on delivery 27 e-Atak through centralized body Consip.
Start Romagna tender for 114 electric buses
Up for tender are a maximum of 114 electric buses in two lots (of which 21 + 11 in first order, the remainder as options). The tender requires the bidders to provide bid for spare parts, or to propose a full service contract covering the entire life cycle of the vehicles.
The procedure involves two separate lots. Lot 1 (worth over EUR 61 million) concerns the purchase of 21 12-metre buses with full-electric traction (+ 35 optional vehicles), overnight charging, 3 doors.
8-metre electric buses for Rimini
The second lot (45.2 million euro) concerns the supply of 11 8-metre buses, with the possibility of including up to 47 optional buses. Here too, recharging is overnight.
The tender is financed with the resources of the National Strategic Plan for Sustainable Mobility for municipalities with high pollution levels. The two lots can be awarded to the same bidder.