Solaris to launch (online) the new Urbino 9 LE electric bus on 30th September
Solaris will present its new Urbino 9 LE electric bus during a web event on September 30, 2021 at 12:00 p.m. CEST. As anticipated by Mateusz Figaszewski, Director of E-mobility Development, in an interview with Sustainable Bus published in May, the Solaris family of electrically-powered Urbino models will soon grow with the addition of a new midibus model. The 9-meter vehicle […]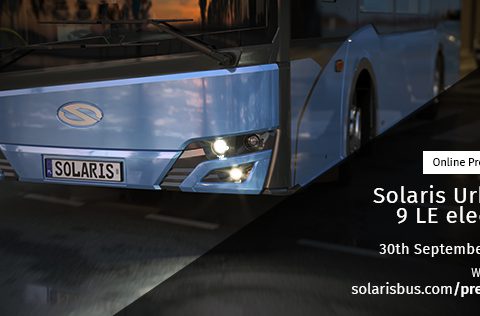 Solaris will present its new Urbino 9 LE electric bus during a web event on September 30, 2021 at 12:00 p.m. CEST. As anticipated by Mateusz Figaszewski, Director of E-mobility Development, in an interview with Sustainable Bus published in May, the Solaris family of electrically-powered Urbino models will soon grow with the addition of a new midibus model.
The 9-meter vehicle was created with the diverse needs of customers in mind, the Polish manufacturer says: "It is a highly flexible model able to adapt to local circumstances. The vehicle will perform brilliantly in cramped city spaces, but also in difficult road conditions, on longer routes, and steep climbs, as it will on tight mountain bends".
Solaris new Urbino 9 LE electric bus on the launching pad
The two-axle vehicle is yet another option in Solaris's electric range that meets the requirements for both vehicle classes I and II. Solaris has decided to offer its customers the choice between Solaris High Power batteries and Solaris High Energy batteries. This will allow operators to flexibly plan emission-free routes not only within the city limits, but also outside them.
Driver comfort and safety are ensured by an electric drive, advanced assistance systems as well as interactive panel. The interior has room for up to 27 seats, most of which are forward-facing. Practical solutions, such as handrails with an antibacterial layer disinfectant dispensers and a closed driver cabin will guarantee a comfortable and safe ride for city travelers.