Stagecoach received the first BYD – ADL electric buses (for Guildford)
Stagecoach South received nine 10.8 meter Enviro 200EV electric buses realized by BYD – ADL. Also the charging equipment has been supplied. The vehicles will be used on park and ride services in Guildford. The buses are to the BYD – ADL provincial spec, recently previewed at Euro Bus Expo in Birmingham. It's the first delivery by […]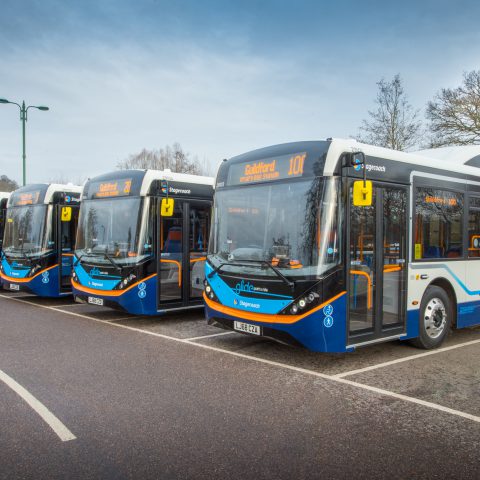 Stagecoach South received nine 10.8 meter Enviro 200EV electric buses realized by BYD – ADL. Also the charging equipment has been supplied. The vehicles will be used on park and ride services in Guildford. The buses are to the BYD – ADL provincial spec, recently previewed at Euro Bus Expo in Birmingham. It's the first delivery by BYD – ADL to Stagecoach group. ADL is also cooperating with Stagecoach on the project of the first autonomous bus fleet experiment.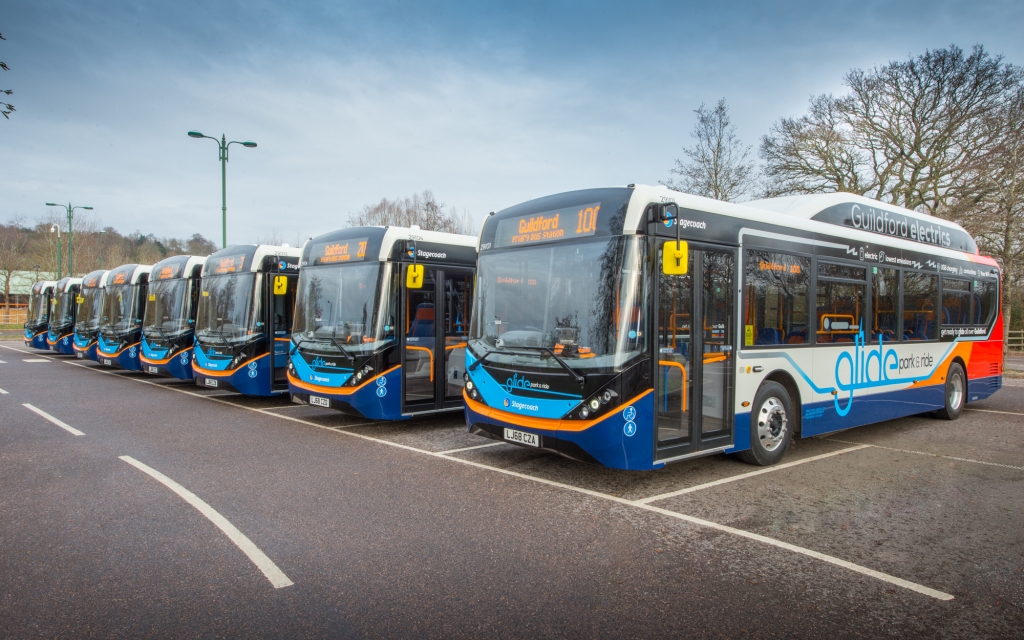 The first electric bus fleet in Guildford
Stagecoach group, with 8,000 buses and coaches, is one of the largest public transport operators in the UK. The new buses are in single door configuration and can carry up to 36 passenger seated. In Guildford the nine electric buses will connect three car parks and a leisure centre with the town centre, operating six days a week, with service frequencies of between 10 and 15 minutes. This is the first fleet of pure electric buses to enter service in Guildford.
ADL and the future fuel cell bus
Alexander Dennis Limited realizes electric buses in partnership with Chinese company BYD, that produces the chassis for the Enviro EV series in the Hungarian plant. Also, ADL recently announced that is going to add the fuel cell bus to the range, that already include diesel, hybrids and, as mentioned, battery electric buses. Fuel cell technology has been developed on an Enviro400 double deck bus which has delivered best-in-class performance during route shadowing trials. The hydrogen fuel cell powered Enviro400 will be an addition to ADL's range of low and zero emission buses and will not replace any existing products.
CLICK HERE TO READ ABOUT ADL FUEL CELL BUS PROJECT
BYD – ADL buses to the main UK public transport companies
Coming back to Guildford's delivery, Arthur Whiteside, ADL's Managing Director for UK Sales, said: "We are delighted to support Stagecoach South and Surrey County Council in their introduction of clean, zero emission buses. With passenger-centric interiors and excellent onboard amenities, they will further enhance the attractiveness of Guildford as a destination and place of employment in the regional economy." Speaking at the launch event in Guildford today, BYD's UK Country Manager, Frank Thorpe, said: "The entry into service of these vehicles means that our joint enterprise has now supplied advanced electric buses to the majority of the major bus operating groups in the UK and, as with all of our customers, we have been able to provide much more than the bus. Our knowhow has assisted in the provision of the necessary infrastructure, including BYD built chargers."