For ADL it's time to add the fuel bus (double decker) to the range
ADL adds the fuel cell bus to its range, that already include diesel, hybrids and battery electric buses, the last powered by BYD. The technology has been developed on an Enviro400 double deck bus which has delivered best-in-class performance during route shadowing trials, says Alexander Dennis Limited in a press release. The hydrogen fuel cell powered Enviro400 […]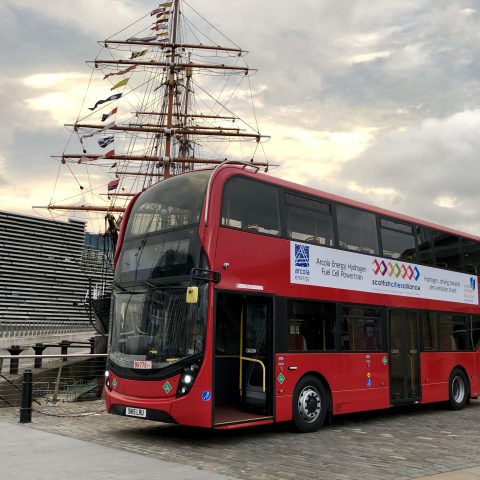 ADL adds the fuel cell bus to its range, that already include diesel, hybrids and battery electric buses, the last powered by BYD. The technology has been developed on an Enviro400 double deck bus which has delivered best-in-class performance during route shadowing trials, says Alexander Dennis Limited in a press release. The hydrogen fuel cell powered Enviro400 will be an addition to ADL's range of low and zero emission buses and will not replace any existing products.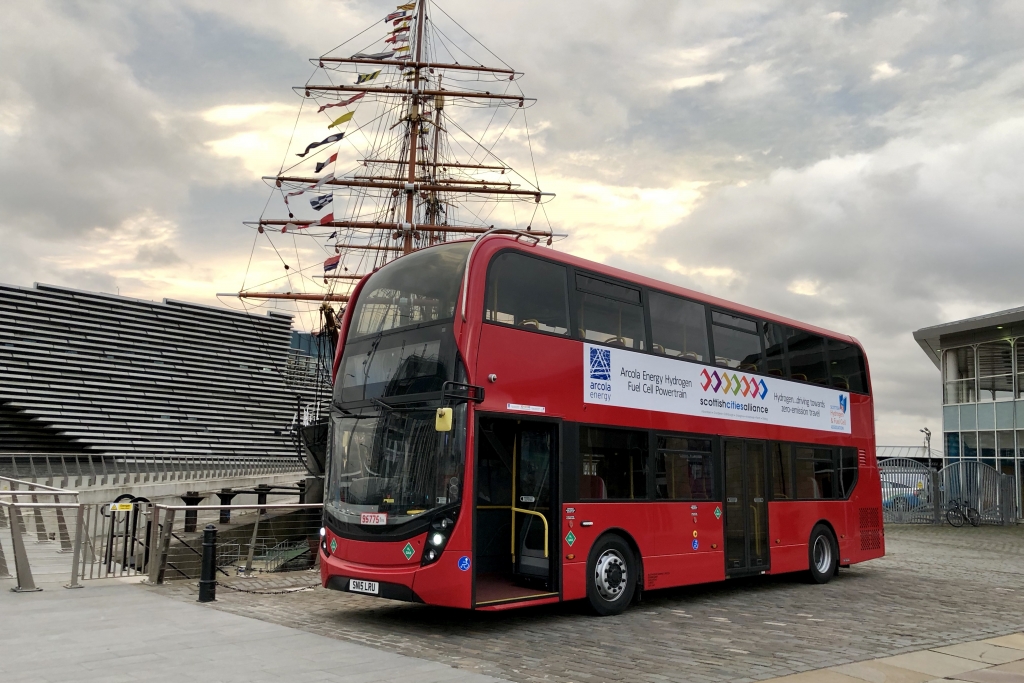 ADL fuel cell bus with Arcola Energy
ADL has been working on a hydrogen double deck bus for over two years. The Enviro400 fuel cell has been developed through extensive collaboration between ADL's in-house Advanced Engineering teams and expert hydrogen and fuel cell system integrators Arcola Energy. The hydrogen-powered Enviro400 has an electric driveline with axle-mounted motors. The on-board battery is charged by feeding hydrogen from secure tanks to a fuel cell system where it is converted to electricity. No external battery charging is required and the vehicle's only emission is water vapour. A prototype has successfully completed route shadowing trials in several UK cities.
As reported on Coach&Bus Week in October 2016, a £150,000 funding for a project to build a new hybrid fuel-cell double-decker bus was awarded to a partnership between Arcola Energy, Alexander Dennis Ltd (ADL) and Warwick Manufacturing Group. The funding came from the Niche Vehicle Network (NVT), which is supported by the Office for Low Emission Vehicles and Innovate UK.
Fuel cell bus equipped with ZF AxTrax AVE
The vehicle, according to a press release published by ZF in January 2019, will be fitted with the electric portal axle AxTrax AVE, the same product already adopted by Solaris and Mercedes for their battery electric buses. The AxTrax AVE was introduced for the first time in 2012 and has been successfully deployed around the world ever since. The electric drive axle can be used in a wide array of possible applications as it can not only be operated in the mentioned fuel cell configuration, but also as a hybrid or purely electrically with lithium-ion batteries. In addition to the striking drive performance – totaling 250 kW up to a maximum axle load of 13,000 kilograms – the compact design is also appealing. In addition to the AxTrax AVE, ZF also provides the inverter, the EST 54 electronic control unit and the appropriate control software.
ADL taking orders for fuel cell bus
ADL is now taking orders for this product and, still quoting the press release, will be working with cities, bus operators and other stakeholders around the UK to further explore the potential for hydrogen fuel cell buses through fleet trials. Hydrogen fuel cell technology can offer long range zero emission capability if suitable infrastructure can be put in place with sustainably sourced hydrogen. This could offer particular benefits for high capacity double deck buses. ADL Chief Executive Colin Robertson said: "ADL continues to support bus operators across the UK by collaborating to develop new technologies that help achieve environmental and operational targets. Hydrogen fuel cell technology is part of the mix of solutions and we are delighted to now offer this option to the industry. At Euro Bus Expo 2018 in Birmingham Wrightbus announced the launch of its fuel cell double decker bus, named Streetdeck FCEV. Fuel cell system is made by Ballard, drivetrain is by Siemens.
Fuel cell buses, a bright future ahead
Fuel cell buses are expected to importantly grow their market share in the years to come. ZeEUS eBus Report #2 released by UITP says fuel cell buses are expected to have a market share of 2 per cent in 2020 and 10 per cent in 2030, in the segment of urban buses and in European area. Still a little "slice" compared to the 52 per cent forecast of battery electric… but the multiplication for five is anyway impressing and opens up interesting scenarios for after 2030 years. In 2019, European manufacturer Solaris Bus & Coach (recently taken over by Spanish group CAF) will unveil the Solaris Urbino 12 hydrogen, a new generation vehicle deriving power from a hydrogen fuel cell. Another competitor in the field of fuel cell buses is Toyota: its vehicle Sora has been approved and launched on the market (in the picture below). And the Japanese company recently started a collaboration with Portoguese Caetanobus. Ballard FCvelocity is also adopted by El Dorado National's 40-foot (12 meters) Axess Fuel Cell Electric Bus, available in the US. The vehicle successfully completed testing at The Altoona Bus Research and Testing Center under a program established by the Federal Transit Administration (FTA).