Ebusco crosses the Atlantic Ocean. Ted Dowling appointed MD North America
Ted Dowling has been appointed Managing Director North America for Ebusco, in the framework of the Dutch company's expansion on world markets outside Europe. He has formerly covered the position of BYD Regional Vice President. Ebusco makes public it «will expand its sales and marketing of its Ebusco 3.0 and 2.2 zero emission buses and […]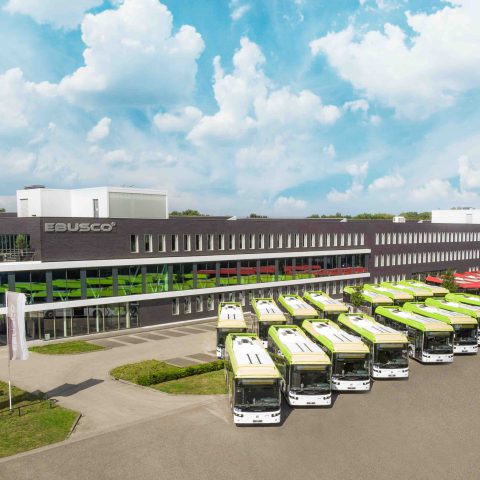 Ted Dowling has been appointed Managing Director North America for Ebusco, in the framework of the Dutch company's expansion on world markets outside Europe. He has formerly covered the position of BYD Regional Vice President.
Ebusco makes public it «will expand its sales and marketing of its Ebusco 3.0 and 2.2 zero emission buses and will deploy maintenance and other services for these vehicles and intends to build plants to assemble the Ebusco 3.0 in North America».
Ebusco will be present with a booth (booth number 1373) at the APTA EXPO 2021 in Orlando, Florida from Monday 8 November to Wednesday 10 November, presenting the Ebusco 3.0 in the United States.
Last week the King of the Netherlands yesterday officially opened the new factory hall in Deurne by putting the Ebusco 3.0 bus on the charger (its debut in operation is scheduled in early 2022). The factory in Deurne is expected to have a production capacity of five hundred emission-free buses per year by 2022, Ebusco says. The company just went public listing at Euronext Amsterdam.
Ted Dowling is Ebusco Managing Director for North America
Ted Dowling is a Canadian executive in the medium and heavy duty zero emission vehicle space. «He has spent his career working with teams, building companies servicing public transit throughout the world. Ted has served on numerous boards of Non-Profit organizations. He is currently on the Board of Electric Mobility Canada and is a member of the Government Relations committee. Ted previously worked within the automotive industry as vice president at various companies», Ebusco points out in a press note. From 2016 to November 2021, he has been covering the position of BYD Regional Vice President for North American market.
Ted Dowling says: "Ebusco is the world class leader in innovation and design. Bringing Ebusco electric Buses to Canada and the United States will revolutionize the North American industry while helping us contributing to a better environment by enabling safe, sustainable, emission free and affordable transportation ecosystems."
Peter Bijvelds, CEO Ebusco "North America is a key region we target in our international roll out plan, as we expect the demand for zero emission buses to increase, supported by the American President's proposed Plan for Climate Change and Environmental Justice and state initiatives, like the Innovative Clean Transit regulation in California. Canada's commitment to climate change will help communities invest in Zero Emission Transit options ensuring cleaner air and job creation. We are excited to welcome Ted Dowling, who has in-depth knowledge of the market and strong relationships in the industry, to drive our presence in North America."