Ebusco 3.0, its time will come in 2022. First buses in operation in the Netherlands for Transdev
In spring 2022, Ebusco will supply the very first fully-composite, electric buses in the Netherlands. Transdev Nederland has ordered 39 Ebusco 3.0 buses, the manufacturer says, for their city and intercity routes in the Gooi and Vecht region (also 28 VDL e-buses are going into operations). Delivery of the vehicles have been delayed, as Ebusco's […]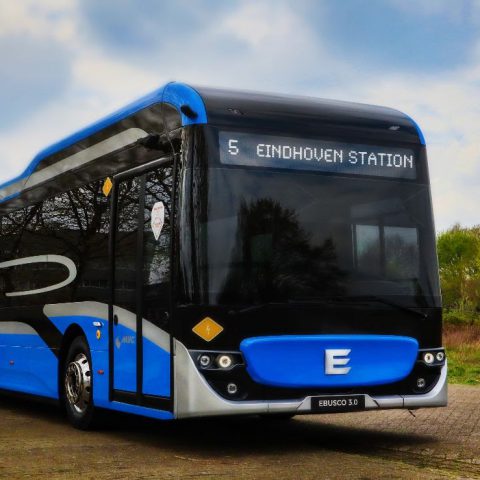 In spring 2022, Ebusco will supply the very first fully-composite, electric buses in the Netherlands. Transdev Nederland has ordered 39 Ebusco 3.0 buses, the manufacturer says, for their city and intercity routes in the Gooi and Vecht region (also 28 VDL e-buses are going into operations). Delivery of the vehicles have been delayed, as Ebusco's CEO Peter Bijvelds told in an interview with Sustainable Bus that series production was going to start in March 2021 (it was previously scheduled for mid-2020).
For this tender, Transdev Nederland has chosen to operate 39 of Ebusco's innovative, lightweight electric city and regional buses from April 2022 onwards. These buses will travel an average of 110,000 kilometres per year on a plug-in charging basis.
Ebusco 3.0 next year in operation for Transdev
Ebusco claims a range of up to 500 km with one charge for the 3.0 model. Thanks mainly to the weight reduction of one third: the 12 meter bus reaches 8,530 kg. 90 persone are welcomed on board. The new technologies adopted by Ebusco for the 3.0 electric bus model come from aviation and aerospace industry, the company says.
The bus largely consists of composite parts. Composite is a combined material made of at least two constituent materials with different physical or chemical properties. This makes the bus 33% lighter than Ebusco 2.2.
According to Ebusco's figures,eEach bus will reduce CO₂ pollution by approximately 1 kg per kilometre driven. Based on the order, this provides a reduction in more than 30 million kg CO₂ over the entire contract period.
Batteries in the floor, for the first time in Europe
The bus has many innovations in addition to its composite body: for example, the batteries are located in the floor (making the bus much more stable and comfortable to drive) and the buses are fitted with cameras instead of mirrors (which makes the bus much safer).
The Ebusco 3.0 has been produced entirely in the Netherlands; in Deurne. The Ebusco 3.0 (prototype) was unveiled at Busworld in October 2019.
"As a company, we have now gained more than nine years of experience with electric buses and chargers, so we know exactly what we're doing," said Peter Bijvelds, CEO of Ebusco. "We believe the LFP-technology battery used on these buses is the best and safest battery on the market. Thanks to the combination of all the innovations we apply, these buses can travel up to 575 km on a single charge; which is truly unique for a bus".